The big names in music and Hollywood came out this past weekend to celebrate the winners of the 2011 MTV Video Music Awards which turned into QUITE the fashion show! I always love less formal red carpets like this (actually, there was no carpet at all at this event; instead celebrities strutted and posed down a white floor). I think celebrities allow themselves to go for the glam with no reservations and the result always ends up being fun, funny, fierce or all of the above.
And the big colors that seemed to dominate this awards show were silver and gold. Sequins, metallics, and plenty of sparkles came in the form of jewelry, shoes and dresses and with everyone's end of summer tan, they all looked radiant in the metal tone hues. In fact, to pick up some cues that will help you through the fall season's hottest trends, turn no further than what was worn at the VMA's. Aside from metallic shine, we also saw rich saturated colors, classic pumps and heels, longer hemlines and some fierce cat eye make up that made this even more of a runway than a red carpet.
So let's get started with our favorite looks and some fab finds to go along with them! And this week, some of our most fabulous finds are just style tips for how to take a red carpet look and rock it in a ready to wear outfit for the Fall.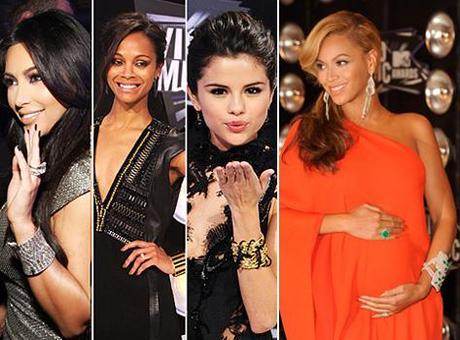 From left to right: Kim Kardashian, Zoe Saldana, Selena Gomez, and Beyoncé
First thing is first—you should know that cuffs are not going anywhere! Cuffs are the perfect way to add metal hardware to your outfit without looking too industrial. While gold was the big color of the summer, silver will be reigning once again for a sleek and modern edge to any outfit in any color. Check out all the fashionistas we caught in bold, statement making cuffs at the VMA's.
But the metallic mania didn't stop there! Kim Kardashian (the new Mrs. Humphries) attended the event in a backless KAUFMANFRANCO silver gown that looked like liquid metal. Her earrings may seem dull in comparison to the bling on her arms and fingers, but we love the shape of them and what they do for her face! A matte silver earrings against the shine of her dress was a great choice. Kim's earrings look very much like our Vintage Drop Spoon Handle Earrings that have been selling like hot-cakes!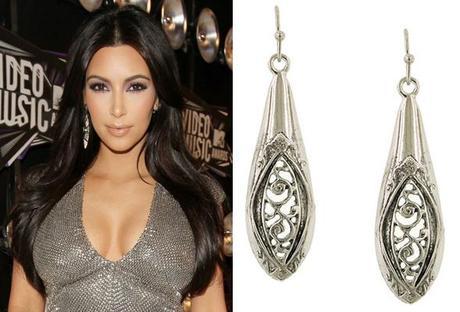 Also accessorizing in some silver metal accents was up and comer Ashley Rickards of MTV fame. Her BCBG dress had SO many things going for it; it could really be the dress that gets it ALL right as far as fall trends go. The greenish-yellow, knee length hemline, nude pumps, and statement making feather collar didn't need anything more than another fall trend- a silver cuff! Check out our picks to get a bold silver statement on your wrist.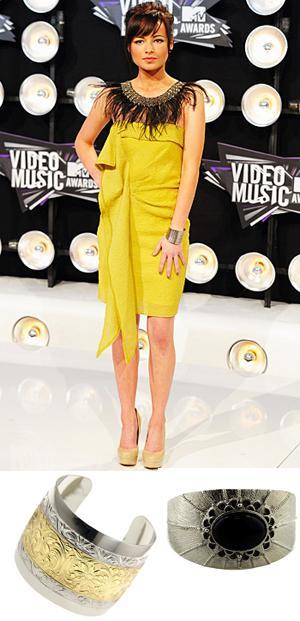 Styles 67936 & 63156
As much as I thought feathers were hot this summer for an easy bohemian look, it looks like plumes have been refined for the fall. Because Ashley's collar was not the only place we saw them. Kelly Rowland looked drop dead gorgeous in a black feathered dress with gold accents! Her dress was so bedazzled on its own she played it right by adding a simple gold cocktail ring to pick up the gold in her dress. Our Mother of Pearl Cocktail Ring can give you the same chic effect.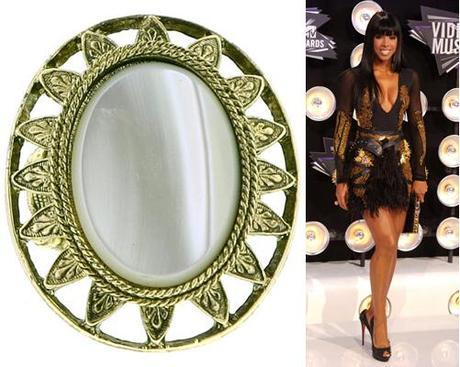 See, gold isn't gone! Zoe Saldana was another celebrity to look fabulous in black and gold in the Barbara Bui leather and metallic mini that she paired ever so stylishly with Balenciaga pumps. The stunning actress also wore a two tone cuff and some black tassel earrings. Our picks? 1928's Ashen Hematite Drop Hoop Chain Earrings for a softer look to balance out the streamlined silhouette and our Prominence Gold Cuff Bracelet to match it.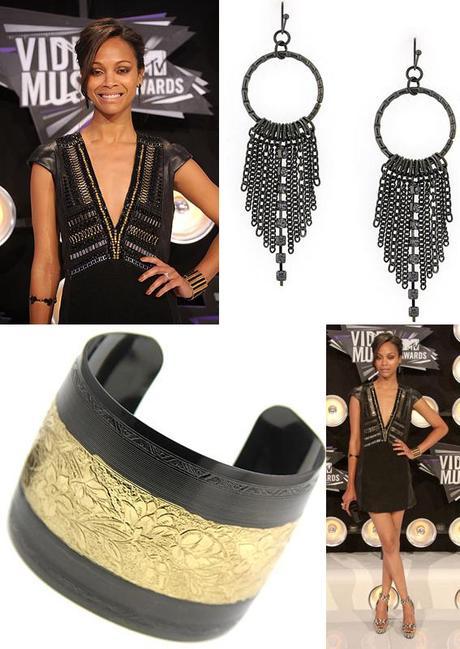 Going back to our silver fab finds, since we know most of you prefer silver to gold, there was one star of the night who was clearly on the silver streak in more than one way! Beyoncé was simply a glow, sparkling in everything from her asymmetrical red Lanvin gown and blinding diamond and silver jewelry. But the accessory that really took everyone's breath away was her baby bump- congratulations, mommy to be!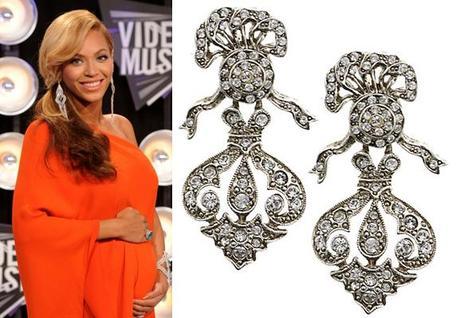 Beyoncé
better wear long earrings like those before the little one comes around, and if you want a glamorous pair of dangle earrings like hers, our Crystal Fantasy Ornate Earrings are a great choice!
What a fashionable, festive occasion! And what a fabulous Friday! You can pick up any of these fab finds when you're shopping our 40% off Labor Day Weekend Sale. Have a safe and enjoyable long weekend, jewelry gals.