When Jennifer Hudson rocked a tangerine Atelier Versace halter dress on Oscar night back in February, she paired it with a collection of vintage-inspired diamond jewelry to die for.  It reminded me that prom and wedding seasons were fast approaching, and that high school girls and brides aspire the glamorous red carpet looks seen on the glossy pages of the latest fashion mags.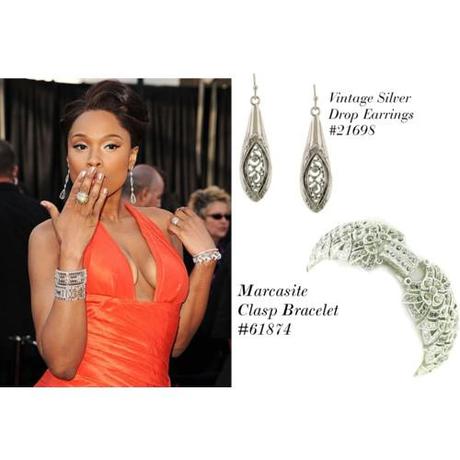 Jennifer Hudson Vintage Jewelry by
laura1928
featuring 1928 earrings
As any glamour girl knows, an eye-catching pair of earrings or bracelet will make any pretty dress pop.  In fact, Jennifer's diamond bracelets and drop earrings would have gone perfectly with my prom dress.  I still have it hanging in my closet: an icy aqua blue satin gown which I chose because I go weak in the knees for anything blue, soft, and feminine.
Fast forwarding to today, I've assembled two fabulous statement pieces worthy of Jennifer's Oscar look that I would have totally rocked: our Marcasite Heirloom Style Bracelet, and our Vintage Drop Spoon Handle Earrings.