No matter the season, no matter the weather- if there is one style that never seems to go out of style its boho chic! Sure it has seen its more popular seasons and trending pieces have had their moment in the spotlight, but taking on a laid-back, casual yet refined bohemian look will never lead you astray. Think of it as being perfectly undone; effortlessly styled; predictable yet unexpected; retro and fashion forward all at the same time- boho chic is one big contradiction and that is what makes it last from season to season.
It should come as no surprise that boho-chic's reigning queen is Nicole Richie. From the moment she first came into her reality TV spotlight to now having a clothing line and accessories collection of her own, her style has retained its effortlessly chic spirit that so many of us have coveted and copied. If anyone is proof that you can still be totally trendy with a look that has been around for years, it's Ms. Richie.
And while Nicole may be the boho-queen, the princess and strong competitor for best bohemian look is definitely Vanessa Hudgens! Graduating from her sweet Disney star persona, this young Hollywood hipster constantly rocks a look that sits somewhere between edgy and relaxed. And while her outfit may not always make our best dressed list (although a good 80% of the time it does), she sure does stick to her own personal style, unaffected by high-end labels and must-have seasonal trends. Vanessa is a bold, daring and fearless fashionista with a strong bohemian spirit.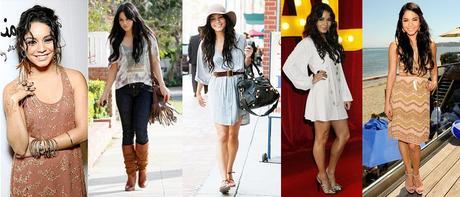 Even with her unexpected short hair cut (which we love!) Vanessa still manages to channel her inner flower-child spirit in this maxi dress from T-bags that she wore to the premiere of Iris, the new Cirque du Soleil show in Hollywood. The scalloped print is a nice way to switch it up from an animal print while still staying funky. And to accentuate the plunging neckline on the dress, Vanessa wore a large round medallion pendant which we think is quite chic in the silver!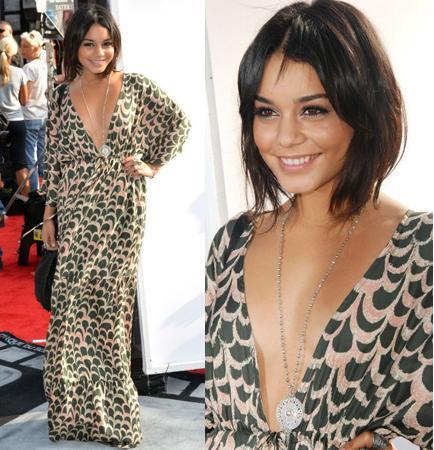 You can rock Hudgens' style with our Ariel's Treasure Turquoise Drop Round Locket that has the same length and pendant size as the necklace she is wearing. The unique pocket watch style opening to the locket almost gives it a retro vibe, so for all of you bohemian queens, this can be your perfect accessory to jump into the world of retro which will be big this upcoming season. Have a fabulous Friday!