A very fashionable crowd showed up to the CFDA Vogue Fashion Fund Awards on Monday night in New York City. Celebrities and fashion designers alike were there to honor the nominees. The fashion fund was established by the CFDA and Vogue to provide financial awards and business mentoring to emerging fashion designers in an incredibly competitive industry where money is essential for starting out a long and stable career. To show the extent of how much it means to win this monetary award and how designers use this honor, just take a look at previous winners- retail sensation Alexander Wang, Doori Chung, and kings of cool, the design duo of Proenza Schouler. Congratulations are in order for this year's winner, Joseph Altuzarra!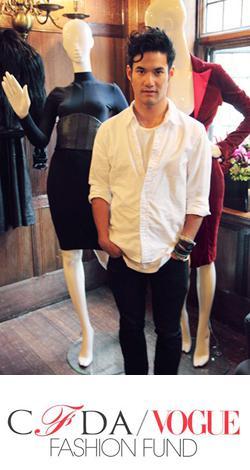 While this is not the ultra-glamorous CFDA Awards event (held annually in June), there were still plenty of celebrities who came wearing perfectly chic ensembles for the evening, including Olivia Wilde, Jennifer Carpenter and Amanda Seyfried. But one of the best looks of the night went to none other than designer
Tory Burch
!
The stunning American fashion designer opted for a look not from her own collection and instead wore a black Christopher Kane wool-crepe dress with a sheer tulle yoke collar. For a fresh spin on the LBD, this design has unique scalloped green and blue gel-filled pocket trimmings and collar accent. For most women it's a little too modern and it has the potential to look odd, but Tory pulls it off with flying colors! Her bright green earrings pull in the color of the gel without looking too match-y and we love that she kept everything else- from her hair and makeup to her clutch and shoes- very minimal.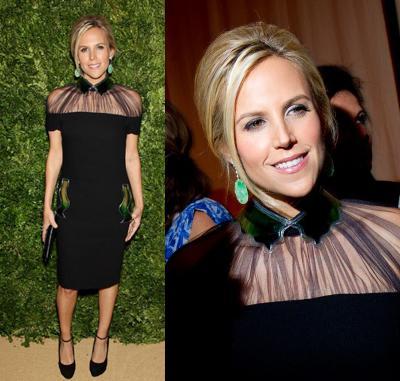 Having the fashion industry and your own high-end label at your fingertips (literally) should mean that you would always have something new and exciting to show off at red carpet events. But even celebrities and designers have their favorite pieces, and here Tory Burch shows us just how much she loves wearing emerald green earrings. On occasions other than the CFDA Fashion Fund Awards Monday, Ms. Burch has rocked some green earrings with dresses that do not have an ounce of green in them! We love her bold use of color and love for ornate jewelry- no wonder we love her clothing line too!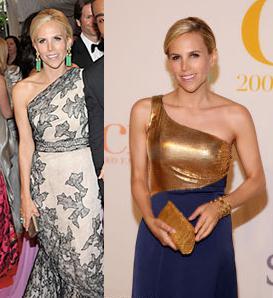 Here are some of our favorite green earrings you can rock time and time again! Olive and emerald jewels are the perfect way to add a bit of festive glitz and glam to your holiday season wardrobe.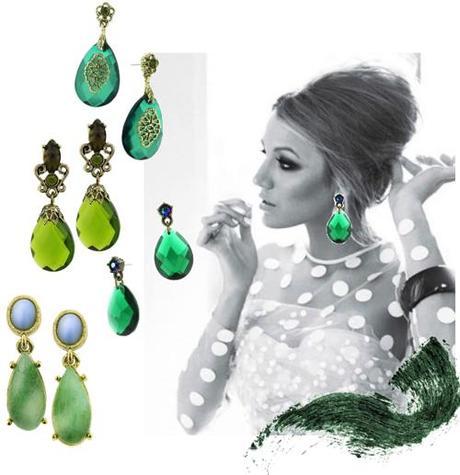 Happy fab find Friday!