Hollywood is known for its glamour- red carpets lined with couture ball gown clad celebrities. And New York is known for its fashion- street chic fashionistas who inspire the trends and looks of the moment. One very stylish celeb who made the move from Hollywood to New York carries herself with a bit of both worlds and is one of my biggest fashion icons for that very reason.
Whitney Port has run the gamut of jobs working her way up in the fashion industry from interning at Teen Vogue, working for influential fashion PR companies and attending all kinds of fashionable events as a TV personality. Now, Whitney even has her very own clothing line, Whitney Eve. Described as being eclectic and feminine, the Whitney Eve line has Whitney Port's personal style written all over it. I love designers who can design for an audience they connect with. Whitney's design aesthetic blends the ease of California style with the sophistication and edge of NYC.
Recently, Whitney attended the launch party for the new British fashion site, Very.com. Whitney Eve is one of the brands sold on the site, expanding this young fashion icon's influence even further! To celebrate her international design debut, Whitney wore an outfit that showed just how effortless and amazing her style really is. In a Whitney Eve striped shirt, floral bubble skirt and maroon ankle booties, we adore her bold play with prints and colors.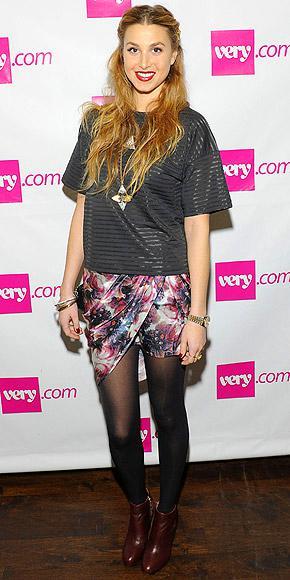 Combining prints and textures can be difficult but it's really all about styling it with confidence and the right accessories. Deep red lips are a holiday essential and the tights add a solid color to tone down the stripe and floral duo. It's wintery and fashion forward and still has enough glamour to call it a red carpet ensemble. I am always a fan of a double pendant necklace look and I think that is the cherry on top to Whitney's launch party outfit.
Creating a double pendant look is easy! Here are our picks to get the silhouettes and lengths like Whitney's Lulu Frost necklaces at a much more fab price. The Burnished Brass Square Pendant Necklace will work as a geometric, simple top pendant. And for the bold, focal point lower pendant, try out our Silver Tone Single Bloom Large Pendant from our Vatican Library Collection. The bright silver tone of the flower, rich gold tone chain and green crystals are stunning especially for the glitzy holiday season.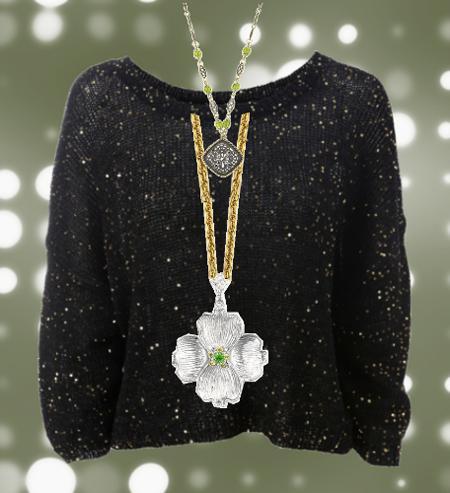 Happy fab find Friday!