Fall is looking more and more retro as the minutes go by and even in the middle of this late summer heat we simply cannot wait! Banana Republic has already been incredibly successful with their Mad Men collection, J. Crew's lookbook is filled with pastel basics and cheeky styling, polka dots are lining the catwalks, menswear for women is bringing back "Annie Hall" style and one of the biggest color combos of the season is black and white. Not to mention the huge rise in popularity of cat eye sunglasses and eyeliner and the hottest editorial look for hair is teased up and sprayed just like it was in the 60's.
So it turns out that the latest and greatest in fashion is really all about reinterpreting stylish looks from the past and adding a modern splash of color or edge. Everything comes full circle to start the fashion cycle once again right where it originally began. So even though two days ago I blogged about those items you should Buy, Keep and Store, the key word in that is to store, not throw away completely. You never know when you'll want those gaucho pants again (although, that is one trend I wouldn't be too sad about bidding adieu to forever!).
Classic beauty Scarlett Johansson proved just how modern "retro" can be this past week at a Moët & Chandon celebration wearing a polka dotted bottle green Marc Jacobs dress from his A/W collection. The retro aspects: the polka dots, the subtle color contrast, the big teased curls, the pencil skirt and its tea length hemline. The modern aspects: the flirtatious lace inset, the structured cap sleeves, the glitter of the polka dots and Scarletts subtle but spunky styling!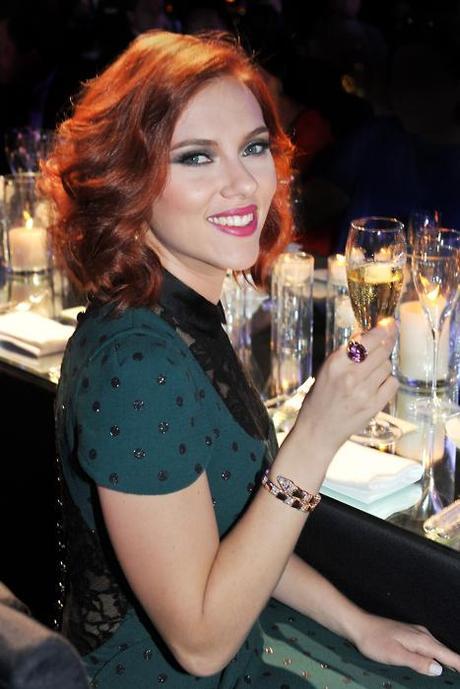 Now Scarlett Johansson has run the gamut as far as her fashion choices at red carpets and celebrations such as this one. We've seen her with blonde, red, and brunette locks, in dresses that are beautiful, sexy, sometimes too sexy, and sometimes just confusing looks from head to toe. I'm not sure if she has a stylist, but based on her red carpet history, we're going to assume the answer to that is no.
However, I find this to be one of Scarlett's better looks. Simple and sophisticated, you can still see she is having fun with fashion which is really the whole point! The bottle green dress (which is going to be a huge color this upcoming season) works perfect with her bright pink lips and dainty purple jewelry. Now normally this many jewel tones in one look would be loud and over the top, but her choice of accessories is so minimal and elegant, you almost barely notice her jewels are jewel toned!
If you want some subtle yet colorful pieces like this to mix with your bottle green, marigold and red hues this fall, we definitely recommend 1928's L'aura Pourpre Triple Strand Toggle Bracelet with rich violet and amethyst hued beads on a trio of chains. And if you need a pop of color on your ears, we love our Morado Amor Elongated Teardrop Earrings that have seriously unique quartz like stones.