While red may have been the "it" color of the spring, it looks like electric blue is taking over for the summer! Celebrities have been gracing all kinds of red carpets and events in the vivid color. Cobalt blue is a flattering jewel tone that looks good with every skin tone and isn't too bright to draw attention to any "trouble areas" that we all have. It's sleek, modern and very, very summery!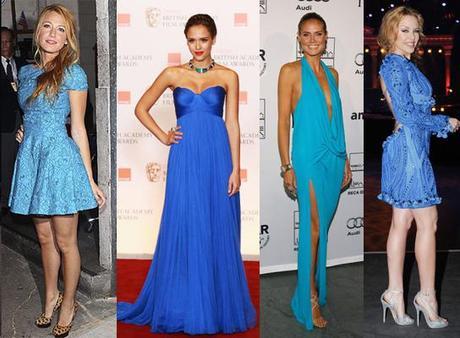 From left to right: Blake Lively in a cute little number by Tibi; Jessica Alba shows us maternity chic in Versace; Heidi Klum glows in Michael Kors; Kylie Minogue pops in Emilio Pucci
And recently Christie Brinkley, the famous CoverGirl of the 80's, tried on some bright blue and looked amazing! At 57 (believe it or not!!!), Brinkley also showed that this color is not suited for any particular age group- it works for us all! Apart from how terrific she looks for her age, the former supermodel accessorized her Zuhair Murad gown with some seriously sparkly Chopard jewels, giving her a modern, youthful look from head to toe. Overall, her look was just fun!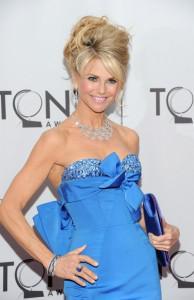 But what caught my eye was her necklace! Now, I have always been a sucker for a layered statement necklace, but seeing one done by Chopard, one of the leading fine jewelry designers of our time, is just breathtaking! For the same silhouette minus the diamonds (obviously), check out 1928's new Delia's Silver Daisy Crochet Bib Necklace. The intricate crocheted beading on this necklace creates a malleable style that lays beautifully on your neckline. So go shopping for some electric blue, get yourself this silver statement necklace and you can have a red carpet trend in an outfit as casual or dressy as you'd like! Here are some of my fab find inspired outfits I will be putting together for the summer. Share yours with us too! And have a fabulous Friday!