There were quite a few occasions in 2011 that we blogged about our obsession with little miss Elle Fanning (see here, here, & here for a few highlights). The young starlet is only 13 years old and has somehow managed to be a style icon to women well into their 30's. Not to mention her acting talent, Elle has now modeled for Marc Jacobs, is a muse to Rodarte and Miu Miu designers, and has even been referred to by her older sister, Dakota, as the style authority of the family. She definitely made our best dressed list of 2011 and even just one week into the New Year, we think Elle will have an equally fashionable, fabulous 2012!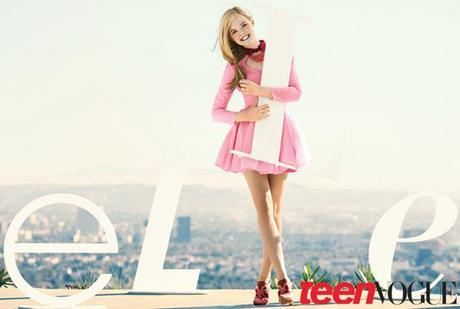 While Elle Fanning's style both on and off the red carpet not only impresses me but inspires my personal style choices, I still think her most admirable quality is that she always dresses appropriately for her age. In high fashion, it is easy to get swept up in the low cut couturier gowns, sexy mini cocktail dresses and heavy makeup, especially when being compared to adult women. But Elle is consistently sweet, sophisticated and so stylish.
Elle's most recent fashion feature is on the February cover of Teen Vogue in a very Valentines themed spread! Even in her interview for the mag, Elle says, "I'd much rather look like a two-year old than a 21-year old!" Well, we'll tell you this, girl, you do not look like a toddler! In fact, styled in looks from Carven, Christopher Kane, Valentino, Oscar de la Renta, and Prada, Elle Fanning looks like the modern day dream of a young princess!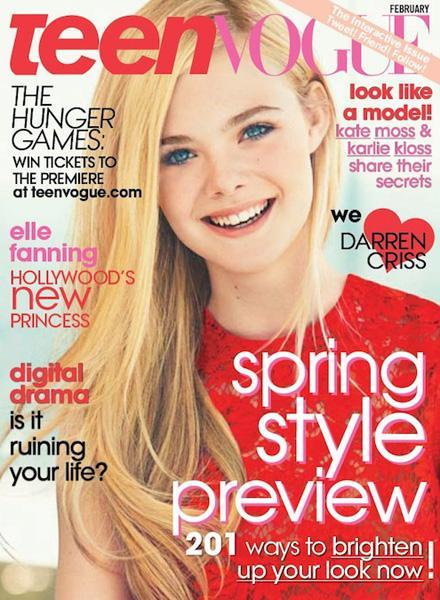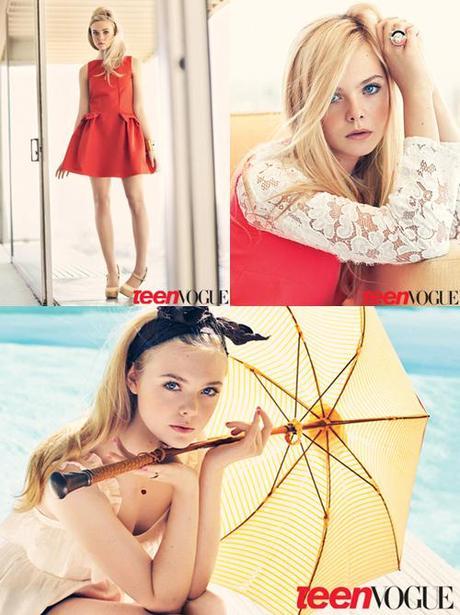 Since this shoot is so fabulous, you know we caught a fab find in there! While styled in mostly red, pink and neutrals the one other pop of color was blue, to match Elle's piercing gaze. The Jane Tran hairpin she is wearing is adorable with Fanning's eyes, and we have a hair pin just like it! 1928's Blue Zircon Bloom Bar Metal Hair Barrette will give any blonde-haired blue eyed jewelry gal the same sweet style as Elle! Even without the same features, the blue zircon stones look fab!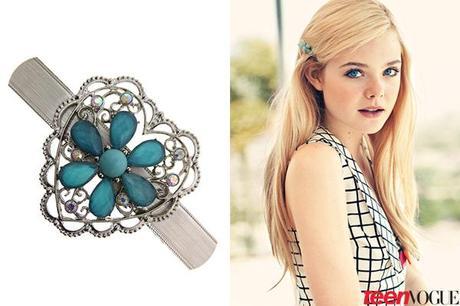 Have a fabulous Friday!