With all of the red carpet hustle and bustle of awards show season, it is easy to forget that there are some other very star-studded fashion events currently going on. Haute Couture Fashion Week took place this past week in Paris, France hosting some outrageously divine couture collections from designer names like Atelier Versace, Jean Paul Gaultier, Iris Van Herpen and Armani Privé to name a few. But the show that has everyone talking, as it always does, was the Chanel Spring 2012 Haute Couture collection. Never one to disappoint, Karl Lagerfeld is known for making all of his collection debuts more than just a runway show- each collection of his comes with a full blown theme and grand ceremony to paint a complete picture of the designer's vision.
For this Haute Couture season, Lagerfeld was inspired by air travel and stewardess uniforms, so naturally he transformed the Grand Palais in Paris into the interior of an airplane, with models walking down the aisles. If you aren't too familiar with Couture Fashion Week, these collections are created as inspirations, not literal ready-to-wear clothing. The more outrageous and avant-garde, the better! These collections are created for the sake of fashion, not for the sake of every day style, unless maybe you were Lady Gaga. But some of these Chanel Haute Couture 2012 looks are actually pretty divine and definitely wearable! Check out some of our favorites here!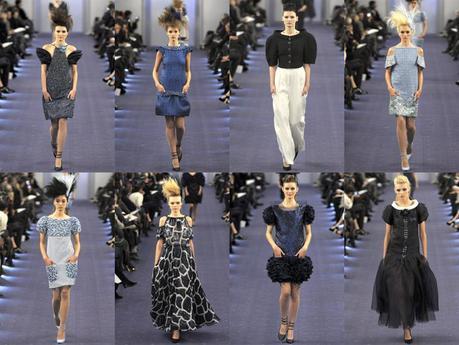 And the chic Chanel fashion didn't stop there. Some of Karl's favorite muses attended the show with the best seats in the house- the front row! Celebrities like Cameron Diaz, Vanessa Paradis, and Elizabeth Olsen were there to show support of the label that often dresses them for red carpets and other stylish soirees. Another star at the show is a well known Lagerfeld favorite, Diane Kruger. The German model turned actress always follows the fashion manner code by wearing a design of the label she is there to see. Just last year at the same Couture showing, Diane wore an elegant vintage Chanel embellished white gown that channeled old Hollywood glamour to a T. Picking up on the bronze accents along the bust and inside of the draped skirt, Diane wore a pair of chandelier earrings, very reminiscent of our Brass Tone Chandelier Earrings.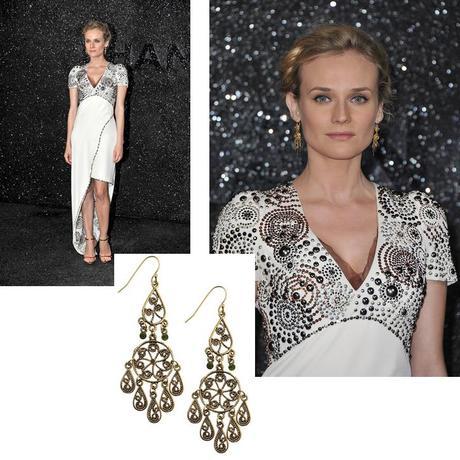 Kruger poses pretty at last year's Chanel Couture showing.
This year, however, Diane Kruger went for a look that felt a bit more on par with the Haute Couture collection that was presented. Her bell-shaped tweed dress from the pre-Fall 2012 collection was a bit more edgy than the gown she wore previously, and is very typically Chanel. Something about the big pearl buttons, sexy over-the-knee boots and chain strap Chanel bag makes for one seriously chic outfit.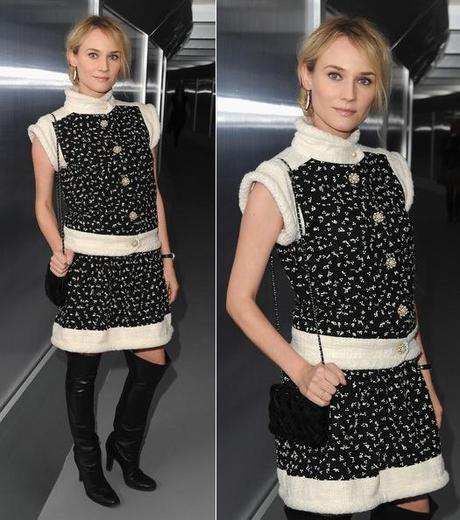 And instead of opting for matching pearl earrings or none at all considering that high collar, Diane wore a pair of silver feather drop earrings to bring out yet another element. You can get a pair of feather earrings just like Ms. Kruger's from our T.R.U. Brand! The Pewter & Crystal Hoop Feather Earrings share the same size, silhouette and style as Diane's and we can bet that $38 is a lot less than she paid for hers! What a fab find!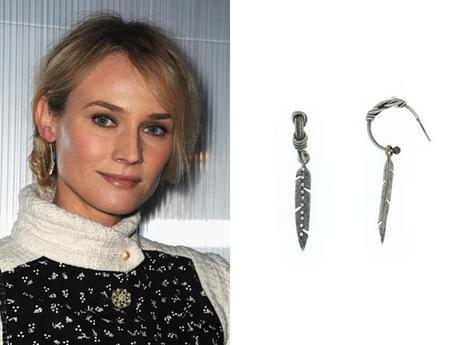 Have a fabulous Friday!