In all of the hustle and bustle of NYFW, we can't forget the fashionistas stepping out on the west coast either! Fashion week is over and we will be blogging about Spring 2012 trends, favorite collections, and what to expect as far as colors and jewelry go, but that will come next week. And with the Emmy awards around the corner (tune in on Sunday September 18th!) we can expect to see many of those gowns that came down the fashion week runways on the red carpet!
I've discussed adding metal hardware accents to your outfits before on numerous posts (here, here & here). Whether you are holding onto minimal looks in neutral tones for one more season, or if you are channeling a retro color-blocking vibe with bold color combinations, metal accents are an easy way to update and streamline your look to be on trend this fall. If we had to narrow this concept down to three words think metallic, sleek and bold!
Occasionally I shop high-end sites just to see what designers have come up with and ooh-and-aah at their work. In flipping through all of the luxury jewelry for Fall 2011 I found plenty of long golden dangle earrings that would serve as the perfect metal accents to any outfit. But for those prices, no thanks! Take a look here at designer earrings and see if our fab finds below don't match up!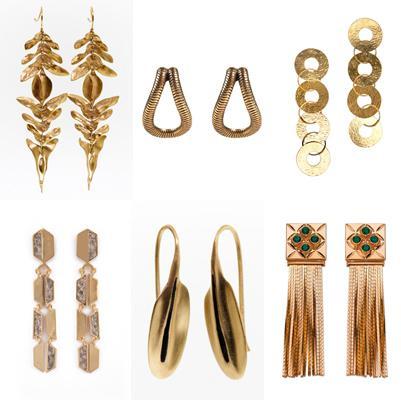 Luxury designer earrings clockwork from top left: Ten Thousand Things, Oscar de la Renta, Herve Van Der Straeten, Mawi, Ten Thousan Things, & Kara Ross- none of which are priced under $500!
Before we dive into the jewelry fab finds we see at the Emmy's next week, let's take a peek at a knockout look we caught at the Creative Arts Emmy's held this past weekend in Los Angeles. A favorite look of mine was definitely Julia Stiles who showed up to the awards show in a body hugging, capped sleeve white number looking fantastic! The actress, who was there for her nomination for outstanding guest actress in a drama series for her role on Dexter, knew just how to style her look for the evening.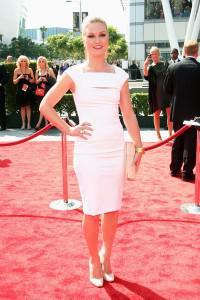 Because the dress falls into the minimal style (in fact, it is probably from a spring 2011 collection), with the delicate cut-outs and monochrome fabric, she added some fierce metal hardware jewelry to make it more modern and more now! Her long metallic earrings and cuff stand out beautifully against the stark white. After seeing the Spring 2012 shows at fashion week, we can see that all-white is here to stay so to get Julia's look for this season or the next, check out these three new styles from our vintage estate jewelry inspired De Luca collection. Told you we would have styles to fit your fashion cravings and your budget! Have a fabulous Friday!