Retro fashion is known for being sweet and demure, classic and chic with an ultra-feminine allure. Think girly pearls, soft pastel shades, polka dots, and dainty details. We've seen a big boom of high fashion designers turning out retro-inspired collections like The Great Gatsby inspired show at Ralph Lauren, mod-chic looks at Moschino, flapper girl fringe at Gucci, cat eyes glasses and peter pan collars at Miu Miu, and the always present delicate ease at Chanel. But when designers take a trip to the past to create the latest and greatest, they have to put their own modern spin on it whether that is with lux materials or bolder color palettes.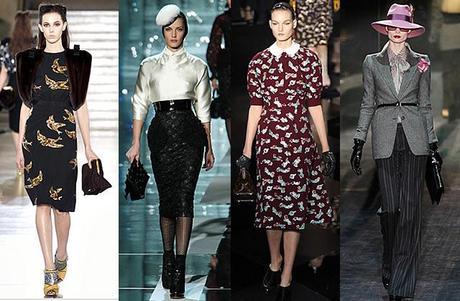 Retro ruled the runway for F/W 2011- Miu Miu, Marc Jacobs, Prada and Gucci.
Retro is officially defined as "imitative of a style, fashion, or design from the recent past", meaning it is not actually vintage or from the past, but inspired by it, just like all of our jewelry! By blending modern color trends and silhouettes and the aesthetic of years past, retro clothing and jewelry are a fun way to really express your personal style!
One of our favorite celebrity style icons has a strong retro look that she is constantly updating with an edgy, rock 'n' roll vibe. Gwen Stefani is a global trend setter who goes to show that retro can be more than pearls and pastels. Her icy blonde hair and famous red lips give her an old Hollywood glamour reminiscent of Marilyn Monroe, even when Stefani is dressed in a hip, urban outfit. Singer turned designer of high-end label L.A.M.B., there aren't too many times we see Gwen and dislike what she has on. Get some inspiration from these retro meets modern looks Gwen has tried throughout the years!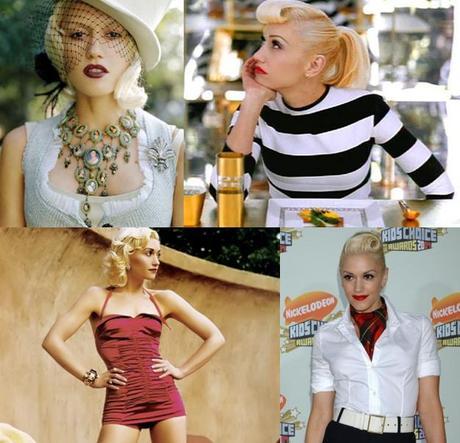 As such a big name in fashion, Gwen Stefani has recently teamed up with Target to create a children's clothing line called the Harajuku Mini collection! The clothing is for babies, children and teens and has just as much spunk and flair as Gwen does! In the commercial for the collection, Gwen has a brief cameo, wearing a cameo! That's right, Stefani brought in some of her iconic retro glamour by sporting a beautiful cameo brooch fastened onto a trendy peter pan collar. Styled with the large black bow in her hair, electric pink lips and picture perfect blonde curls, Gwen is a retro vision!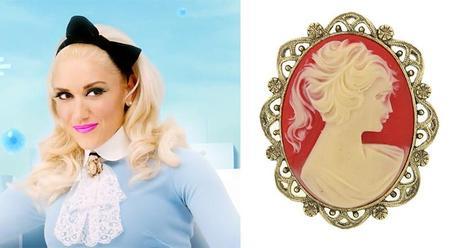 The best part about this look is that it is so accessible! You can get a brooch just like Gwen's on 1928.com. Our Vintage Elizabeth Cameo Brooch has the same carnelian red color as the one on Ms. Stefani  which is more romantic than the usual black and white style cameo. With the rise in popularity of cameo jewelry and all things retro, we think this is quite the fab find! Buy this brooch today and enter code 111111 to see what kind of savings you get. You never know what can happen on a day like 11/11/11- happy shopping!
'