If you're reading this blog, chances are you feel the same way about jewelry as we do—it is the cherry on top, the game-changer, the accessory that defines your personal style. The same piece of jewelry has the ability to work with a simple t-shirt and jeans and still transform to a stunning evening wear piece later that same day. This past Spring/Summer season was THE season of jewelry. More is more was the general consensus when it came to tribal statement pieces, stacked bracelets, and even bold cocktail rings. So what can we expect now that we are going full steam ahead into Fall?
Luckily, jewelry trends for this season haven't changed too much! While our statement necklaces and arm candy may be losing the spotlight to wool coats and killer boots we still have a few fun jewelry styles to incorporate into our fall wardrobes. Refinery 29's trend report breaks down what kinds of baubles and bling to keep an eye out for and we've got the perfect 1928 fab finds for you! Featuring pieces from our new brand T.R.U., we're sure there's a piece in here for everyone.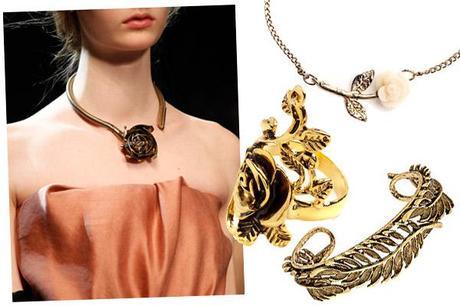 Image via Refinery 29- "Botanical Goes Bronze" spotted at Lanvin
Most noticeably seen at Lanvin and throughout many, many editorials over the past few months, ornate florals hit a high note this season. Floral jewelry is always a favorite but this season we give them an update by keeping them primarily metal. You won't be seeing too much color on these pretty petals, instead unique shapes and antiqued details give theses accessories their flower power. Our favorite floral piece is in fact not even a flower at all but our brand new T.R.U. Gold Essence Feather Bangle Cuff Bracelet with a large feather-like leaf at the center. Simplified to three words: ornate, bronze, atypical.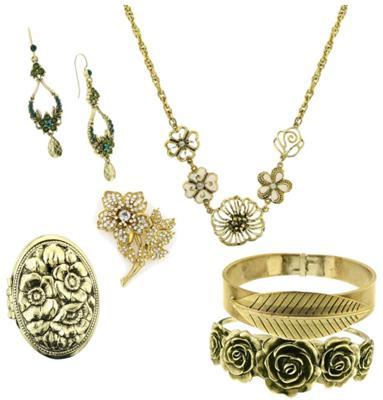 Fashion is very much about shape and if there is one trick in the book when it comes to jewelry it is that the longer a piece is the more it slims! Enter extra-long, dangling duster earrings. I think this is the perfect jewelry style for the holiday season for multiple reasons; scarves and high collars won't cover them, they are festive yet fashionable and there are just so many good styles to choose from right now!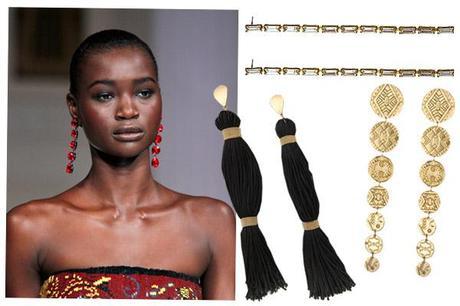 Image via Refinery 29- "Hang Long" spotted at Oscar De La Renta
Whether you opt for a sparkling metallic pair or a bright pop of color, we're certain you'll fall for these earrings. Our T.R.U. Wax Linen Wrap Long Arrowhead Earrings come in pewter and gold and measure 4" long! Now there's a length that ought to catch some attention. But our color filled pick has to be our Razzle Dazzle Blue Sapphire Linear Drop Earrings that have an amazing cobalt blue shine.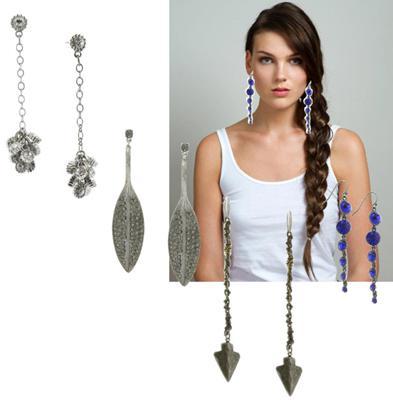 And last but definitely not least, another great jewelry trend of the season is fierce, fabulous filigree! 1928 designs use a
LOT
of filigree work and we are thrilled to see this feminine style get its time in the spotlight. But this time filigree jewelry is getting an update! Blending the heavy tribal vibe from last season with more ornate shapes and simplified colors, you want to look for chunky, thick curves that highlight the filigree work.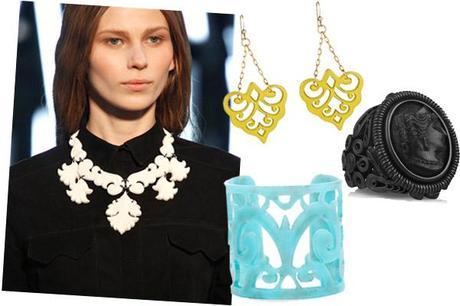 Image via Refinery 29- "Chunky Filigree" spotted at Proenza Schouler
We're loving this modern take on a vintage classic for the retro look that is becoming so popular too. Shop our site for the best of the best in filigree designs and you'll be feeling and looking fabulous in no time.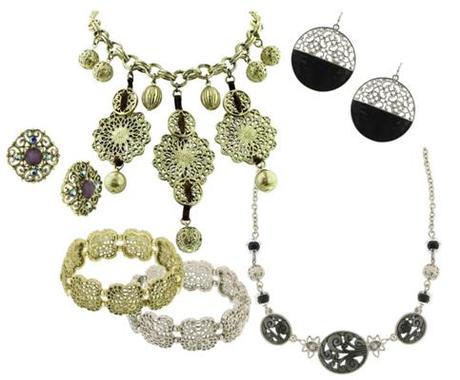 Have a fabulous Friday!