It should come as no surprise that we LOVE the vintage style of the television series Mad Men. Costumer and fashion designer, Janie Bryant (who is designing a Mad Men inspired line for Banana Republic!) has tapped into the 1960's style with perfection and transports us back to that time with every costume in every scene of every episode. In fact, thanks to Bryant's styling genius, our 1960's Vintage Inspired Gold Tone Pen Necklace has been a huge hit for vintage loving fashionistas.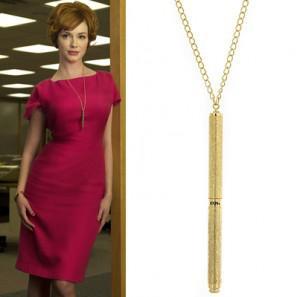 The pen necklace has gained its "fame" from
Mad Men
's character,
Joan Holloway
, played by the lovely
Christina Hendricks
. Joan Holloway is hardly ever in a scene without that necklace on and it has come to truly define her entire style and character. However lately, my attention has been grabbed by Ms. Hendricks' personal style as opposed to the costumes she wears on the show. Still simple-chic and definitely not "trendy", she embodies a beautiful, modern day, yet timeless elegance with almost everything she wears! And two of her most recent red carpet looks have especially caught my eye.
Last week at an after party for the Tony Awards, Christina Hendricks stepped out in a dressed-up denim look that had all the right components. Sleek and tailored, the red-headed actress accented her black and white ensemble with blue pumps and a bright green clutch (one of my favorite trends at the moment!). Keeping it casual never looked so chic! The only jewelry she had on was a pair of dangle earrings that almost had a cross shaped silhouette to them. And if you want to dress up your blazer and summer stripes like Christina did, check out our Floral Cocktail Long Opal Dangle Earrings that add all the length and just a bit of color to make your denim based outfit a little more formal.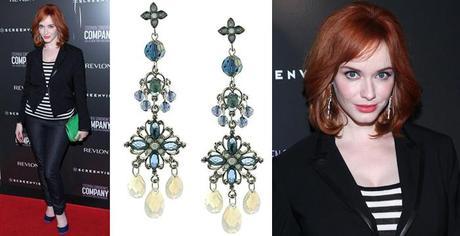 Christina Hendricks really made a statement when she arrived at the Critics Choice Awards this past week. Although the actress was in a classic LBD, her famous curves and the way she styled the dress put her look over the edge into "fabulous" territory! Some people would call this look "boring" or "safe" but I think she rocks it! Not many curvy ladies can pull off the minimal inspired trend, but Christina proves that it can be done! Her textured cuff bracelet follows along the idea of metal hardware as we mentioned in posts before. Right on trend and right on track with her character's 60's style- this look blends modern and vintage together beautifully! Now if only she was wearing our Pen Necklace too!


Have a fabulous Friday!!!