If you're a fan of 1928.com, you've seen that we just LOVE bracelets that you can mix and match and stack as high as you'd like. Our designers have paid close attention to how bracelets have been trending and how stars wear not one, not two, but three or more bracelets on the same wrist. It's a simple concept and a look that is easy to achieve. Remember tying multiple friendship bracelets on your wrist as a child? Or what about pairing necklaces that fall at different lengths to create an overall statement look? It's just the same with bracelets!
Personally, I am a bracelet fanatic. If I don't have at least three on my left wrist, I feel as thought I left the house without something and it bothers me all day. I find bracelets more comfortable to wear than other jewelry pieces and easy to match with anything- actually I think it's the fact that they don't have to match with the rest of your outfit at all and it still goes! I love the look of a watch with thin wrap bracelets surrounding it. It makes your everyday watch a little less boring. And now that the weather is warming and our sleeves are getting shorter, it is the perfect accessory to throw on any time, any day.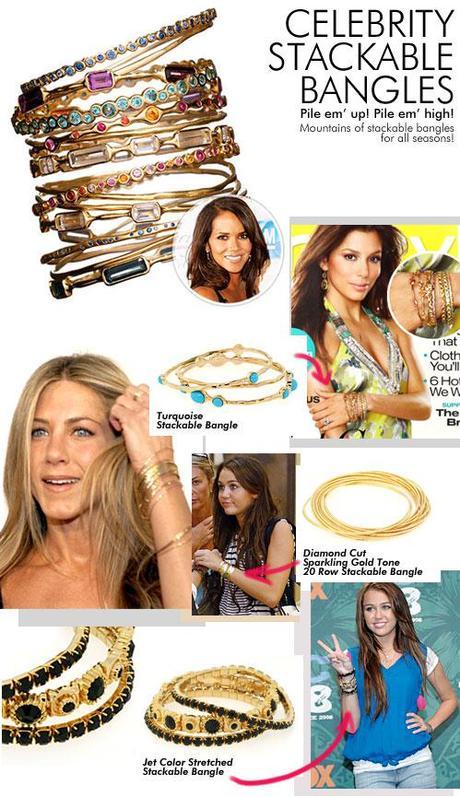 With the 70's inspired look coming back, and boho being bigger than ever, I think its time to really experiment with your bracelets and bangles like the celebs do. From young to old, women are rocking the stacked bracelet look in their own way. Jennifer Anniston, Miley Cyrus, Drew Barrymore and others are decorating their wrists and then some with a unique array of bangles and bracelets. The best part is, no one will have the same combo as you! And you can get as creative as you want when it comes to mixing and matching.
1928 JUST posted six brand new bracelet sets that will help you accomplish this look. Our Spring Bracelet collection is light and airy and my favorite part about these bracelets is that they may look like bangles, but they actually stretch, making them easy to slip on and off. Then there's our Bollywood Bangles that are just so hot!!!! 1928 employees are already wearing them around the office and we can picture someone like Vanessa Hudgens rocking these unique bracelets. It gives you pieces to play with- maybe just wear two out of the six, or pair them with bracelets you already have! How fab is that?