Summer is without question a season for brights! We ditch plaid for florals, our big black totes for candy colored satchels, and heavy boots for sandals to show off our brightly painted toes! The weather gets warmer and so do our moods. Now don't get me wrong, I prefer Fall fashion over summer pieces, but its always nice that summer styles are so easy and effortless. Just last week, I blogged about brightly colored denim pants and how they can be styled with boho-chic brown jewelry for a look that you can take straight from summer into winter.
No matter what season, everyone loves a little pop of color here and there. I remember thinking colored accents on a black and white ensemble was just the bees-knees when I was started taking interest in fashion. It was my way of expressing my style and my mood of the day. Red was for my more daring looks, yellow for a sweeter, daytime outfit, and accents of turquoise blue just because it was my favorite color and it put me in a good mood. While I've moved on from only adding hints of color to black and white, I still think colors are fun to play with when you're getting dressed. (Confession: I will occasionally even get nervous that I match "too much"- if that's even possible.)
That being said, I think the queen and expert of mixing and matching colors with reckless abandon is Blake Lively. Lively is one of the few young fashionistas in Hollywood that does not have a personal stylist, yet she is consistently on the best dressed list, looks flawless on the red carpet and some of her best friends include Anna Wintour, Christian Louboutin and Karl Lagerfeld. I guess I wouldn't hire a stylist either in company like that!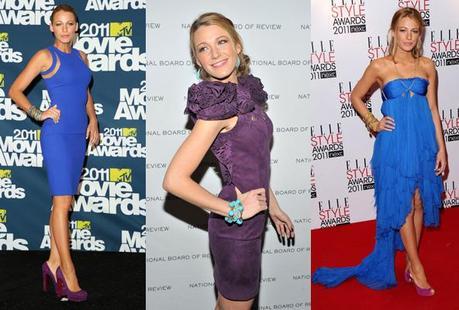 Blake Lively loves to mix blue and purple! Check out all of these looks she's put together with the unique color combo!
Lively is a glamour queen wearing almost nothing but very high-end labels and throughout the years has picked up on her Gossip Girl character, Serena's, style. She dresses appropriately for galas and other red carpet premieres, however, I find her style at its best when she is at events that are a little less formal, because that is where we see her take risks. And what is her favorite styling technique, you may ask? Mixing unexpected colors of course!
After a few seasons that were so focused in around minimalism and neutral tones, I am so glad to see runways and stores filling up with rich colors. Gucci has been the one label to stand apart and has now shown stunning, opulent jewel tone collections for this Spring/Summer season, the upcoming Fall/Winter season and are even continuing it into their Resort 2012 collection. Being such a fan of color, I am not surprised in the least bit that Blake Lively wore a bright orange Gucci dress from their Resort line to the Teen Choice Awards this past weekend. And in true Lively form, she styled the dress with leopard print Louboutins and gorgeous silver and aqua earrings.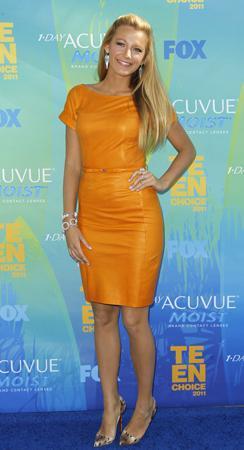 You can wear a pair of aqua earrings with just about any of Fall 2011's hot new colors and get a look just like Blake's! Our pick for that perfect dash of color? 1928's Blue Jewel Aztec Triangular Earrings! Silver is the new gold, tribal is the new minimal and aqua blue is always hot! What a fab find!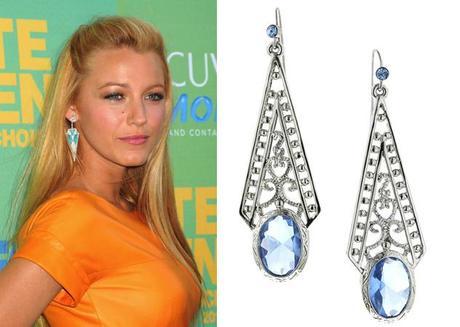 Have a fabulous Friday!