Fashion is a blend of functionality and fantasy and is, above all, transformative. We all feel more glamorous when we put on an evening gown, just as we feel more at home when we have our favorite sweatshirt on. We also have different things that inspire our fashion choices. For some of us, we want looks straight off the runway or that mimic the outfits from the magazines. For others it may be a fashion blogger or even a best friend whose outfits are always so killer, you want to dress like that too! And sometimes, we are inspired by characters in movies and TV shows who are always dressed to impress.
When screenwriters are creating a character they have to think about everything, especially the kind of clothes they will be wearing. In a world where looks are so important (even if we say they don't matter) when it comes to on-screen characters, we ARE allowed to judge a book by its cover, or in this case a character by the clothes he/she is wearing. Costumers and stylists work hard to create looks that are 100% fit for that character's style. So much of Annie Hall was defined by her menswear accessories and adorable styling. We feared Meryl Streep's character in the Devil Wears Prada because we were intimidated by her outrageously expensive (and fabulous) power suits. And I'm sure we are all jealous of the upper East-side socialites from Gossip Girl, one of my favorite fashion references!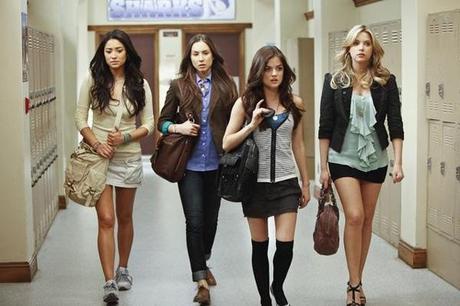 The characters from Pretty Little Liars are defined by their personal styles
But one of my new favorite group of character's that have impeccable style is the group of girls on ABC Family's hit series Pretty Little Liars. The four main characters, Aria, Hanna, Emily and Spencer each have their own unique sense of style that is still approachable and realistic. Instead of high fashion labels or over the top trends, these characters have a very fashionable girl next door quality to their looks. Stylist and costume designer for the show, Mandi Lane, has perfected each of these character's style so that you know the minute you see them, whether you have watched the show or not, what they are going to be like.
Coming from such a stylish show, we were thrilled to see actress Ashley Benson, who plays Hanna on PLL, stop by the 1928 suite for a Think Pink celebration for October. Also known for her roles in Supernatural, and 13 Going On 30, Ashley came to support breast cancer awareness month and shop some 1928 Jewelry styles. Her pick? Our Blue Freesia Pendant Cuff Bracelet, a style we make in house right here in California! This bracelet is a great style to rock with denim, but we also love how it picks up that pop of blue in Ashley's sweater. So no matter how you wear this piece, you'll be looking great for a fabulous price!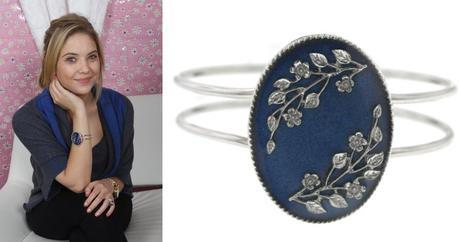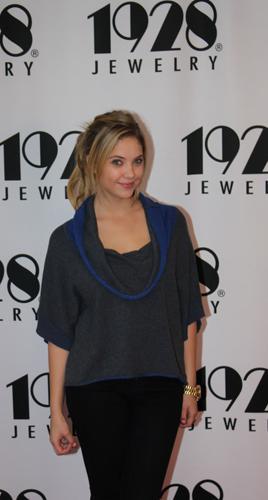 Have a Fab Friday & Happy Halloween Weekend!
'