The gorgeous Anne Hathaway seems to be taking the title of "America's Sweetheart" away from Jennifer Aniston! Whether she's playing one of our favorite, relatable characters in a rom-com or wowing us with her amazing personal style on the red carpet, Anne Hathaway is one stylish celeb! My favorite thing about Anne's style is that she never looks like she is trying too hard—nothing is forced, nothing is too trendy. Instead she finds a look for each event she attends that manages to look different than anything she has ever tried before.
Making her first appearance since her engagement to Adam Schulman last week, Hathaway attended the 2011 Kennedy Center Honors Gala in Washington, D.C. on Saturday looking flawless as ever. I have always seen a slight resemblance between Anne's breathtaking beauty and Audrey Hepburn, especially as Holly Golightly (see this blog post!) Both Anne and Audrey have strong feminine allure that makes being the belle of the ball absolutely effortless.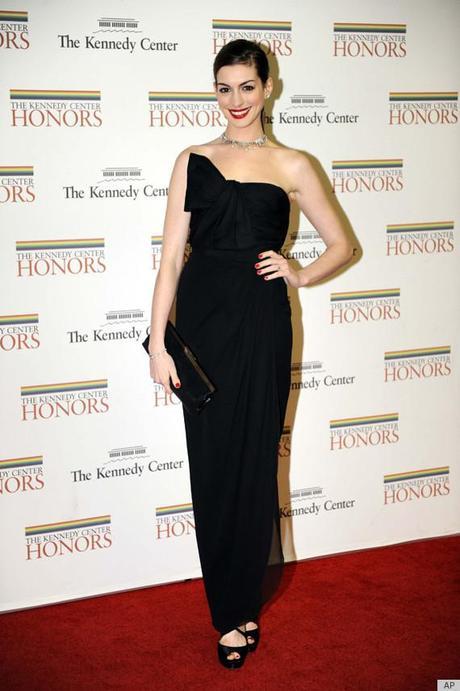 For this event, Anne wore a very classic ensemble that some have commented on as being boring, however we strongly disagree! Her black strapless
Giambattista Valli
Resort 2012 column dress is almost like a modern version of the LBD Holly Golightly made so famous! With dark red lips and an antique
Fred Leighton
diamond star choker, we thought her look was a fresh take on a classic head-to-toe outfit.
Not only is it a great look on Anne, but it is perfectly appropriate for the holiday season and the event she attended. Especially that diamond start choker- glitzy and sparkly and perfectly glamorous. Since the holidays are truly your time to shine, check out 1928's Aquamarine Splash Short Flower Bib Necklace! It may not be diamonds, but the light aqua blue beads and crystals create a wintry look reminiscent of snowflakes! This necklace is currently on sale so you don't even have to splurge to still have that perfect necklace to wear to all of your holiday parties.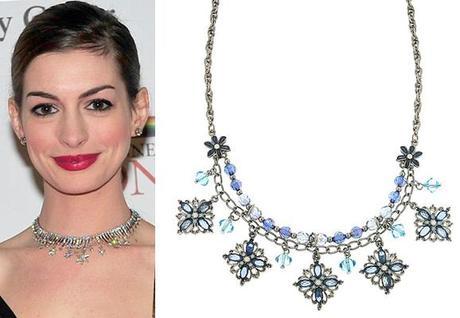 Have a fabulous Friday!