Red Carpet events come in all different "shapes and sizes"; there are some, like the Oscars, that are ultra glamorous black tie affairs, and then there are events like the Grammy's that are more about personal style and who can be the most unique. We also see red carpets at venue openings, charity events, photo calls and of course, movie premieres and the unofficial dress code for each of them is different.
With so many press moments, celebrities are expected to not only meet the dress code but also to represent their own personal style. Celebs are lucky to have stylists to help them achieve that picture perfect look for the many, many cameras that are lined up and down the red carpet. Fashion designers will also send fresh off the runway looks to celebrities and their stylists to promote their label and their look. And every so often there is that magic moment when the right celebrity with the right personal style fits into a designer's look just perfectly. Anne Hathaway just had one of those moments.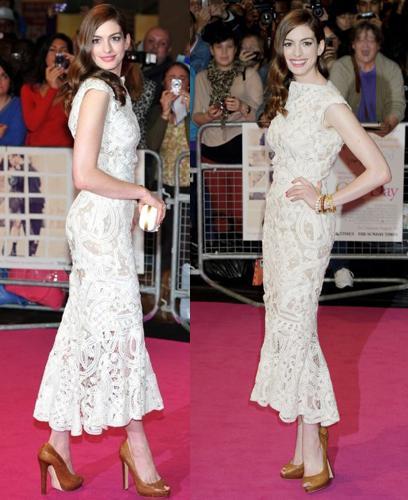 At the London premiere of her newest flick
One Day
, fashionista
Anne Hathaway
wore a head to toe outfit from the
Alexander McQueen
resort collection. With the help of celebrity stylist Rachel Zoe, Anne looked flawless in her capped sleeve off-white lace dress that had fabulous little feminine details such as the flared ankle length, sculpted neckline and curve hugging silhouette. Complete with McQueen pumps and signature McQueen skull clutch, Anne was a vision! Her look was so chic and so appropriate considering it was in London and she was wearing a British designer. Not to mention, the combination of white, the cut of the dress, her brown oxford-like heels, her luxurious stacked bracelets- EVERYTHING!- worked together to create a lovely transitional look from summer to fall.
And speaking of those bracelets, we think they were the perfect jewelry addition to Anne's look! Since the dress speaks volumes for itself, there was no need to throw on a necklace or even earrings, but the stacked bracelets added the jewels we were looking for. She wore a bracelet for each color in her outfit- crème, brown and gold! And we have the perfect fab finds to re-create the same look that will be a hit this fall! Our Chérie beaded bracelets offer a lux combo of pearly beads and twinkling crystals. And you can add a bit of texture and shape to your wrist with the Antiqued Celestial Stretch Filigree Bracelet (also available in silver). Add these three bracelets, or something like them to a neutral, tailored suit or throw them on with a bright bohemian dress and you've got a very stylish effect.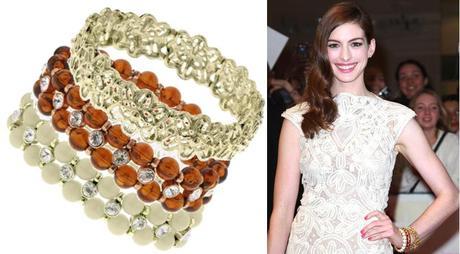 Have  a fabulous Friday!