You've probably noticed how often I write about the use of textures in fabric and jewelry (see here, here and here as examples). I get excited by prints, knits, unique stones, beads- anything that lends a stylish edge to the overall design of that piece. Now maybe it's the editorial obsession I have with fashion after pouring over spreads in the magazines for years (sometimes I see an article of clothing and instead of thinking "I hope it fits well!" like any normal girl would, I think to myself "Wow, that would photograph beautifully!"). But still, something has to be said for a unique pattern or finish to a garment or accessory that really gives it that extra little oomph.
Needless to say, I am very excited that this fall brings with it more than plenty of mixed patterns, luxurious fabrics, rich, saturated colors and tons of textures. I can't wait to play around with lace tops, faux fur vests, wool coats and snakeskin shoes! And what is any outfit without the proper jewelry? The key with putting together textures is making sure they all blend without being too match-y and of course without clashing. So when multiple prints or textures make their way into your outfit for the day, be sure to keep your accessories in balance.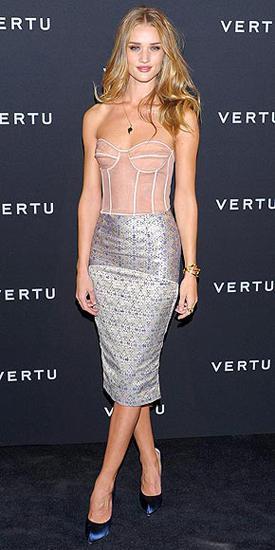 Ms.
Rosie Huntington-Whitely
provided us with a perfectly balanced and haute example! The Victoria's Secret Angel looked stunning from head to toe this past week in Milan wearing a corset top, printed pencil skirt, indigo Salvatore Ferragamo pumps and accessorized with classic gold jewelry. Let's look at all of the components to her texture-perfect look:  her corset top is sexy yet the color tones it down to sweet; her skirt has a lustre finish and a print, combining two very different things while still keeping with the sleek fit of the corset; her shoes, while contrasting in color also have that silky finish so they don't weight the look down; and the cherry on top is her elegant gold jewelry that doesn't necessarily match a single color she is wearing but is the perfect compliment!  Bravo, Rosie, bravo!
You too can get this sweet meets sultry look by combining some fitted pieces in unique textures and patterns that you may already have in your closet. And we have the fab finds to compliment your outfit just like Rosie's! Straight from our 1928 Boutique Vintage Collectibles collection, the Octagon Tiny Pendant Necklace is demure as can be! It is just the right amount of jewelry for a look that is already so feminine!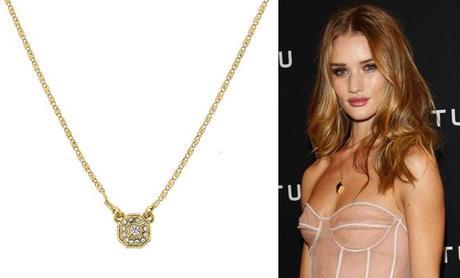 And what's more fabulous than getting a stacked bracelet look all in one design? The Golden Weave Three Strands Bracelet gives you all the texture and layers you need with three vintage mesh chains. A little more elegant than stacking bangles, wouldn't you agree?
Have a fabulous Friday!