Fur is on trend this year… and it disgusts me. I can't believe that it's 2014 and people are comfortable wearing new fur garments and that magazines (WTF latest issue of Lucky) are still promoting it. I think by now we are all too aware how fur coats are made, and thanks to technology and improvements in fabrics we don't need to wear the pelt of an animal to protect ourselves from the elements. In fact, faux fur has come such a long way there's no need for real fur to achieve fun and fabulous fashion.
When it comes to low-cost but high-fashion faux furs, ASOS is the site to visit. They always have the greatest ideas – fun pieces, on-trend details and colors, and looks that will stand out in a crowd. I love shopping ASOS – shipping is free on orders over $25, returns are super simple and free, and if you get on their email list you're notified of their regular sales and promotions. And international readers – a company that ships to most of you! These are the fab faux at ASOS that stood out to me: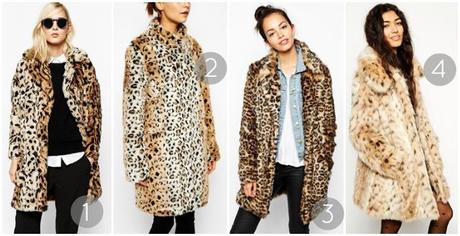 For the leopard fans, head thee to ASOS! Every year they come out with at least one covetable faux leopard and I love their choices this fall.
This faux leopard fur coat from River Island is classic cool and a great length and cut that will flatter everything from jeans to trousers to skirts. $189.50.
The stand collar of this faux leopard coat from Only gives a vintage vibe and ups the glam factor. I like that it's a softer print, making it easier to dress up. $170.55
This leopard faux fur coat from New Look is the type that looks so chic thrown over your casual weekend attire. Simple jeans and sweater? Not any more when it's topped with this glam baby! $104.21
The subtle leopard print on this fluffy faux fur coat from ASOS' house brand is utterly adorable and the type that will still be fun to wear years from now. The oversized collar adds glamour and fits with its vintage vibe. $161.08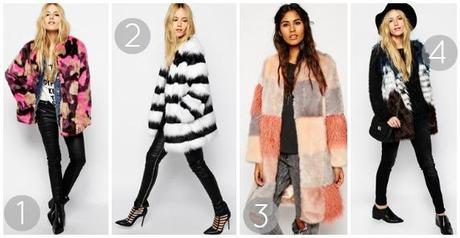 My favorite look for faux fur this season is the use of color. While previous seasons had chubbies in candy colors, this year has brought stripes, colorblocking, and patchworks in rainbow hues. Ans as expected, ASOS delivers this trend.
Oh this collarless faux fur is utterly badass, from the hook and eye closure to the boxy fit to that amazing color combination. While I love how they styled it over a casual look, imagine this over an LBD for the holiday season! $151.60
Be Cruella without hurting a single puppy in this black and white striped faux fur from Story of Lola. Zoom in on the detail of this coat, the mixing of textures and you'll fall in love. What a statement piece! $151.60
I'll admit, seeing this coat on the ASOS site is what inspired this post! What a fun mix of colors and textures, and the length adds drama. Pastels are so hot this year for winter, but the addition of gray makes it a piece that won't be dated come 2015. $189.50
Oh this vest is so cool and unique. I adore the unexpected color combination, the unusual print, and the clean lines. Pair over a leather jacket or sweater coat for winter warmth, or belt over a turtleneck dress for a chic day look. $123.18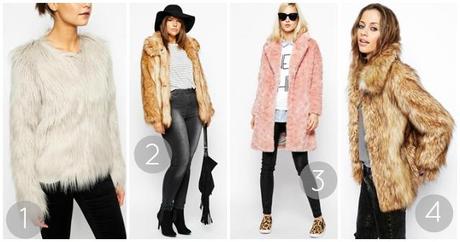 Vintage-inspired faux are in style and are a look that will still be chic seasons from now. ASOS not only has vintage-inspired faux furs but actual vintages pieces for sale (and no they're not insanely priced!).
I adore this pale gray faux monkey fur jacket. It's the perfect topper for all your holiday dresses, but don't be afraid to pair with jeans and boots for a downtown cool look. $113.70
This plush camel-toned faux fur from ASOS' plus size line Curve has that vintage vibe that will always make it look chic. This would look amazing paired with a turtleneck, dark jeans and boots, or a camel and cream wool dress. $123.18
Pink isn't what you'd usually consider a neutral, but this blush oversized faux fur from River Island is the shade that will go with absolute everything and the vintage look and oversized shape means it will look as chic with jeans as it does with a cocktail dress. $189.50
Some trends are harder to carry off when you're petite, and faux furs are one of them. Luckily ASOS realizes this and offers this vintage coat just for us shorties. With shorter sleeves and a trim fit, it won't overwhelm a petite frame and will look classic for many winters to come. $132.65