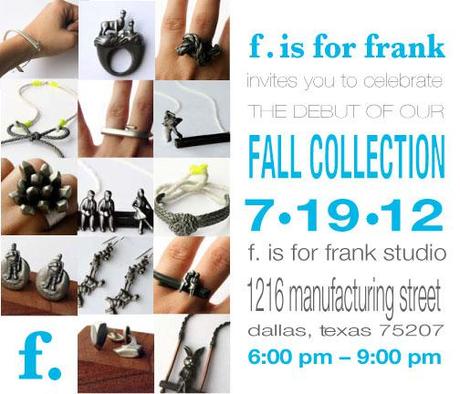 f. is for frank is hosting a little soiree this Thursday to unveil their latest Fall collection. I stopped by their studio yesterday to check out the new pieces and get a first-hand look.  Designer and co-owner Casey Melton told me that there are 3 different themes to this collection: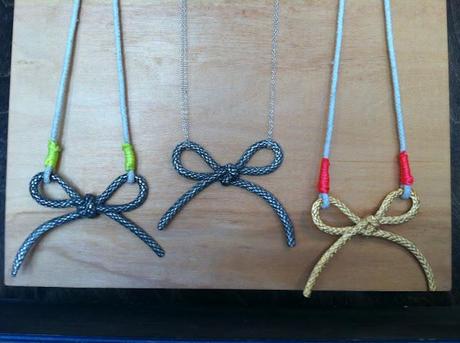 The first theme is "rope". There are rope pieces sculpted out of metal and then there are metal pieces using rope.  They love to mix organic textures and pieces with hard edges and architectural elements.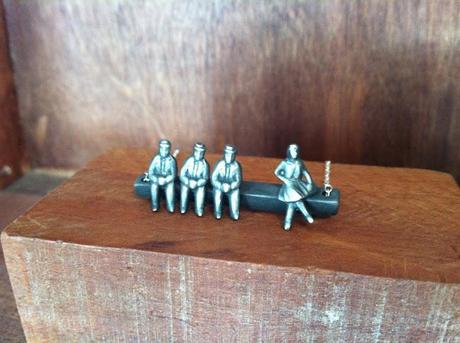 The second theme is "people".  Melton told me that this series was inspired by their participation in DIORAMA-O-RAMA earlier this year.  A diorama i

s a three-dimensional re-creation of a scene that displays multiple objects in some sort of box or container and portrays a specific theme or moment in time. Dioramas usually bring to mind small-scale formations—as seen in museums. It was seeing all these small figures that inspired them to take that same idea and incorporate it into jewelry form.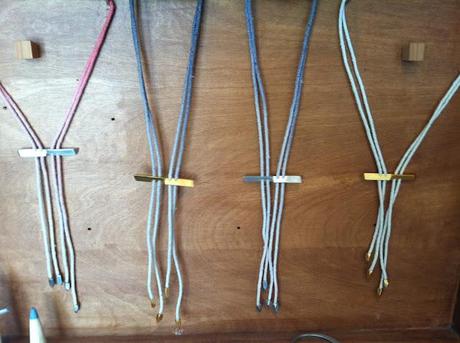 The third theme is "architectural edges". While using
architectural shapes is nothing new for f. is for frank, the use of ombre roping is.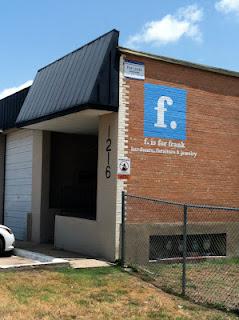 f. is for frank was established in 2007 and is a collaboration between Shoshannah Frank and Casey Melton. In 2009, the duo decided to take a departure from designing custom architectural elements and created a line of jewelry.  Their degrees in sculpture and metalsmithing and experience in architectural design is evidenced by the way in which their jewelry achieves a perfect balance between art and function.
f. is for frank's handmade collection of jewelry has a textural, sculptural and modern feel that is derived from the artists' background in designing and manufacturing architectural elements. While their jewelry reflects organic shapes and objects in nature, they also enjoy making a huge statement with scale. Cast pewter is their medium of choice. Pieces are also offered in 24-karat gold plate and rose gold plate.
Creations by f. is for frank are designed, sculpted, cast and perfected in their Dallas, Texas studio located at 1216 Manufacturing St., Dallas, TX. 75207.
Did I mention you save 20% when you buy direct from the studio? Oh yeah, it's worth the drive over!