Beautiful chirping of sparrows turns terrible noise.
The freshness of the morning breeze, that once used to fill me with peace--can never give me solace.
Every new morning haunts me with the shadow of my past.
The first rays of sunlight scare the life out of me, as if the whole world is pointing fingers at me
Food I take just to keep my body physically alive is unable to make its way down to my tummy, obstructed by the lump of sorrow in my throat.
Having a heavy head has become a part of my routine.
Red blood shot eyes dried up unable to produce anymore tears.
Often I feel my limbs motionless, as those of a paralytic patient. For a moment it felt like I'd never be able to get out of it.
Taunts of people around me feels like thorns being pricked all over my body.
Someone I know became someone I knew in no time.
When depression hits you full force, what else remains.
Dark seems to be comforting after all the horror light has given me.
The monsters in my mind outnumbered all those so called sensibilities. I lost my ability to think. Those monsters might have initiated the vacuum in me. Enough you devils! I have not enough power to fight you back.
Darkness attracts me and sucks the life within me just like a blackhole.
Of late I noticed that darkness is not something exterior, it's actually inside me--this void.
Suddenly I realised all this is because of  A FAILURE-- MY FAILURE.
I might grow up, become a more matured person overnight, learn the most important lessons of life but that doesn't let me escape the consequences.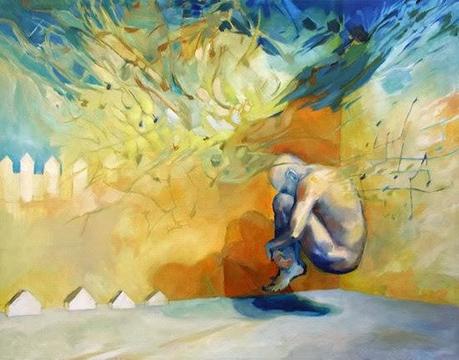 This painting is so real and I got away with it. I can see myself in it.
 A million thoughts wander.
Thanks for stopping by....I would be glad to know your views in comments...:)