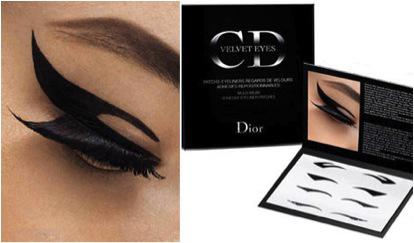 I love the sultry, 60s look of thick, dramatic eyeliner and have tried numerous times to free-hand the perfect cat eye…only to end up with two majorly mismatched lines (I scored a C- in art class for a reason).
Good news, eyeliner lovers. Dior's new Velvet Eyes take the artistry and guesswork out of the eyeliner equation. This genius beauty creation offers a set of multi-wear eyeliner appliqués made of velvet that includes four styles. So, whether you're new to dramatic liner or an old pro, these Dior patches are bold, inventive, and, most importantly, provide perfectly uniform liner. Simply peel off the style of choice and adjust to your eye shape (note: you put your eye shadow after applying the stickers). And the best part? They're reusable. Each kit comes with glue to ensure a firm grip to the lid. When you're done showing off your Audrey Hepburn-esque eyes, simply peel them off and place them back on the sheet.
Love the concept. Perhaps all of our makeup will eventually be "peel and stick-on." In that case, sign me up for the complete Audrey Hepburn "peel and stick" kit….