Our Auction - View Lot Detail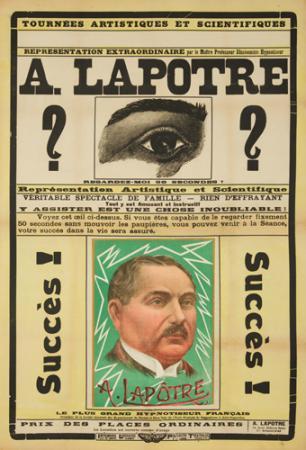 LOT #193: A. Lapotre. ca. 1889
ANONYMOUS
33 x 48 3/4 in.
An extremely rare early magic poster, claiming that it is a 'family show' with 'nothing scary.' In the middle, the text reads: "if you can focus on him for more than 50 seconds without blinking, you can come to the seance, and your success in life is guaranteed." The image is a color lithograph tip-on over engraved text, complete with metallic borders.

Est: $2,000 - $2,500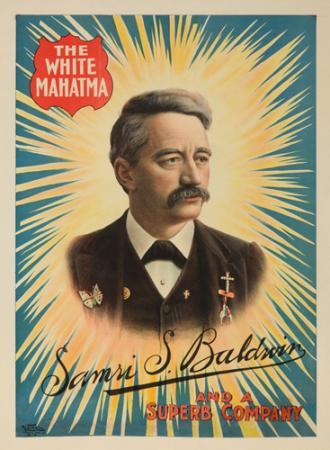 LOT #197: Samri S. Baldwin / The White Mahatma. ca. 1890

ANONYMOUS
20 3/4 x 28 in./52.5 x 71 cm
B/ Restored tears in lower text area. Framed.
"Samri S. Baldwin was born in Ohio, trained in theology, and inspired to become a performer when he saw the Davenport Brothers perform their seance. Samri and Kitti Baldwin, billed as the White Mahatmas, had long careers performing magic that gave the impression of psychic wonders. ... Kittie Baldwin, blindfolded, would pick up an envelope, apparently divine the question, and provide a comforting, 'psychic' answer. The act was copied by hundreds of performers" (Magic, pp. 314-315).
Est: $700 - $900
Related articles