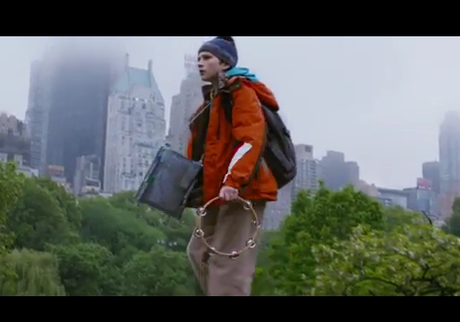 Manipulative Extremely Loud and Incredibly Close?
The 9/11 drama by British director Stephen Daldry earned a shock Oscar nomination for Best Picture — shock because the film had an average $10 million opening weekend in wide release, but received poor reviews and was ignored by all other major awards organisations. So what exactly is it doing on that prestigious list?
Extremely Loud and Incredibly Close is based on the 2005 novel by Jonathon Safran Foer; the plot follows a highly intelligent but socially awkward boy named Oskar dealing with his father's death in the World Trade Center collapse. Oskar had a very close relationship with his father, who encouraged his creativity by sending him on "expeditions" through New York City. A year after the tragedy, Oskar finds an envelope labelled "Black" with a key in his father's closet, and starts one last expedition. The film adaptation stars Thomas Horn as Oskar and Tom Hanks and Sandra Bullock as his parents.

Manipulative. A major criticism of Extremely Loud and Incredibly Close is that it fails to deal with its sensitive subject matter appropriately. Tufts Daily accused the film of seeking "to manipulate viewers with recurring reminders of the tragic events" of 9/11 –it "eschews poignancy and authenticity" by relying on "inherent sorrow". Christian Science Monitor thought the decision to show bodies falling from the Twin Towers was "more exploitive than cathartic", and Lubbock Online believed that Daldry intended to "milk the tragedy for tears".
"It's an already-tiresome game to replace the two adjectives in its title with a variety of uncomplimentary alternatives. Crass. Tedious. Mawkish. You get the drift," said Tim Robey on The Telegraph.
And the Oscar for Best Picture goes to… The question everyone's asking is how the widely-panned Extremely Loud and Incredibly Close made it on to the Best Picture nominations list, when strong candidates like The Girl with the Dragon Tattoo, Drive and Shame were ignored. David Gritten on The Telegraph described the nomination as "mysterious", given that the film failed even to make BAFTA's longlist.
A right rotten tomato.  The Huffington Post pointed out that Extremely Loud and Incredibly Close has received the worst reviews for a Best Picture nominated film in the last 10 years on review collection site, Rotten Tomatoes –with a lowly 48 percent. To be fair, The Reader and The Blind Side came close with 62 percent and 66 percent respectively, but no others missed the 70 percent mark. The San Francisco Chronicle called it "thin and uninvolving", whilst Valley Breeze questioned why the novel has been "rigidly interpreted" as a hard drama.
Roger Ebert's verdict: "There must be a more plausible story to be told about a boy who lost his father on 9/11. This plot is contrivance and folderol."
There's something about Daldry. The film's director Stephen Daldry seems to have something of a magic touch, as three-time Oscar nominee for Billy Elliot, The Hours and The Reader. Given that Extremely Loud and Incredibly Close is only his fourth film, that's a pretty impressive record. The Telegraph's Tim Robey wondered whether Daldry has "some really juicy dirt on half The Academy's voting body".
Or is there?  Liana Maeby on Crushable has thoughtfully put together a slideshow to demonstrate how to get an Oscar nomination, which includes "Hire Tom Hanks", "Shamelessly exploit people's feelings about September 11th" and "Discover a little kid who displays the exact same traits as his character." In a similar vein, Lubbock Online suggested that Academy members felt inclined to vote for the film because of its 9/11 focus. Box Office Prophets are slightly less cynical: "It is abundantly clear that ELIC benefited from the new voting system, which allows up to ten films to be nominated if they get enough number one votes."