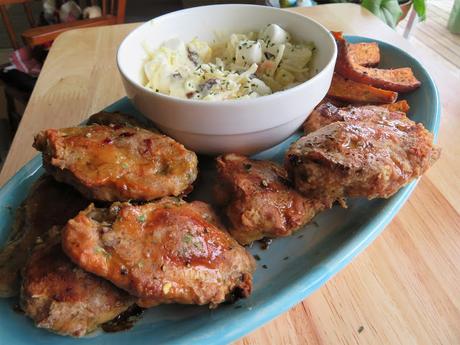 I wanted to share this recipe with you today for Extra Crispy Chicken Wings. Not only is it an easy chicken wings recipe, but it is also a small batch chicken wing recipe.  
Built for the smaller family, although you could certainly double or triple it if you wanted to! It makes just enough oven baked chicken wings for two people, no more no less, and I can promise you that they are delicious! 
 They are crisp and crunchy with a double coating, and yet still tender and juicy on the insides. This is down to perfect timing on my part.  
I have cooked enough chicken wings through the years to know exactly how long to cook them for perfect results! These are perfect!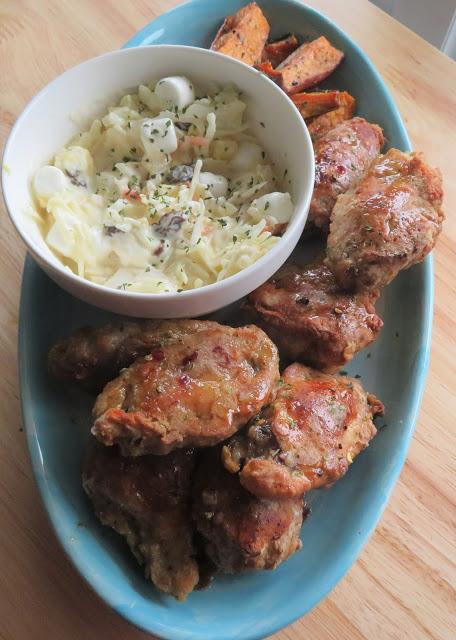 These are baked, not fried, so are a bit healthier than the fried version as well. I know, chicken wings, with all of that skin and fat can't possibly be truly healthy, but if you can do them a tiny bit healthier than frying them, and still have them come out crisp and delicious, why not! 
Also these crispy baked chicken wings are made without baking powder.  I have seen too many recipes about that use baking powder to make them crisp.  I don't want to be tasting baking powder when I eat my wings and I doubt that you do either!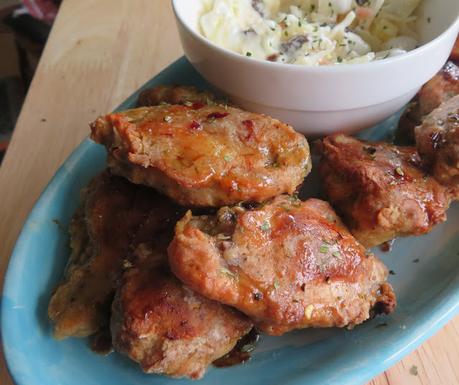 There is a time and a place for baking powder, but its not on your chicken wings. I don't care who tells you different. Just my opinion! 
I can promise you that these chicken wings are seriously crisp and there is no gimmick involved.  Just plain simple ingredients, as always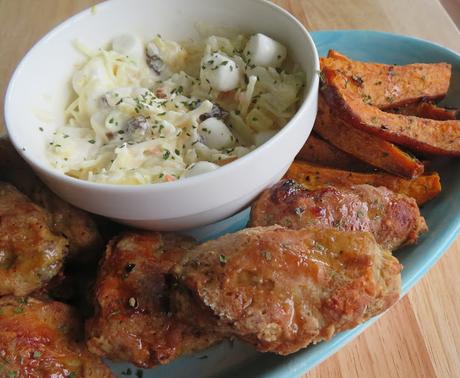 These tasty wings are double coated in a flavor-filled flour coating.  It is zesty and spicy without being overly so.  It contains flour of course, powdered ginger, a bit of cayenne, some salt and black pepper. That's all.
The chicken is dipped in a mix of buttermilk, egg and water in between coatings. The buttermilk helps to tenderize the chicken, even though they are literally only dipped into it.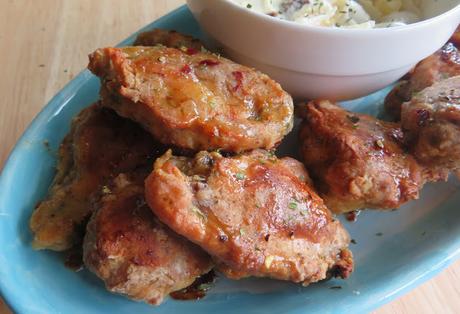 They get dipped into the egg, and then into the flour, back into the egg and then in a final coating of the flour. I use a fork to help to move them back and forth and to coat them really well. 
Once coated they go onto a baking sheet that I have sprayed with some cooking spray and I give them a quick spritz on top, again with some oil spray.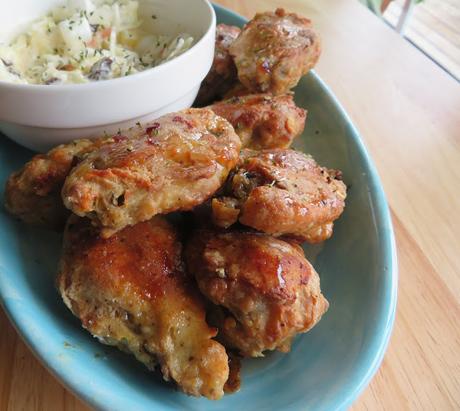 They get cooked for a total of 20 minutes and then you flip them over and cook for a further 15 to 20. They should then be cooked to perfection!  Of course it all depends on the size of your wings.  
Larger wings will take a bit longer, which is why I allow for an extra 5 minutes.  These taste excellent all on their own. In fact I couldn't resist eating one right out of the oven. Soooooome good!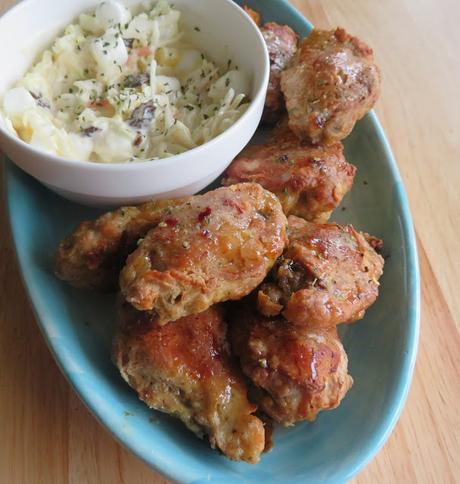 I did create a really tasty, sticky Lime & Honey glaze to brush them with when they come out of the oven however.  There is something about the flavors of lime and honey that go so well with the chicken.
Don't worry, it doesn't make them soggy in the least. It makes them incredibly moreish.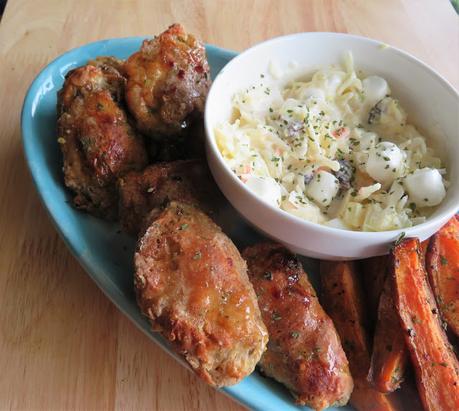 This is made from heating lime juice, lime zest, honey, a tiny bit of oil and some chili flakes together with some garlic, salt and pepper.  It is sweet, hot, zippy and tangy all at the same time.
These truly are finger licking, foot stompingly delicious!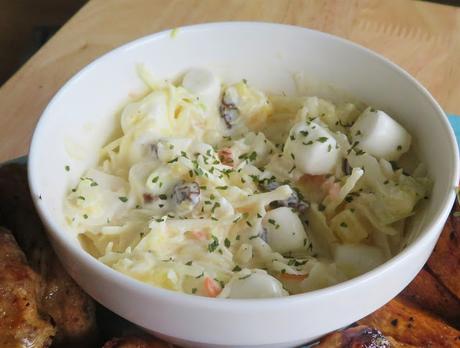 And if that's not enough, I have also created a perfectly sized for two Pineapple Coleslaw to serve along side of those tasty wings.
Coleslaw and wings are the perfect combination and this coleslaw is especially delicious.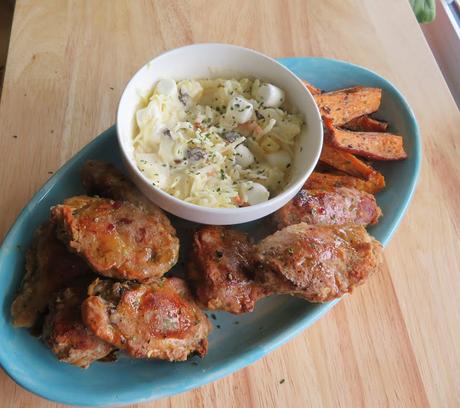 Crisp and crunchy.  Sweet and tangy. It is the perfect companion.  Crisp cabbage, hand shredded.  Fresh crunchy carrot, the same.
I added a bit of crushed pineapple, unsweetened, or pineapple crush as it is called in the UK.  Don't worry about using the rest of the tin. I am going to give you a way to do just that over the next day or so.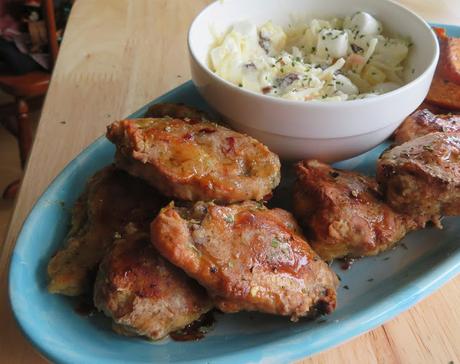 The dressing is the perfect mix of tang and cream.  With sour cream, mayonnaise, and just a pinch of sugar, along with some dry mustard powder, salt and pepper.
I also added some chopped raisins and a few mini marshmallows.  Don't know it til you try it folks!  I ate the second helping for my supper, all on its own. It is that good! (I know, I am extremely naughty at times!)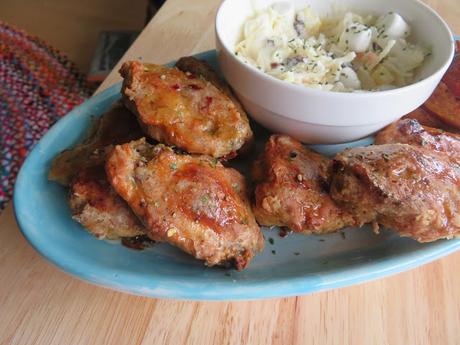 I cooked a sweet potato on the side, cutting it into wedges and dusting it with some spice to go along as well.  Just one smallish sweet potato, cut into wedges and tossed together with a tiny bit of oil, salt, pepper, garlic powder and cinnamon. 
Yes, cinnamon. Don't knock it til you try it folks!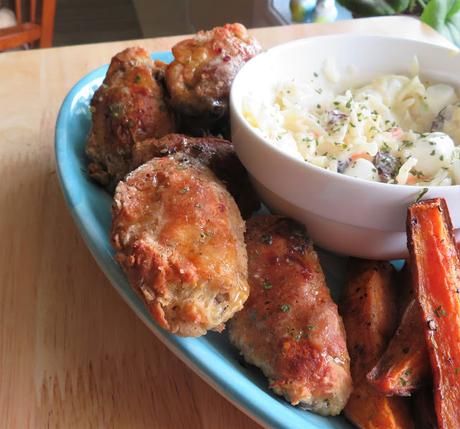 This really was the perfect meal for two.  Each person gets four perfectly cooked, crispy coated, tender moist and succulent chicken wings, with a slight zip, tang and finger licking sweetness.  
A portion of delicious coleslaw, and some tasty sweet potato wedges on the side, completed the perfect summer supper.  Enjoy!!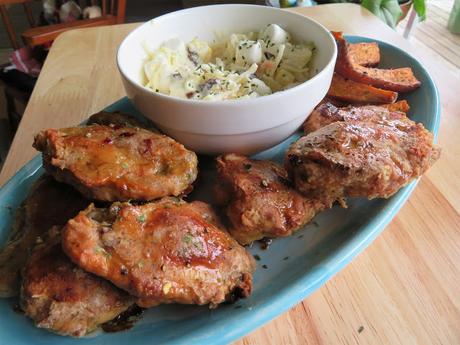 Extra Crispy Chicken Wings with a Lime & Honey Glaze
Yield:
2
Author:
Marie Rayner
Prep time: 10 Min
Cook time: 40 Min
Total time: 50 Min
These chicken wings have a beautiful crisp and flavor-filled coating, enhanced by a sweet and sticky Lime & Honey Glaze. Excellent with sweet potato wedges and my own Pineapple Slaw!
Ingredients
For the Wings:
8 split chicken wing pieces
1/2 cup (70g) plain all purpose flour
1 1/2 TBS powdered ginger
1/4 tsp cayenne pepper
1/2 TBS fine sea salt
1 tsp ground black pepper
1 large free range egg 
1 TBS buttermilk
1 TBS water
canola oil cooking spray
for the glaze:
1/4 tsp garlic powder
1 tsp olive oil
2 TBS honey
the juice and zest of 1/2 lime
1/4 tsp crushed chili flakes
salt and black pepper to taste
For the Pineapple Slaw:
1 cup (90g) grated raw cabbage
1 inch piece of fresh carrot, peeled and grated
2 TBS crushed pineapple, well drained
1/4 cup mini marshmallows (about 25)
1 TBS chopped raisins
2 TBS sour cream
1 TBS mayonnaise
1/4 tsp sugar
pinch each of dry mustard, seasoning salt, and black pepper
Instructions
First make the wings.  Preheat the oven to 375*F/190*C/ gas mark 5.  Line a baking sheet with some aluminum foil and spray lightly with some cooking spray. 
Whisk the flour, ginger, cayenne pepper, salt, and black pepper together in a bowl.  Whisk the egg, buttermilk and water together in another bowl.
Pat the chicken wings dry. Dip each one into the egg mixture, coating well, then into the flour mixture, again coating them well.  Repeat, dipping them again into the egg mixture and then back into the flour mixture.  Place them onto the baking sheet, leaving plenty of space in between.
Spritz each one lightly with some canola spray.
Bake in the preheated oven for 20 minutes, flip over and bake for a further 15 to 20 minutes, until cooked through, crisp and the juices run clean.
While the wings are baking make the sauce.  Whisk the oil, garlic powder, honey, lime zest, lime juice and chili flakes together in a small measuring cup.  Heat in the microwave on high for 30 to 40 seconds until bubbling.  Whisk again and then season to taste with salt and pepper.
To make the coleslaw, mix together the sour cream, mayonnaise, sugar, mustard, seasoning salt and black pepper in a bowl.  Stir in the cabbage, carrot, pineapple, raisins and marshmallows to combine.
Remove the cooked wings from the oven.  Brush each with some of the lime and honey glaze.  Serve immediately with the coleslaw and some sweet potato fries/wedges, or whatever other potato you wish to serve.
Did you make this recipe?
Tag @marierayner5530 on instagram and hashtag it #marierayner5530Created using
The Recipes Generator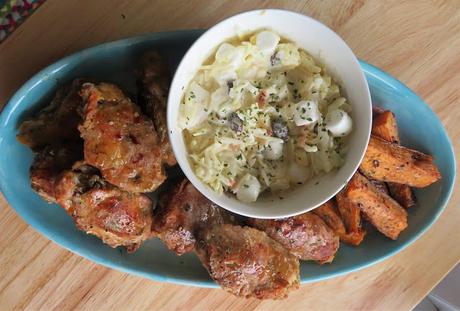 This content (written and photography) is the sole property of The English Kitchen. Any reposting or misuse is not permitted. If you are reading this elsewhere, please know that it is stolen content and you may report it to me at:
[email protected]
Follow my blog with Bloglovin