Malaysia's Pulau Penang (Penang Island) lies about 350 kilometers northwest of Kuala Lumpur. The island is home to Georgetown, one of the 
two World Heritage Cities in Malaysia as declared by UNESCO
(the other one being
Melaka
, 148 kilometers southeast of Kuala Lumpur).

Go
From Kuala Lumpur, there are three ways to get to Pulau Penang:
By bus. It takes 5 hours by bus from Pudu Sentral (Puduraya) Bus Station in Kuala Lumpur to Sungai Nebong Bus Station in Pulau Penang. Fare is about RM40.
By train and ferry. It takes 2.5 hours by high-speed train from Kuala Lumpur to Butterworth Station (train fare is about RM60) on the mainland. From the mainland, it takes 15 minutes by ferry (RM1.20) to the island of Penang.
By plane. There are numerous flights daily between Kuala Lumpur and Pulau Penang. One way fare starts at RM60. From the airport to the city centre, it costs about RM45 for a taxi (get a taxi through the taxi counter at the airport); Uber will be way cheaper.

Sleep
There are many accommodations in Georgetown but we chose to stay in 
Ryokan Muntri Boutique Hostel
. A dorm bed costs RM30 to RM50 depending on the type of room (plus local government tax of RM1/bed/night); private rooms for two persons start at RM 118 (plus local government tax of RM2/room/night). We booked beds in the Loft Room (RM50/bed), which has its own toilet and shower; other dorm rooms have a shared toilet and shower. Room rates already include breakfast, and its not your usual cereal and bread breakfast, but a full one: noodles, eggs, sausages, mashed potatoes, paratha, coffee, tea.
Ryokan Muntri Boutique Hostel
62 Muntri Street, 10200 Georgetown, Penang
(Zoom in on the map below to find the yellow pin)Tel: (+604) 250 0287Email:
[email protected]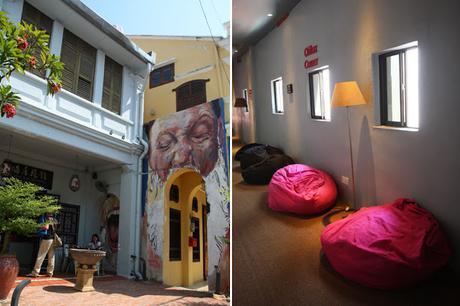 Ryokan Muntri Boutique Hostel

Common area (left) and the Loft dorm room (right)Photo from Ryokan Muntri Boutique Hostel

Eat
One of the things we look forward to whenever we are in Malaysia is the food! Here are the places we ate at (and recommend) in Georgetown (see red pins on map below):
Red Garden Food Paradise - Indeed a food paradise (hawker centre) that will make you go crazy with the plethora of choices.
Esplanade Park Food Court - Another hawker center with a lot of food choices.
Gurney Drive Hawker Centre - And another hawker center...but this is a bit far from the city center. To go to Gurney Drive Hawker Centre, one has to take a taxi (or Uber—it is cheaper than a taxi).
Restoran Nasi Padang Minang - A self-service eatery that offers a wide array of food that I don't know the names of but are absolutely mouthwatering.

Left to right: Red Garden Food Paradise, Gurney Drive Hawker Centre,and the overwhelming spread at Restoran Nasi Padang Minang

Wai Kei Cafe - Try their char siu (roasted pork) rice.
Wan Tan Mee - Try their wan tan mee (wanton noodle soup).
Passion Heart - Try their lemon poppyseed cake a la mode.
China House - Try all their cakes! (And check out the art space on the second floor, too!)

Left to right: Char siu at Wai Kei Cafe, lemon poppy seed cake a la mode from Passion Heart,and the cake spread at China House

Teochew Chendul Stall - A famous roadside stall selling cendol or chendol or chendul, however you want to spell it. What is cendol? Cendol is to Malaysia as halo-halo is to the Philippines.
Lok lok Stall - This stall is right beside Wan Tan Mee. Pick any of the skewered stuff on display, place it in the boiling pot to cook, and once cooked, put some sauce on it and enjoy. Don't throw away the sticks, the stall owner will let you know your total bill by counting the sticks (the sticks are color coded; price is from RM0.60 to RM1.80 per stick).
Cendol from Teochew Chendul Stall (left) and the Lok lok Stall (right)
I noticed that most of the eateries in Georgetown do not allow you to bring drinks from outside (not even water), thus you have two choices: take a drink after you leave the eatery or hawker centre, or buy from the drink sellers (except for the cafes, drink sellers are usually separate from the food sellers).

Admire
Art
Go on a treasure hunt around Georgetown for street art and wrought-iron caricatures. Don't just snap photos of the wrought-iron installations (there are 52 scattered around the city), read it. The installation itself has anecdotes about the street they are installed in. You can download the Street Art Map from the Tourism Penang website or get a copy from your hotel/hostel.

Wrought-iron caricatures

Street art everywhere (Photo by CM Adlawan)Architecture
I don't know anything about architecture but I do know a pretty (and colorful) building when I see one. Aside from admiring buildings from the outside, there are two open for tours (see blue pins on map below):

Cheong Fatt Tze


Visit
Take a break from walking under the heat of the sun by cooling yourself inside these museums (see green pins on map below).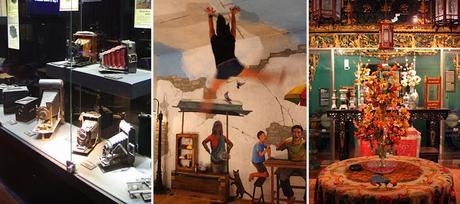 Left to right: Cameras on display at the Camera Museum,defying gravity at the Upside Down Museum, and a display in the Penang State Museum
There are many other places to see in Georgetown, but those listed above are what we could squeeze in (except for the Pinang Peranakan Mansion which we had skipped) in our leisurely three-day stay.