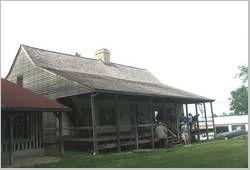 Travel along the Connecticut Freedom Trail and you'll find 17 historic stops which include buildings that were reported to have been used on the Underground Railroad, sites associated with the Amistad case and grave sites, monuments, homes and other structures that represent the movement towards African American's freedom.
The Amistad Trail encompasses numerous sites across the state to follow the fascinating saga of rebellious slaves defended and freed by former President John Quincy Adams, an event that established the principle that all human beings are naturally free under American law. New Haven is home to the Amistad Memorial at City Hall, a three panel bronze sculpture that depicts the three phases of the Amistad Incident and the New Haven Museum features, "Cinque Lives Here," an exhibition that showcases the largest collection of Amistad related artwork in the world. Mystic Seaport, where the replica of the Amistad was built, will celebrate Black History Month with weekend workshops exploring traditional African instruments and dance. One session allows participants to make their own instrument.
Harriet Beecher Stowe, author of the famous anti-slavery novel "Uncle Tom's Cabin," moved to Hartford in 1864 and lived there until her death in 1873. Her home is now operated as a museum by the Harriet Beecher Stowe Visitor Center that also includes a research library with collections focusing on 19th century literature with an emphasis on race relations. Harriet Beecher Stowe is among many individuals who played a vital role in the African American fight to establish freedom.
Prudence Crandall, Connecticut's state female heroine, established the first school in America to educate black women. Even though the school was open for less than two years, (due to a violent attack on the house and frequent harassment) Prudence Crandall's efforts to provide equal education helped solidify attitudes against slavery. Her home is now a National Historic Landmark and museum in Canterbury that features changing exhibits, period furnishings and a research library.
The late jazz great, Jackie McLean and his wife Dolly made a huge impact on cultural life in Hartford. After a recording career, McLean taught at the University of Hartford, setting up the school's African American Music Department (now called the Jackie McLean Institute of Jazz) and, with Dolly, created the city's renowned Artists' Collective, an arts organization dedicated to preserving the art and culture of the African diaspora. It continues to offer educational programs, performances and instruction in dance, theatre, music and visual arts.
In New Haven, the Yale University Collection of African Art is a must for anyone interested in the African roots of American culture. The Yale University Collection of African Art features over 1,000 objects in wood, ivory, metal, ceramics and other materials make it one of the world's most important collections. There are a number of wonderful museums and historic sites in Connecticut where you can explore our nation's historic past. Connecticut offers visitors a multi-faceted wealth of attractions, historical, cultural and recreational activities, diverse and beautiful natural landscapes, parks, beaches and wilderness sure to fulfill any getaway need.
By Leroy Worley
Plan You Trip To Connecticut:
To explore, attractions, events, and plan your visit to Connecticut visit the Connecticut Tourism site online at www.ctvisit.com or call 1-888-CTvisit.