This week I've been painting almost entirely with a palette knife, which has a very different effect than  a brush.  I am using a 5" long knife, with a flat 1/2" surface.  I've had this knife for ages, and always wipe it down very carefully before the acrylic paint dries.  Otherwise the surface would be ruined.
As I get older, I have to be much more deliberate about cleaning my palette knife and brushes, making sure all tubes of paint are capped, etc.  An artist's tools are precious and we need to take care of them.  So I always do a final check of my painting table before I leave it to make sure everything has been taken care of.
I began this painting by adding the lightest colors first:  titanium white, parchment, and unbleached titanium, letting them blend a bit with the lightest color near the top of the canvas.  Then I made a couple broad sweeps with yellow, medium magenta, and Prussian blue, cleaning my knife before each color to keep it pure. 
At this point I got the urge to try something, and began to scrape the painted surface with short strokes of the side of the knife.  Since the paint was still wet, it came off, leaving a pale blend in a rectangular shape.  This result entranced me so much that I began to do it over the whole surface, changing the angle and size of the scrape and cleaning my knife periodically. 
As I worked, I regularly stood back and studied the composition to see where I thought another scrape was needed.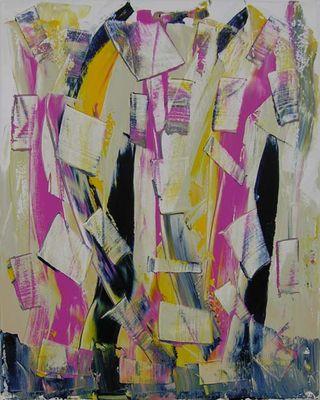 Painting #171, 16" x 20" acrylic on canvas.