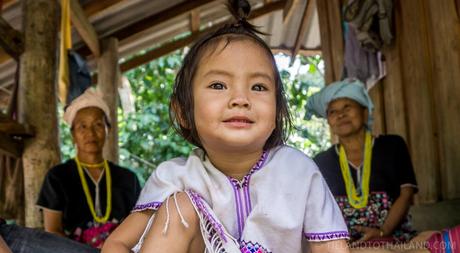 Even after five years of living in Chiang Mai, this comparatively small Thai city and its surrounding countryside continue to amaze me. Take, for example, the two-day Chiang Mai hill tribe tour I happily crossed off my bucket list. It was like nothing I've ever done before and I've been fortunate enough to travel to many different places in this country. It opened my eyes to an unspoiled world and unique people in the beautiful hillside of northern Thailand.
A little background about Chiang Mai's hill tribes
When most people hear the words Thai hill tribes they conjure images of the tribeswomen who wear brass coils around their elongated necks. These hill tribe people are equivalent to the postcard-famous Zulu in South Africa or the Yanomami in the Amazon.
However, there are far more hill tribes throughout northern Thailand, each with their own distinct culture. In fact, the northern Thai provinces of Chiang Mai, Mae Hong Son, and Chiang Rai are home to hundreds of small villages of people who left China, Myanmar (Burma), Tibet, and other countries as refugees and came to Thailand in search of a new life.
These people migrated and settled in the hillsides of northern Thailand hundreds of years ago and many took up farming as a way to support themselves. Although many are Thai citizens (aside from a few minority groups along the Thai border), their legacy has cast a shadow over what could have been a prosperous future.
Fast forward to the present and they are an underprivileged group. Factors such as limited higher education and employment discrimination have played a part in keeping them stuck in the farming poverty cycle for generations.
Pat, the man behind the Chiang Mai hill tribe tours
Shoulder length hair, scruffy beard, and wearing a handwoven Karieng (กะเหรี่ยง pronounced gàh-rèe-ung) hill tribe shirt, Pat is incredibly passionate about helping hill tribe people get out of the cycle of poverty. He and his wife founded Thailand Hilltribe Holidays, which is a company that connects travelers with hill tribe locals in a mutually beneficial way.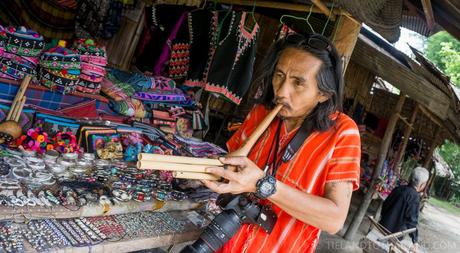 Adventurous travelers have the incredible opportunity to experience a beautiful, rarely-explored side of Thailand. At the same time, the local hill tribe people directly earn money by cooking meals, offering their homes as a place to sleep, and selling handicrafts or farm produce directly to travelers like myself.
Thailand Hilltribe Holidays also helps support the village's mini-economy by employing hill tribe people as their drivers. This company helps in a variety of other sustainable ways such as assisting with finding English volunteers for the hill tribe school or connecting the farmers with city markets where they can sell their produce and handicrafts. From time to time, this company also donates its time or money to building or repairing parts of the village.
Pat was brainstorming on and off during the entire trip, sharing his ideas about homestays, afternoons of jungle cooking classes, and riding water buffalos. There was, without a doubt, a passion that will trickle down and help this hill tribe get back on its feet.
Wildlife + Natural Scenery
"We follow village life rather than village life following us." In other words, I went along a similar route as travelers before me have, visiting the hill tribe village and the surrounding countryside, but there's no telling what I'd see or experience because every trip is unique.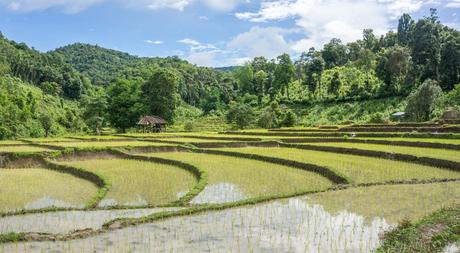 My tour began with Pat, his assistant guide Dtohn, and his driver pulling up to my house at 9 am and greeting me while I hopped in the backseat of his 4-wheel SUV. We rode into the countryside west of Chiang Mai City, along the scenic Samoeng Loop, toward a Karen village in the forested hills northwest of Doi Suthep.
Once we got off the main road and onto a smaller, significantly bumpier country road, we stopped to see a herd of water buffalo (my favorite Southeast Asian animal!), colorfully dressed farmers planting rice, and a small waterfall. It was picture perfect! We even took a half an hour to walk through a rice field and then relaxed under an open-air hut as a brief rain shower came and went.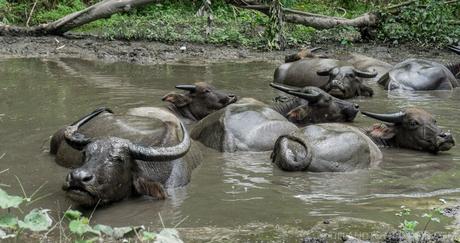 If you've never had the chance to drive out of Chiang Mai more than a few kilometers, the scenery is breathtaking. I always look forward to gazing out at the scenic rice fields and rolling mountains along the way.
Note: If you go during the rainy season (June to October) like I did, you can expect 1-3 hours of rain on most days. Be sure to pack waterproof shoes, a change of clothes, and a lightweight poncho.
Lan Kam Village
Ban Lan Kam (บ้านลานคำ pronounced bâhn lahn kahm) is the heart of it all. It's a small Karen village with stilted wooden homes, piglets, chickens, and dogs running around, dirt paths snaking through the hills, and people going about their daily lives.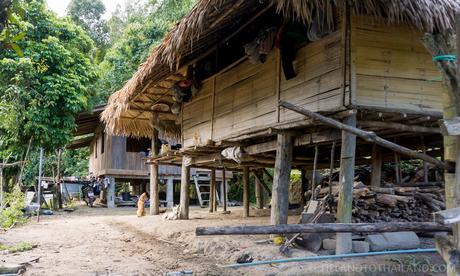 The single or double room homes are crudely made from wood, corrugated metal, and woven bamboo. Underneath each house are the family's pig, dog, chickens, motorbikes, and firewood.
The cooking is done by fire and the bathrooms are western style toilets that you have to flush with a bucket of water. However, there is electricity and wifi (if you have the right SIM card: > AIS > dtac).
Local Thai food and hill tribe food
Throughout the trip, I had many opportunities to eat local food. On the first day, we stopped at a Thai restaurant for lunch. Every meal after that was provided by the Karen people.
I visited during a time of year when mangos are plentiful, so I sampled a variation of a classic Thai dish: mango with coconut sticky rice. The Karen version had a drizzle of locally sourced honey and a sprinkling of black sesame seed. During other times of the year, mango is swapped with avocado or steamed bamboo.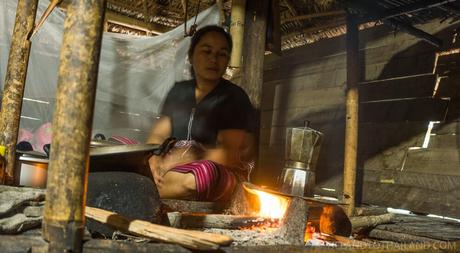 After waking up to the rooster alarm clock early the following morning, I graciously accepted a cup of local coffee. The roasted beans (grown in a coffee farm not far away) were manually ground, tipped into a stovetop Moka coffee maker, and placed on the open fire ... inside my thatched-roof bungalow!
I also ended up buying 100% authentic honey (re-packed in a Hong Tong "whiskey" bottle to my delight!) and a kilo of some of the prettiest lychee fruit I've ever seen.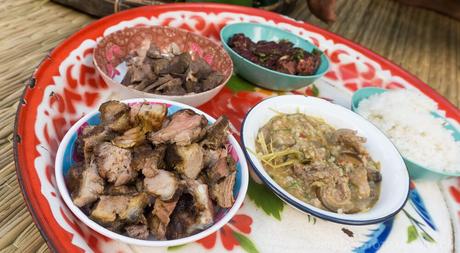 The hill tribe food I ate was pungent and a little spicy. It reminded me a lot of food from Thailand's northeastern region, Isaan. I visited on a special day so all the meals were brimming with various cuts of meat (pork and buffalo). However, I was told this was unusual since meat is a luxury. Under normal circumstances, the meals are typically vegetarian.
Karen wedding
I was extremely fortunate to have witnessed a Karen wedding during my hill tribe tour in Chiang Mai. This was something truly special and even my guide said this was only the second one he's ever seen in all his years.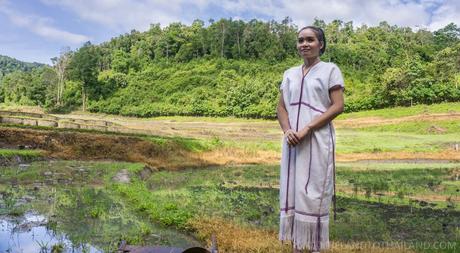 It was a two-day affair with a special ceremony, offerings to ancestors, and lots of smiles, food, and rice whiskey shots.
This was a Lanna style wedding (northern Thai) and I was told that it was different from a traditional Thai wedding. There are many aspects of the ceremony, some parts that I didn't see and others I witnessed but didn't understand.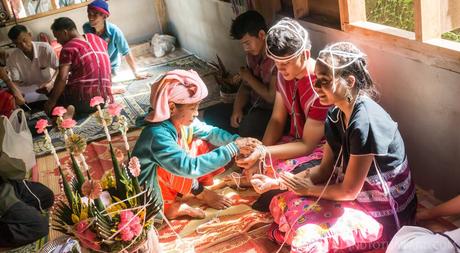 One of the most distinguishable moments during the wedding was the sai mongkhon or the "joining by thread." The bride and groom sit beside each other and, after saying prayers, the village's shaman encircled their heads with individual loops of pure white cotton string, which symbolizes unity but individually. Then, all the wedding guests (myself included) tie short strings of white cotton around their wrists and wish them good luck!
Ban Mae Lan Kam School
Part of the tour includes a visit to the hill tribe village school. This small government school is less than a 10-minute drive from Ban Lan Kam. Here, kids ages 6 to roughly 14 years old go to school, Monday through Friday. They wear uniforms, smile and show off for visitors, and goof off in class.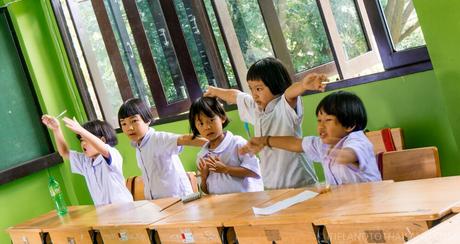 The school was simple but tidy and had several classrooms for the various age groups and large outdoor play area. They study a regular Thai curriculum with a few hours of English each week.
As with many schools deep in the Thai countryside, resources and teacher quality are lacking. Standards cannot be compared to schools in the city. However, international visitors can help this school by volunteering to teach English. I spoke with the current English teacher (a woman from Australia) as well as a Thai teacher who helps arrange volunteers. If you are interested in volunteering, please contact Khun Jina (aka Kruu Maew) directly at:
Hill Tribe Eco-Agricultural Village (Baan Tong Luang)
I wanted to see for myself what the Baan Tong Luang (บ้านโตังหลวง pronounced bâhn dtôhng loo-ahng) Eco-Agricultural Village was like, which tourists are more familiar with the name, "The Long Neck Village."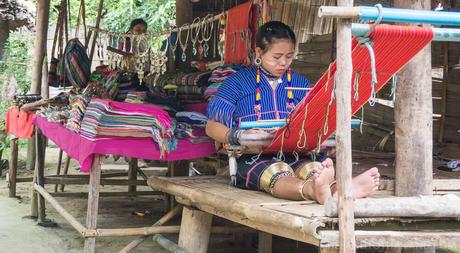 In all my years living in Chiang Mai, it was my first time visiting the village. I've been hesitant to go because I've heard mixed reviews about it online. The worst it's been called is a human zoo. The best say it's an educational experience and an opportunity to directly support several hill tribes in the area.
The eco-village represents the following tribes in northern Thailand:
When I visited, there only a handful of tourists walking among the wooden buildings. There were far more villagers going about their daily routine, which including weaving, selling handicraft items, and (surprisingly) going to the village church or the temple.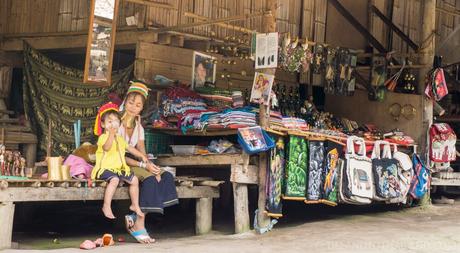 I walked around, reading the information placard about the individual tribes and talking to some of the villagers. Some were shy. Others were happy to say hello and talk about their handicrafts and what they liked to do in their free time.
Colorful handicraft displays and sounds of local music in the background made the atmosphere was peaceful and not bleak as some people have painted it. In fact, I think coming here with a private guide, rather than on your own or in large tour groups, is best.
I was told that the villagers get the entrance fee in addition to whatever commissions they make from selling their handicrafts. I ended up buying an intricately embroidered purse and my guide purchased a brass bracelet.
Opening Hours: Monday through Friday, 8:30 am to 4 pm
Admission Fee: 500 THB per person
A Chiang Mai hill tribe tour with Thailand Hilltribe Holidays
Visiting the northern Thai hill tribes are still considered an off-the-beaten-path experience and so the opportunities to visit a village or to interact with the various tribes are incredibly limited. Unless you've married into a hill tribe family (I know several people who have) or have a hill tribe friend who can take you to their village, the chances of seeing this side of Thailand is slim to none.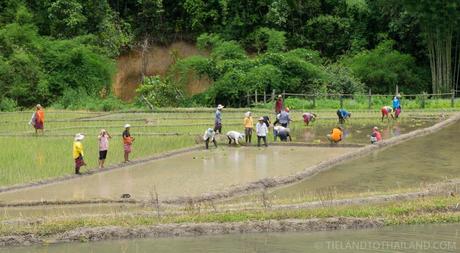 Other things you can do:
Smoke a hand-rolled cigar or drink rice whiskey
Play with elephants
Visit water buffalo
Plant or harvest rice
Learn how to do handicrafts like weaving or textile printing
However, for those who really want to experience an "untouched" Thailand, taking a private tour with Thailand Hilltribe Holidays is the way to go. I had my eyes on them for two years before finally making the trip and I'm so glad I finally went! My guide, Pat, and his assistant, Dtohn, took care of everything for me. Pat was full of stories about the villagers. Both men were excellent photographers, pointing out shots here and there to help me capture the essence of the trip.
Since this is not a packaged group tour, all expenses are itemized and therefore it is not a budget tour. Prices begin at 2,750 baht per person for a one-day tour. This excludes the cost of meals, entrance fees, gas, and personal expenses. Granted, these are quite inexpensive (meals are roughly 50 baht, homestays are 300 baht per night, gas is roughly 800 baht day.)
Thailand Hilltribe Holidays is a company with the heart and soul dedicated to uplifting the hill tribe community. They offer several variations of private tours, from full-day tours to tours lasting more than a week. There is also an incredible photography tour if that's your thing. For more information and to read about their different tours, check out their site: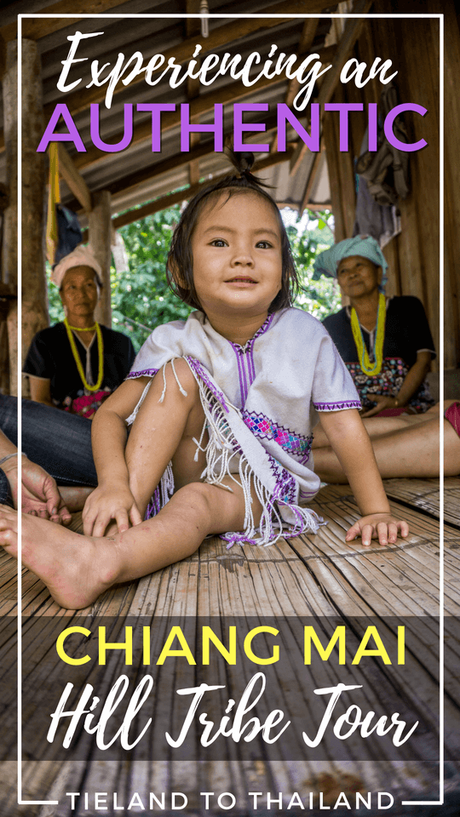 Disclosure: My stay at the Thailand Hilltribe Holidays was sponsored but all of our opinions are our own. I share an honest recap of my experiences so that you can make an informed decision as to whether or not to include this tour in your upcoming trip to Thailand.