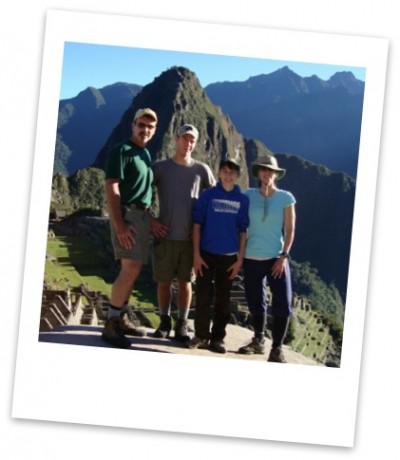 Sometimes clichés really do say it best, and expect the unexpected does the job when trying to describe our Peru experience. When we booked our vacation with Escaped to Latin America we harbored the usual, reasonable expectations:  that our flights would be reserved properly—they were; the hotel staff wouldn't be surprised to see us when we showed up—they weren't; we would enjoy learning about a country we'd never visited before—we did; and the memory card on the camera would be chock full of amazing photos—it was. Having our expectations met is certainly notable but in the end, it was what we weren't expecting that made our trip unforgettable.
 We didn't expect our driver, Eduardo, to stay with us until we were safely checked in to our hotel, or wait in line with us the next day at the airport until he was satisfied we were properly checked in for our flight to Cusco and had waved us through security with paternal concern.
 We didn't expect a personal meeting with Freddy, our Inca Trail guide, the night before our trek. He came to see us at our hotel, got to know each of us, made sure we were physically and mentally prepared for the trek, and patiently answered all of our questions.
 We didn't expect to have Freddy anda bevy of porters all to ourselves, anticipating and attending to our every need for the entire trek; we didn't expect every meal to be a multi-course extravaganza that was so delicious we asked our cook, Dimitri, if he would come home with us and be our personal chef (he politely declined); and we certainly didn't expect to wake up every morning and have a steaming cup of coca tea handed to us before we got out of our sleeping bags.
 From the planning stages with Zara who catered to our every request and patiently customized our trip exactly the way we wanted it; the many tour guides like Philippe and Silvia who engagingly shared Peru's cultural and historical delights with us; our nightly chats with Freddy, when we played cards, learned new 'Quechuan words, and exchanged cultural anecdotes; to our exit team that handled last minute travel glitches with calm professionalism; our escape to Peru far exceeded our expectations.
 We thoroughly enjoyed the culture and people of Peru and anticipate more opportunities to travel in Latin America. When we do start planning that next adventure, the first item on our 'to do' list will be contact Escaped to Latin America; and we will definitely be expecting the unexpected.