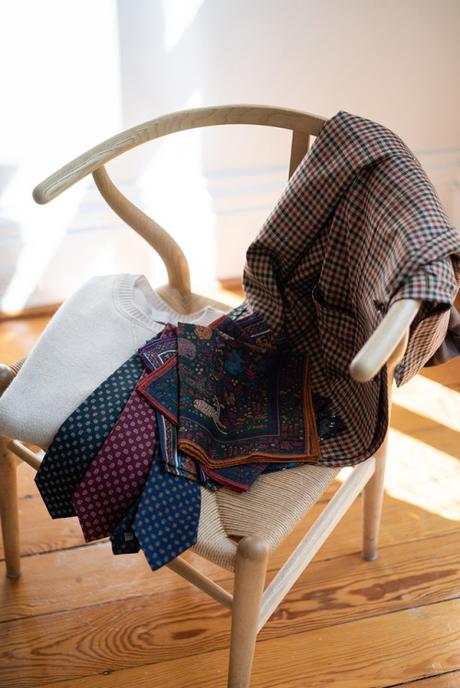 When I lived in Moscow, Russia many years ago, I relied on my gray flannel trousers, tweed sport coat, and waxed cotton jacket to get me through fall. Superficially, the primary function of an autumn wardrobe is to protect you from cold, wind, and rain. But in a faraway, foreign land, cocooning myself in layers also brought some psychological comfort. The renowned Russian playwright Anton Chekhov – whose haunting and lyrical prose helped define the modern form of short storytelling – wrote about this feeling over 120 years ago in his story, "The Man in the Case."

[T]wo months ago a man called Byelikov, a colleague of mine, died in our town. You have heard of him, no doubt. He was remarkable for always wearing galoshes and a warm wadded coat, and carrying an umbrella even in the very finest weather. And his umbrella was in a case, and his watch was in a case made of gray chamois leather, and when he took out his penknife to sharpen his pencil, his penknife, too, was in a little case; and his face seemed to be in a case too, because he always hid it in his turned-up collar. He wore dark spectacles and flannel vests, stuffed up his ears with cotton-wool, and when he got into a cab always told the driver to put up the hood. In short, the man displayed a constant and insurmountable impulse to wrap himself in a covering, to make himself, so to speak, a case which would isolate him and protect him from external influences.
There's something oddly comforting about fall/ winter clothes, not just in terms of how they keep you warm, but also emotionally protected. Encased in woolens, with a Scottish cashmere scarf around your neck and your coat's collar turned-up, you feel like you can take on the world. At the same time, there's something genial about autumnal clothing — materials such as soft cashmere, nubby oxford, and suede leather invite a smile and conversation. The other day, a stranger complimented me on my outfit. It felt warm. 
It doesn't take much to build a fall wardrobe. All you need is a navy hopsack sport coat, a brown tweed, and some accompanying trousers in hardy materials such as flannel and whipcord. For visual interest, as well as comfort, get some fishermen sweaters you can layer underneath a waxed Barbour. But what to do if you want to expand? I recently spoke to Mark Cho, co-founder of The Armoury, about his store's latest lookbook, which is chock full of cool-weather inspiration. We talked about some things you can try this season if you want to reinvent your shell.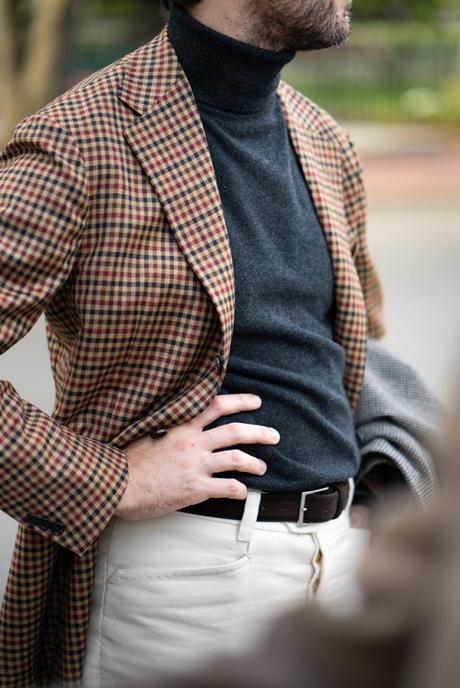 WORSTED CHECK JACKETS

Fabrics come in two types: worsted and woolen. Maybe these categories should be renamed to combed and uncombed, however, because it's the combing process that separates them. Combing wool is exactly what it sounds like. Before wool is spun into yarn, a spinner can separate the fibers by combing the material. This process sets the hairs parallel to each other, as well as removes any of the shorter fibers that would spoil the regularity characteristic of worsted. 

After the wool has been combed, it's spun into yarn and then woven into a fabric. And by combing the hairs first, the resulting material will feel a bit smoother and crisper, which is how you get shiny, hard-finished fabrics. Woolens, on the other hand, aren't put through the same process. Thus, the cloth is spongier and loftier, as the fibers point in every possible direction. To give examples, gabardine is a worsted, while tweed is generally woolen. 
"When we put together these seasonal collections, we think about what people can wear to work," Mark explains. "Sometimes, things that are fuzzy and rustic aren't well suited to professional environments. In those cases, a fabric with a clean finish and dry hand can work better. This is especially true in places such as Hong Kong, where you don't want to wear something too heavy."
In this regard, this season's dressier, red-and-black check sport coat stands apart from the rest of your fall wardrobe. The fabric has the same district check you'd expect to see on a traditional tweed, but none of the prickly surface. Instead, it's made from a smoother, worsted wool, making it something like a citified version of country cloth. It would also make for a great spring jacket. "I'm still wearing a lot of those small check sport coats these days," Mark adds. "I always try to make sure I have a warm-toned jacket when I'm traveling. I think they work well with denim or light-colored chinos."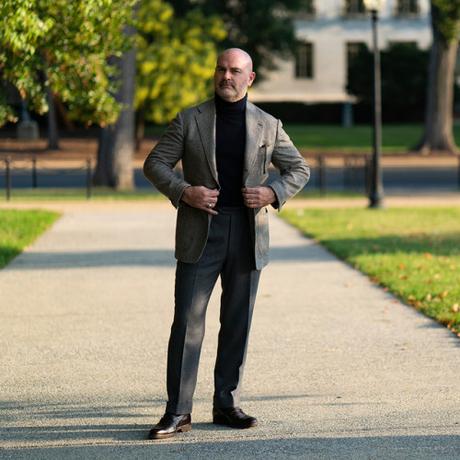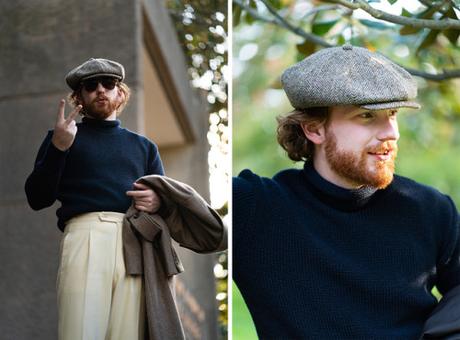 TURTLENECKS
Back in 1996, Tom Junod wrote a piece for GQ Magazine, which was nominated for a National Magazine Award. Simply titled "My Father's Fashion Tips," it was about his father's impeccable style, as well as the opinions of a man who felt strongly about clothes. The article is a wonderful read, and even includes some rules for underwear. But the best part is his father's unwavering confidence that a turtleneck is the most flattering thing a man can wear – an inflexible and enduring axiom that, Tom writes, his father believed in more than the existence of God. A turtleneck was flattering because it "fits a man in sharp relief and puts his face on a pedestal – first literally, then figuratively."
If you, like me, are a bit skeptical of Mr. Junod's sweeping characterization, you can always try a discrete rollneck, which is rolled at the collar. Besides framing your face, turtlenecks and rollnecks are useful for a secondary reason. In today's dressed-down world, they can make for a surprisingly good substitute for a tie. They take up the chest area better than an open-necked shirt, which, admittedly, can look like an empty night sky when it's not decorated with a four-in-hand. The Armoury shows how a thin turtleneck can look when layered underneath a sport coat or topcoat. 
"Everyone has their way of wearing turtlenecks," says Mark. "I like to roll mine as far as I can, to the point where I'm doubling over the turtleneck, and it almost looks like a mock neck. I wear them with a shirt, such that the collar is peeking out a bit, but not so much that the collar points are popping out." I find gray to be the most versatile color, but there's something special about how a navy or bottle green turtleneck looks when worn underneath a gray flannel suit or brown tweed jacket.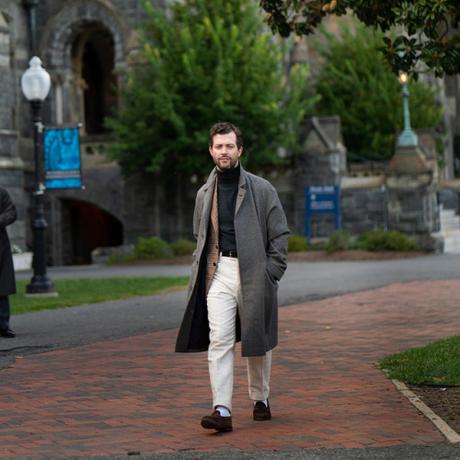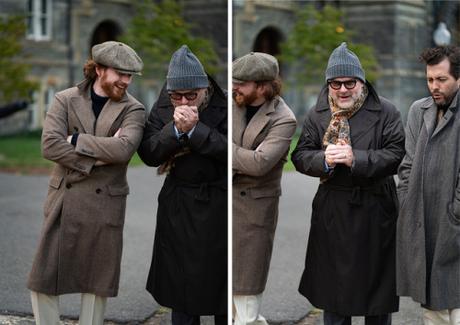 COLD WEATHER OUTERWEAR
My version of Junod's argument is the oversized topcoat, which looks good on practically anyone. It's something you can wear with chunky knits and raw denim jeans, or paired with a sport coat and flannel trousers. They work in classic men's style, streetwear, and even the avant-garde. It's one of those grab-and-go pieces that you can always rely on in the morning because you know you'll look great. 
The Armoury has a whole line of them this season. "This year marks the 5th anniversary of Coherence. To celebrate, they came up with some limited edition fabrics and we, as their first wholesale customer, had first pick," says Mark. "The brown-gray Corb, which can be seen here on Richard, is made with just a touch of cashmere. Normally, we do this design in gray wool, which is a bit stiff. With a bit of cashmere, this drapes like nylon but has a bit more body and thickness."
Of all the overcoats this season, Mark is most enthusiastic about the Marc, which he co-designed with Coherence founder, Kentaro Nakagomi. No, it's not named so because of Mark Cho, but rather Marcel Duchamp, who was famously photographed while wearing a similar coat. This season's version is made from a limited edition, dark chocolate brown nylon. It has a double-breasted closure, belted waist, and an A-line silhouette. "It's similar to a dispatch coat, but we made some tweaks to it," says Mark. "Dispatch coats, which is a WWII style, were originally made with a higher waist because men wore them while riding motorcycles. On this design, we lowered the waist, so it sits more at your natural waist. We also hid some of the buttons and details. If you don't belt it, it looks like a clean A-line coat."
As a silky nylon coat, the Marc pairs better with finer fabrics, such as gabardine trousers, worsted suits, and flannel pants. The Corb, on the other hand, can go all the way from a dark navy suit to jeans and sneakers. My favorite is the wool twill overcoat, which was produced by Ring Jacket in Japan from a Fox Brothers cloth. It has wide lapels, sporty pockets, and Martingale back, which make it very reminiscent of original polo coats. As such, it could be worn with anything from jeans and a Shetland sweater to gray flannels and a tailored jacket.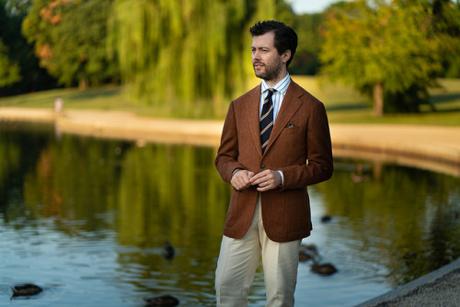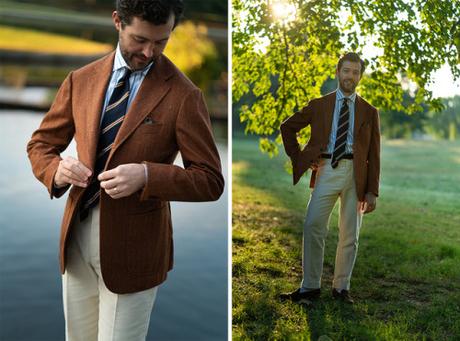 WINTER WHIITE TROUSERS
Antonio Ciongoli, the talented designer behind 18 East, is adamant that stone-colored pants are the most versatile thing you can own after blue jeans. "With a white tee? Perfect. Navy sweater? Can do no better. Denim shirt? The best. It's less severe than white but will make everything you wear up top look fresher. It's what we at Ralph Lauren called a 'good taste color,'" he says. 
The Armoury has some this season in reverse moleskin. "It was Jim's idea," says Mark. "They're fuzzy on the inside, harder wearing the outside. Since the nap is on the inside, they're very warm and comfortable." Proving Ciongoli's point, The Armoury's paired them here with fawn overcoats, gray overcoats, and district checked tweeds. "I think a lot of guys are scared of cream-colored trousers because, in summerweight cotton, they can be a little see-through," Mark continues "Ours, however, are made from thick cotton. The ways you can combine them are limitless. Brown and navy are pretty classic pairings, but I also like them tone-on-tone, which means something that echos the cream. Cream trousers with this season's terracotta sport coat really brings out those warm colors."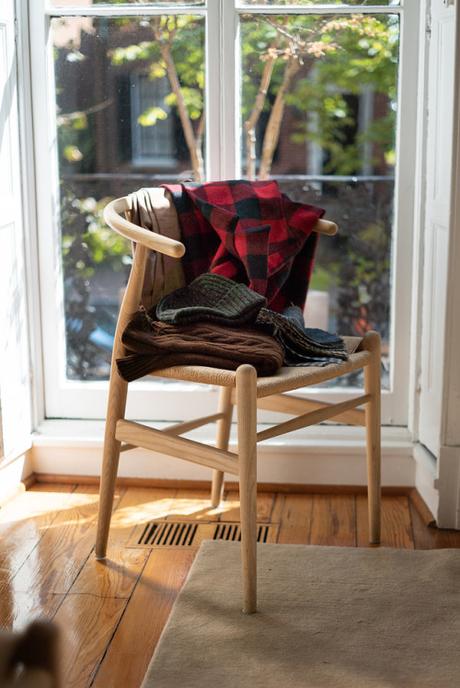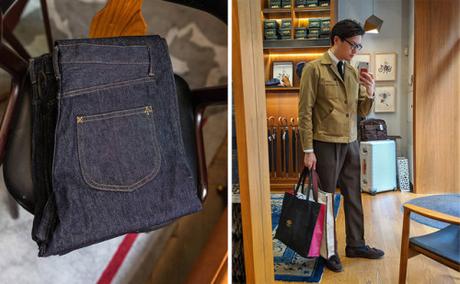 INTRODUCING DAYWARE
Men who favor classic tailoring often struggle when it comes to casualwear for a straightforward reason. Without a suit jacket or sport coat, classic men's style all too easily devolves into business casual. At the same time, a tailored jacket in classic proportions can look a bit formal in specific settings. The challenge is finding something suitably casual, but also distinctive and stylish.
In the last few months, The Armoury has been working on a new in-house sportswear line, dubbed DayWare, designed to solve this problem. "DayWare is sportswear for an Armoury customer who wants something to sit alongside their tailored clothing," explains Mark. "It's casualwear with classic menswear proportions in mind, as well as more thought put into the details." A perfect example is their new jeans designed in collaboration with Nigel Cabourn. The two companies made a slightly higher-rise jean with a tapered leg that customers can wear with either bomber jackets or sport coats. "Our denim is based on a replica pair of vintage denim in Nigel's archive," says Mark. "It's a 12.5oz unsanforized cloth that has a kind of texture and character you don't see in modern denim."
DayWare also features two new jackets: a three-pocket blouson, seen above on Mark, as well as a suede Wright jacket. The jackets ride the line when it comes to modern clothing and vintage workwear. "One of our running philosophies is that we like silhouettes to be a little broad at the top and then taper downwards," explains Mark. "So in tailoring, this would be broad shoulders and long legs. When we designed the Wright jacket, we made it much shorter than the average jacket. At the same time, we brought up the buttoning point and collar. You'd be surprised to see how many jackets are a little too long, and yet saggy at the neck. So we cleaned all that up and gave the pockets side entries so you can use them as hand warmers."
The Armoury has other notable new arrivals. Their new Model 11 jacket is like a hunting version of an American trad sack coat, which is ideal for guys who want to wear a more casual version of tailored clothing. "It's a sack jacket, so it doesn't have any darts in the body," he said. "The pockets are also pleated, patched, and flapped. We narrowed the lapels and gave the jacket some sharpness throughout. It appeals to tailoring aficionados, as well as people who like tailoring but normally don't have opportunities to wear it." I also love the new short vamp tassel loafers, which would look terrific with a tweed sport coat and gray trousers. Mark says they'll be ready by the end of the year along with a new DayWare tote bag.