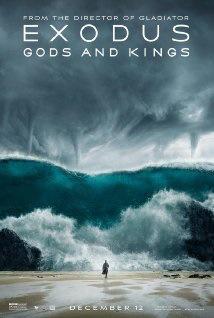 Director: Ridley Scott
Writer: Adam Cooper, Bill Collage, Jeffrey Caine, Steven Zallian (Screenplay)
Starring: Christian Bale, Joel Edgerton, John Turturro, Aaron Paul, Ben Mendelsohn, Maria Valverde, Sigourney Weaver, Ben Kingsley, Hiam Abbass
Plot: The defiant leader Moses rises up against the Egyptian Pharaoh Ramses, setting 600,000 slaves on a monumental journey of escape from Egypt and its terrifying cycle of deadly plagues.
There may be spoilers the rest of the review
Verdict: Bible Studies Round Two
Story: Exodus: Gods and Kings starts by explaining about the slave problem going on during Egypt before showing two brothers Ramses (Edgerton) and Moses (Bale) during dealing with advancing enemies. We watch how both overcome the odds in battle while defeating their enemies returning as heroes. We continue to see how the two work together to impress their leader Seti (Turturro) including meeting with neighbouring kingdoms. When Moses meets elder nun (Kingsley) he learns that he is actually Hebrew by descent and is part of the enemy against Seti.
When Ramses ascends to the throne the truth comes back to haunt Moses, as he gets exiled by Ramses. We see how Moses starts a new life and seven years have passed under Ramses has been using larger number of slaves to build his legacy. One Hour into the film Moses finally see the burning bush and gets given a visitor tell him to see what has happened to his people.
Moses pays Ramses a visit demanding the slaves get paid equal or freed leading to the Ramses demanding Moses to be killed along with his family. Unable to find Moses or his family Ramses starts executing families while Moses trains a new army to rise up and claim their freedom. The plagues start to hit Ramses kingdom and somehow only take up a quick flash of the film also explaining how each plague could have been explained.
Exodus: Gods and Kings goes off to tell us the old story of Moses freeing the slaves, anyone who has ever had to go through any bible studies will know the idea behind this story. I do feel like the opening hour of the film is very slow and completely over tiring because all we want to see are the battle and the plagues. When you get past the first hour the film comes into its own but the first hour really will test the audience who want to see a story they know the outline off. The scenes come off very well and I do like the idea of trying to claim the plagues have a realistic idea rather than just being God like plagues. Overall I do think this film is slightly slow and could easily be shorter and get the story told the same amount. (6/10)
Actor Review
Christian Bale: Moses starts off brother to Ramses but he was only ever the adopted brother, he is a great warrior but when the truth about where he really comes from comes out he gets exiled. Years pass before Moses returns to lead his people to freedom against the tyrant like pharaoh Ramses. Christian does a solid job as Moses but we do get a lot of brooding from his character. (6/10)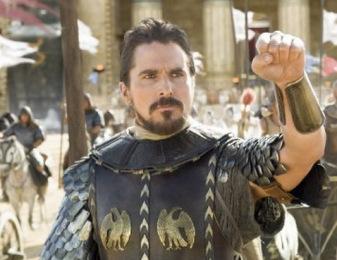 Joel Edgerton: Ramses becomes a tyrant like Pharaoh who over works the slaves to make sure his leaves a legacy to be remembered. When Moses demands the freedom of the slaves he resists leading to the deadly plagues hit the town and his true character finally get revealed. Joel does a solid job but never seems to feel as tyrant like as he should. (5/10)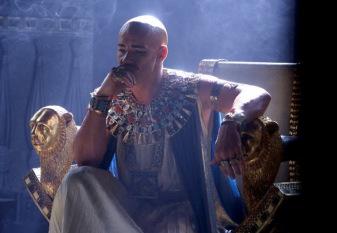 Support Cast: Exodus: Gods and Kings has a large supporting cast but we have generic characters being played by actors you would expect to see in the roles.
Director Review: Ridley Scott – Ridley does what you expect by giving us an epic idea that goes on too long. (5/10)
Action: Exodus: Gods and Kings has a few action scene but really is mainly the training before the final chase. (4/10)
Settings: Exodus: Gods and Kings creates very authentic looking sets making you feel like you are in the time period. (9/10)
Special Effects: Exodus: Gods and Kings used for the most part all work very well but the final tidal wave you could see CGI on screen. (5/10)
Suggestion: Exodus: Gods and Kings is one to try but it won't be one that sticks in your memory for long after. (Try It)
Best Part: The plagues look good.
Worst Part: First hour is very slow.
Believability: No (0/10)
Chances of Tears: No (0/10)
Chances of Sequel: No
Post Credits Scene: No
Similar Too: Noah
Oscar Chances: No
Box Office: $268 Million
Budget: $140 Million
Runtime: 2 Hours 30 Minutes
Tagline: Once Brothers, Now Enemies
Overall: This is a film that really doesn't reach the levels it should but once you get past the first hour it becomes interesting.
Rating