Rather foolhardily, the Walker family decided the Jubilee weekend was absolutely ideal to visit the nation's capital and see a new exhibition at the Guildhall Art Gallery.  As it turned out, actually it wasn't a bad plan as the Guildhall was not in the way of any Jubilation, so we had the place to ourselves. This was the perfect chance to have an uninterrupted view of Inspired! (I do love an exhibition title that has its own exclamation point, that's confidence right there) and here is my review...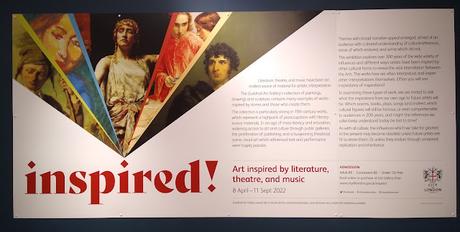 As we know, Victorian artists found endless inspiration from literature, theater and music. The Guildhall had the frankly genius idea of bring that together in a joyous exhibition of both familiar and less familiar images and sculptures. All the drama, tragedy and romance of the stories is paired beautifully with lives of people involved - actors, writers, lovers and models - who bring these pictures to life.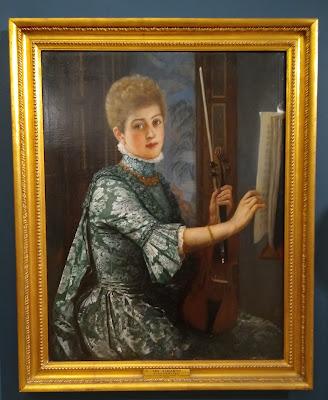 The Violinist (1886) George Adolphus Storey
Spread over two large rooms with an anteroom, the exhibition is split into four sections, starting with 'Inspired by Music and Musicians'. The paintings encompass both portraits of musicians and images of performance, including my favorite of this section, Les Trois Princesses...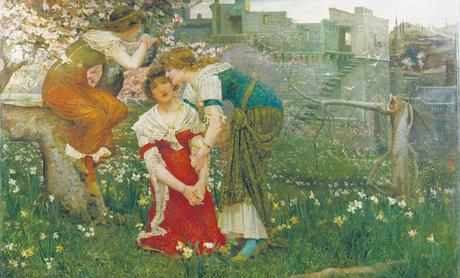 Les Trois Princesses (1881) Edward Matthew Hale
I'm a bit of a Hale fan as I love his delicate, fresh use of color and this oil on canvas is sadly romantic.  The three princesses are the subject of a song and they sing under an apple tree of the men who are preparing to go to war. The girl in red especially touches the heart of the viewer as she gazes out towards us.  We all know no-one is coming back alive. Marvellous.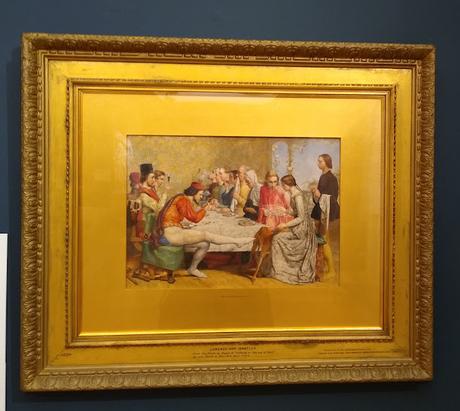 Lorenzo and Isabella (1849-50) John Everett Millais
In the second section, we look at images and sculptures inspired by poets and poetry, including this delicate artist's copy in watercolour of Millais's worst ever episode of 'Come Dine with me', Lorenzo and Isabella. I think the highlight for me from this section was definitely the enormous The Blessed Damozel...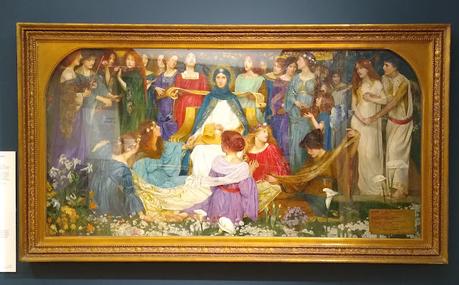 The Blessed Damozel (1895) John Byam Liston Shaw
Honestly, I'm anyone's for a Byam Shaw, and this is a whopper. The colours and figures blend in a jewel-like frame for the Blessed Lady in the center. And look at all the lilies! Gorgeous. There are also paintings of George Herbert by William Dyce and Keats by Joseph Servern, if you fancy an image of the writers themselves, not to mention a sculpture of Chaucer by George Frampton. I love a bit of Framp.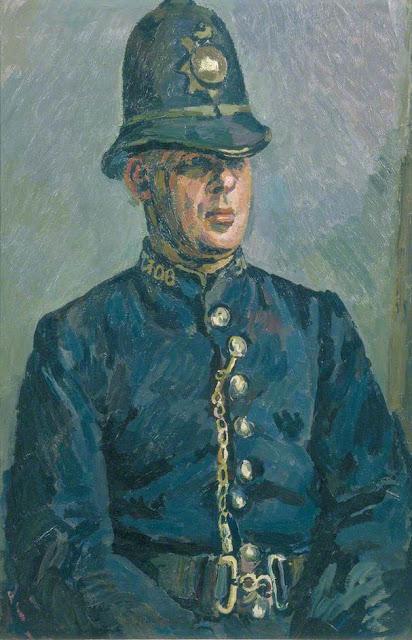 Portrait of P C Harry Daley (1930) Duncan Grant
Following the poetry is novels and novelists, and I was intrigued by this very sombre looking policeman, little suspecting what a fascinating story he had to tell. There is a brilliant page on him here but short story is that he was a diarist, author and muse for the Bloomsbury set.  He was also E M Forster's lover and open about his sexuality, an act of such bravery during his lifetime.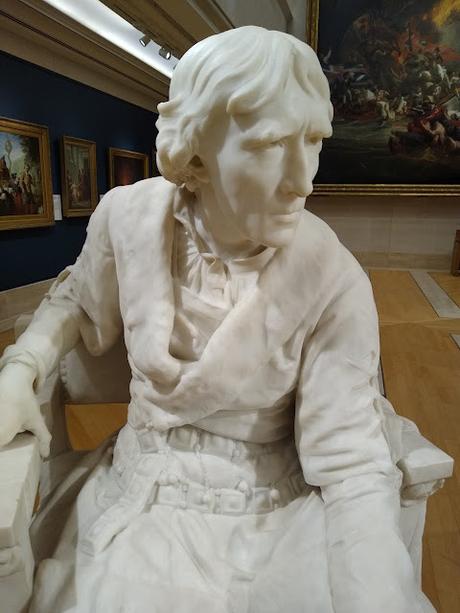 Sir Henry Irving as Hamlet (1883-5) Edward Onslow Ford
Finally, we come to the theater and all the drama therein. Dominating the space is the marble perfection of Henry Irving being all thoughtful and brooding as Hamlet. His three-dimensional presence is almost disconcerting as he is just sat there, and we were in an empty room so it definitely felt like another person with you. He would have been my favorite piece in the room had it not been for this lass...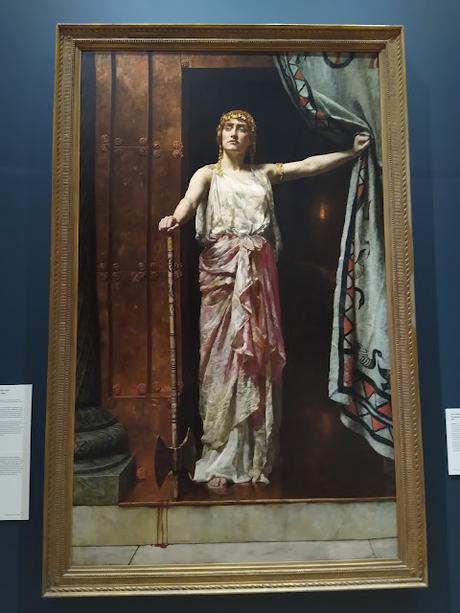 Clytemnestra (1882) John Collier
Lawks, she's a big girl, over two metres tall and that massive axe isn't helping matters either. You would not mess with her. Whenever I visit the Guildhall, she's one of my favourites, along with The Wounded Cavalier and La Ghirlandata. What surprised me is that the figure of the murderous queen might have been an actor, a young man who had been playing the role in a production at St John's College, Oxford, lending a further layer of  theater to the image. Cleverly (or perhaps she's such a big girl there was nowhere else to put her) this showstopper is hidden around the other side of a free-standing box, so she is not the first and only thing you see in the room or else she would undoubtedly dominate it.  There is a seat facing her, tucked at the back, so you can get settled and really enjoy the grisly details in comfort. Hurrah!
I thoroughly recommend a visit to the Guildhall, who have a splendid permanent collection, and Inspired! is definitely worth a visit as it is filled with glorious canvases that tell great stories. Accompanying it is a handy little catalog of the greatest hits which makes a nice souvenir.  You have until 11th September to catch the show and booking and information is here so you can feel inspired this summer.