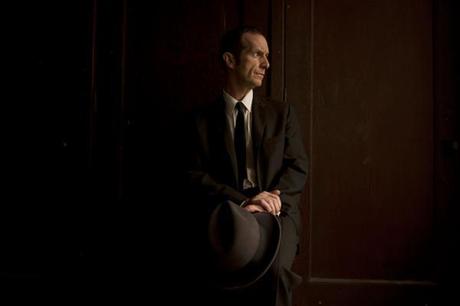 Playing the villain is not an easy thing to do. But Denis O'Hare made Russell Edgington one of the most popular characters of all time on True Blood. I had the opportunity to meet Denis during my time at Dragon Con 2011 and I mentioned to him that I would like very much to interview him. Several weeks ago, Jaimie and I were given the chance to interview him via email. In it we covered everything from American Horror Story to True Blood, his acting preperation methods, and even what he would like to do if he could no longer be an actor.  We even asked him about season 5! Enjoy the interview!
---
1. American Horror Story just premiered and in the pilot you play a man named Larry Harvey who killed his entire family after being driven mad by something in the house. What attracted you to play a character who essentially sets his entire family on fire?
Well, as usual, nothing is as it seems. There's a lot more to Larry than this event – yes,  a pretty big event to be sure but he is actually much more complicated and convoluted.  I love Larry because he is a classical character – one who harkens back to Dante, Shakespeare, The Greeks.  I think of him almost as a painting – something Goya or Bosch would paint .
2.
What do you like about the challenges of playing such a character as an actor?
The physical handicap is always great because you have a go to place to begin with.  The makeup actually takes 3-1/2 hours to put on and in that time, I slowly transform inside and out into Larry.  Also, the tone of the character is very tricky and I love trying to find the balance between self-conscious humor and tragedy.
3. From the pilot, it seems like you are a series regular on the show.  Is that still the case?  
Yes, I'll probably be in around 10 of the 13 episodes
4. Were you a fan of True Blood before you landed the role of Russell?
Completely.  I fell in love with it when I watched the first 4 episodes in a burst.  A friend had a boot-leg and my husband, Hugo, and I tore through them one night.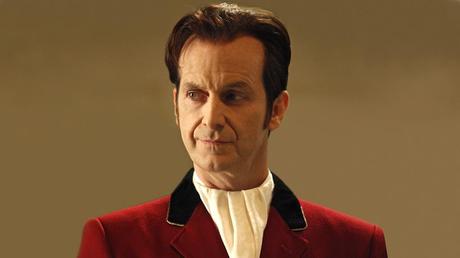 5. How did you get involved with True Blood?
I got a phone call out of the blue.  I was in Budapest filming a movie called The Eagle with Channing Tatum and Donald Sutherland when I got a call from my agent telling me that they wanted me to play Russell. It was thrilling.
6.  Russell Edgington is one of the most popular characters in the True Blood series in part because of the way you played him. In the season 4 finale, Russell was freed from the concrete. What are you looking forward to or hoping to doing when filming resumes for season 5?
We have great writers on True Blood so I know I'm in good hands.  Anything I could come up with would pale in comparison with what they'll invent.
7. The scene where Russell killed the television anchorman made a number of top 10 lists for television that year.  Which scene was the most fun for you to film on the show?
Believe it or not, that scene was not all that fun to shoot.  I took that scene very seriously and the experience of doing it was a painful one for the character of Russell – the state he was in and the state I had to get myself in was fairly brutal and intense and it was exhausting.  For me the most fun scenes were the scenes in my house with Bill (Stephen Moyer) andSookie (Anna Paquin).  There was some really great writing and I remember really enjoying being on that set.
8. You worked with quite a few cast members during Season 3 but is there anyone you would really love to have a scene with on the show?
I never got to have a scene with
Sam Trammell (Sam Merlotte)
or
Nelsan [Ellis] (Lafayette Reynolds)
or
Carrie Preston (Arlene Fowler)
or
Chris Bauer (Andy Bellefleur)
and I'd love to work with all of them.  Who knows?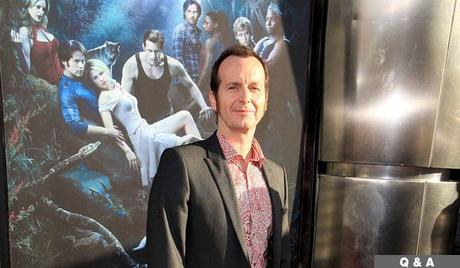 9.   You've played a plethora of characters in television, film, and onstage. Do you have a favorite role and if so, what is it, and why?
I do have favorites but they are ones you'll probably never heard of.  I played a character called Peter in a played called "The Devils".  I loved doing that guy.  I also played "Hauptmann" in the play of the same title by John Logan and that was one of the more satisfying characters I've ever played.  I loved filming "A Mighty Heart" because the experience was so intense.
10.  Every actor has his or her own process when it comes to preparing  to play a role. You seem to like having biographies for your characters. But is there anything else that you like to do to prepare?
I have my lines down cold.  I mean cold. I know my lines inside and out.  I don't want to think about the words -  I want them to seem like my own thoughts.  I also think about the scene in relation to the whole piece – how does this scene fit into the movie?  I also tend to work out my own blocking before hand so that I have an idea in case the director doesn't have a strong vision.
11. Do you have a role that you would love to play but haven't yet?
I hear that they are making Milton's Paradise Lost and Bradley Cooper is playing Lucifer. That's my part!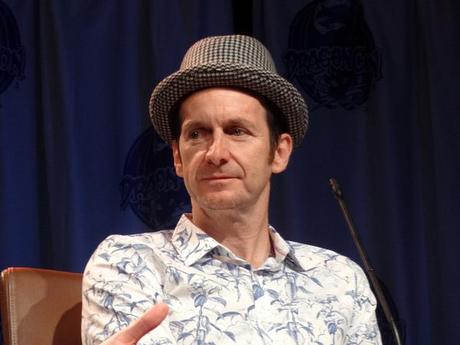 12. 
At Dragon Con, you mentioned that actors live their lives in a state of panic due to fear of never working again. What would you want to do for a living if acting was no longer possible?
I read a lot of history and I'm very good at synthesizing ideas so I'd probably teach history. I"m also an agitator and I'd love to do more professional organizing – I love the Occupy Wall Street movement that's happening right now.
13. Do you have any plans to return to the theater soon?
Yes, as a matter of fact I'll be doing a one man show in February and March called "An Iliad".  It's an adaptation of Homer's Iliad that my friend Lisa Petersen and I developed over the past 6 years.  Stephen Spinella and I will share the role and do it every other night at New York Theatre Workshop.
14. What other projects are you currently involved in besides American Horror Story and True Blood?
I shot Hoover with Clint Eastwood and I think that comes out very soon.  IN addition, I have a screen play that I"m very keen to get made next summer and so I'm beating the bushes trying to get it financed.  I"ll act in it and maybe even direct.  Anyone out there want to be a producer?  Call me!!!!
15. We've tried to cover a little bit of everything during this interview. Is there anything we haven't asked about that you'd like to tell our readers about?
I'm so tickled that people love Russell and have taken to Larry and I'm surprised and delighted that I actually have fans.  Thank you thank you thank you kind people.
---
Jaimie Dalton and I would like to take this opportunity to thank Denis for taking the time out of his busy shooting schedule to answer our questions. We would also like to thank Alyssa Arminio of Slate PR for arranging this interview for us.
Image Credits: Wire Image, HBO, Inc., FX, and True Blood Fan Source.com