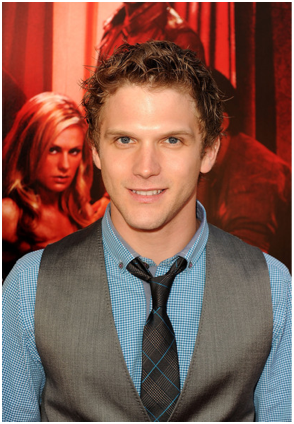 True Blood fans are still recovering from Sunday's exciting Season 4 premiere as well as being able to watch Episode 2 on HBOGo.com.  On Monday, we here at True Blood Fan Source were lucky enough to talk to Aaron Perilo, who will be joining the show for five episodes as Blackburn.  The character is described as a very old vampire who is an acquaintance of Eric Northman's (Alexander Skarsgård) who is quite violent and blood thirsty.  That description is at odds with the friendly, outgoing person we spoke to which should make watching him on screen even more fun.  Here is a recap of our conversation but be warned there are spoilers ahead so if you want to remain spoiler free do not keep reading.
1.  You were born in Nebraska and you have two older siblings who are actors - how did you decide to go into acting?
Perilo tells us that he was inspired by his oldest brother.  Through going to theaters and musicals as a young child and seeing his brother and sister play these different characters, a creative interest was sparked within him and he got his start in acting at 8 years old.  After starting young he hasn't looked back, and he describes how the travelling, acting and basically getting an allowance every day was quite an experience for a young kid.  While he felt he was doing it for fun, it wasn't until his Junior year that he realized he was actually doing this as a profession.  At that point he ended up booking a pilot that was being cast in Omaha for producer from L.A., and he jokes that they probably came to Omaha to find actors who didn't know what a bad deal was.  Details aside, he gained experience with being on screen and filming a pilot and he applied to the Academy of Dramatic Arts and was accepted.  He moved out to Los Angeles and started working and paying his dues as an actor doing various television shows and independent films all leading up to his big role on True Blood.
2.  Did you study television/film at the American Academy or did you focus more on theater?
According to Perilo the Academy is not specifically split between film and theater although a lot of the specific classes may be more geared towards the stage, which is why he only went there for one year.  While he was there he met an acting teacher who opened his mind to a whole side of acting that he hadn't even thought about using a combination of the Meisner and Hagen methods.  Through this teacher he learned the subtleties, realness and rawness that acting should be.  Even after he left the Academy he continued to study with this teacher for five years.
3.  Which medium do you prefer – are you a tv/film person or more of a theater person?
Perilo likes both mediums as long as it is quality work.  About HBO, he said it isn't really like television to him – it is a hybrid of great film making and television.  According to Perilo True Blood is shot like a film with everything being very precise and the time is taken to get it right.
4.  How did you get the role on True Blood – did you audition, or how did you become involved?
Perilo reveals that he believes he got the audition for True Blood because of his involvement with the HBO show 'Luck' where he appeared as a guest star that is possibly going to be recurring role.  When he went for the interview the casting director told him that Alan Ballwanted him to have fun with the part.  Having Ball there was surprising for Perilo, and we have to imagine nervewracking, but he was very happy to see Ball laughing during the audition.  Later the same day he received a call that he had got the part and he describes it as a big day for him since he was a huge True Blood fan.  The role was a first for Perilo because it was the first time he had been cast in a show that he watches religiously.  That was just the beginning of the experience – the first day on set he had a scene with Stephen Moyer (Bill Compton) and it was mind blowing for him as a fan to be on the set and interacting with these actors and characters.  After watching the show for three seasons Perilo was having a fan moment and seeing the actors as their characters and seeing "Bill" talking in an English accent and playing around was weird for him.
5.  Did you watch the Season 4 Premiere last night?  If so what did you think?
Lucky guy – Perilo tells us that he had already seen the premiere but he did watch it again last night and he thinks it is a great episode.  He says he didn't realize that he could see the second episode on HBO Go so he is excited to see that one as well.
6.  We know that you cannot say a lot about your character since he has not appeared yet, but according to the casting call we read you are scheduled to appear in Episode 5 "Me and the Devil" is that still correct?
Perilo confirms that we will be seeing Blackburn in Episode 5 but he cannot tell us how long his character will be on the show.  IMDB lists him as appearing in 5 episodes during Season 4.
7.  From what we have read, Blackburn is a friend of Bill and Eric's  is that right?
Perilo confirms that this is the case for the show and that Blackburn is a "very old" friend of theirs.
8.  At the end of Episode 2 Eric loses his memory – can you tell us if Blackburn comes to down in response to that situation?
While he cannot tell us why or where Blackburn is coming in, he can tell us that he is coming in on a special assignment.  Hmm for those of you who watched the Weeks Ahead Promo, we see that Bill is trying hard to get Nan Flanagan (Jessica Tuck) and The Authority to take Eric out permanently – could this be the special assignment?
9.  Is there anything else you can tell us about your character?
With friends like Eric Northman this should come as no surprise, but Perilo reveals that Blackburn has an attitude and likes to get into trouble, he gets bloody at the drop of a hat.
10.  You mentioned that you got to work with Stephen Moyer, can you tell us who else you got to work with?
Perilo tells us that he got to work with Alexander Skarsgård and some of the witches but he also reveals that he is in a scene with quite a few of the cast members – perhaps the big showdown near the end which results in Eric gets his memory back?
11.  We have seen a video clip of you shooting on location at the Biltmore Hotel with Alexander Skarsgård- how did you enjoy shooting on location?
It is always fun when we get to see our True Blood cast members on location and Perilo says that the location shoot was a lot of fun.  On top of it being a stunning hotel, it is always fun to see places that you normally wouldn't go to.  He also reveals that it is easier to connect with the actors when you are on location because you get away from the individual trailers and everyone can hang out together a little bit more.
12.  What did you think of the fans that were hanging around outside the location shoot – did their reaction surprise you?
Perilo confirms that there were some fans hanging around outside the set and he found it exciting because that was the first time he had really experienced any fan reaction to the show.  He was a little surprised that fans had researched him because he didn't realize they knew who he was at that point.
13.  How was it shooting on set and what was the general atmosphere like?
We have heard from many different cast members that the atmosphere on set is really great and that the cast and crew are like a family.  He describes the cast as really nice and specifically mentions Alexander Skarsgard as being an amazing, humble human being. Perilo also talks about Stephen Moyer saying he is hilarious and should get into comedy.  While he worked mostly with Skarsgård and Moyer he does say that he got to talk to Ryan Kwanten (Jason Stackhouse) quite a bit and describes him as being a very intelligent, cool guy who is nothing like his character.
14.  So what else are you working on right now aside from True Blood – what can we see you in next?
Perilo tells us he just finished filming a movie in Boulder, Colorado called 'Mind's Eye' which co-stars Malcolm McDowell and Dean Cain, and is a sci-fi thriller that has to do with space and time and parallel universe ideas.  He describes it as one of those movies you might have to watch a couple of times to really get it.  He also have a film coming out later in the year entitled 'In Time'which stars Justin Timberlake, and is another sci-fi movie.  Perilo is excited about this movie because it is the first time he has don ea big studio film.  Another project he has coming out is called 'Sassy Pants' with Haley Joel Osment who Perilo was able to share a lot of scenes with and he describes him as a great guy.  The film is a dark comedy and they are hopeful that it is going to do well.  We can't wait to check it out!  Perilo will also be appearing in an episode of the HBO show 'Luck' where he got to work with Dustin Hoffman and he describes the experience of working with that cast as unbelievable.
15.  As a True Blood fan do you have a favorite character or scene from the last three seasons?
While he seems to have a hard time picking one favorite , Perilo does say the most interesting character to him is probably Godric (Allan Hyde) but he also loved Russell Edgington (Denis O'Hare).
16.  Can you tell us how old your character is – like if he is older than Eric or on par with Eric age-wise?
While initially reluctant to say how old Blackburn is, Perilo does reveal that his character is 1000 years old, which puts him around the same age as Eric.
17.  Is there anything we haven't covered in this interview that you would like fans to know about you?
While we covered a lot, Perilo does reveal that he plays guitar, sings and writes his own music.
We here at True Blood Fan Source would really like to thank Aaron for taking the time out of his schedule to talk to us about his role on True Blood and his upcoming projects.  We are so excited to see Blackburn's debut.  We would also like to thank Lindsay Lopez and Alexandra Grodeck at MLC PR for arranging this interview for us.
Photo Credit: MLC PR
Featured Photo Credit: HBO, Inc.