It's always nice to know that celebrities you admire support the same causes you do, and such was the case for me last night, when I attended the Night of True Blood Music Benefiting the Amanda Foundation. I had an excellent time, and I hope similar events continue to happen in the future.
The night started out very simply. I went to Molly Malone's, a dive bar on South Fairfax in Los Angeles. Once in, my hand was stamped, and Kristin Bauer van Straten and Tara Buck came over to thank me for supporting a great cause. I showed them a picture of my godparents' dogs, both of whom were found via the Amanda Foundation.
Shortly after that, Abri van Straten came up on stage and sang a song before joking around and saying "Thank you. Have a great night!" and going to the main room of the bar to have some dinner and a drink with Kristin and their friends.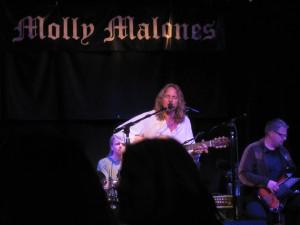 While I enjoyed a beer, I went around and chatted with some of the Amanda Foundation volunteers as well as checking out the silent auction and the raffle prizes. I did buy raffle tickets, but did not win anything. (I'd been hoping to win one of the
True Blood
prizes, which included a signed script from an upcoming episode.)
I sat down at one of the tables in the back room as Kristin came on stage to introduce her husband, Abri van Straten, and begin the concert. He sang several songs, joked with the crowd, and generally kept the atmosphere cool, open, and relaxed. The audience was really into the vibe Abri put out there as he played several favorites, including Living in LA and Monet (which he reminded everyone he wrote about Kristin).
Around 9pm, I noticed a couple come in and quickly take seats at the front of the room near where Kristin and Tara were sitting. I almost bolted upright in surprise when I realized that it was Deborah Ann Woll (Jessica Hamby) and her lovely boyfriend EJ Scott! They too enjoyed Abri's music.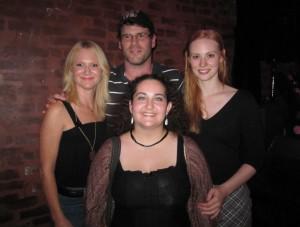 Once Abri finished, Kristin and Tara went onstage and started giving away the raffle prizes. A few fans noticed Deborah, and they came up to get pictures with her and the others who had slipped in, including
Mariana Klaveno
(
Lorena
) and
Jim Parrack
(
Hoyt
)!
I spoke to Tara for a while, discussing True Blood and the NOH8 Campaign and how I wish that the whole cast would do photos. Tara told me that she'd love to join Mariana and Kristin in getting hers done, and I in turn shared that I've had mine done as well. Following that, I said hello to EJ. He's such a gentleman, and was so sweet when I spoke to him. I also said hello to Deborah after she finished taking pictures with other fans, and told her that I'd met her previously at Comic-Con two years ago in the True Blood signing line.
I also spoke with Kristin and Abri just a bit more, and both of them kindly took pictures with me.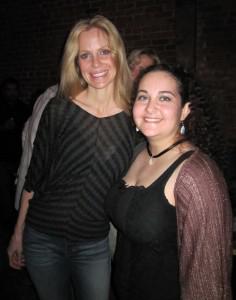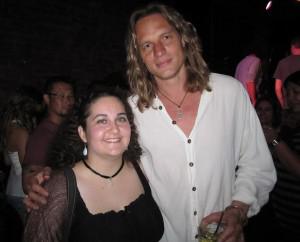 Shortly thereafter, Tara came onstage to introduce her fiancé,
Chris Pierce
. I had no idea who he was prior to the event, so I was in for a huge shock when he started singing! Chris is FANTASTIC! Just like Abri, he performed with a band, and sometimes acoustically. One of his songs that really blew me away is called
Are You Beautiful
. Another song that had everyone in the bar getting hot was Chris' cover of
I Put a Spell On You
. While he sang, a dancer came out in a flapper dress and had the attention of everyone in the room! She writhed so sensually, it had the audience in a trance! By that point, I was completely lost in the experience and practically bouncing in my seat for more, I was so excited.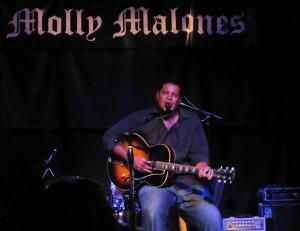 Chris sang a few more songs, and then left the stage to let
LA Hootenanny
set up. I quickly made my way over to Jim Parrack to let him know how much I adore Hoyt. He thanked me and took a picture with me.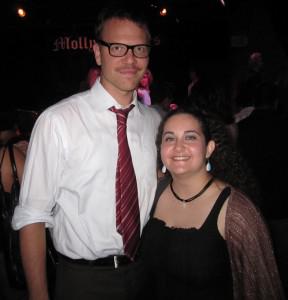 By this point, people were crowding the floor for LA Hootenanny, so I moved towards the back of the room, where Mariana Klaveno was hanging out. She and I chatted for a long time about Lorena and how she was truer to
Bill
than
Sookie
ever was, as well as how much I'd love to see Lorena in more flashbacks in upcoming episodes of True Blood. We also chatted with a very sweet guy who was a set designer on
Season 4
of True Blood. As the three of us talked, LA Hootenanny began playing. I'm not typically into their type of music, but they were very good! My only complaint was that the speaker volume got steadily louder, and by the end of the night, my ears were ringing from the volume. Also, I wish I'd been able to get a picture of Todd rocking out with LA Hootenanny, but unfortunately the stage was so crowded that I was unable to get a shot of him.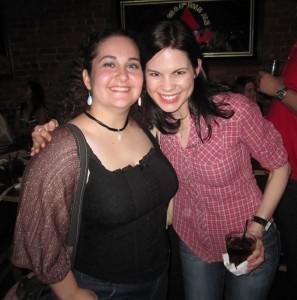 Regardless of the volume of the music, it was a wonderful night that supported an amazing cause! If you have the chance, be sure to check out the music of Abri van Straten, Chris Pierce, and LA Hootenanny! You can find Abri on
iTunes
and
Amazon.com
, as well as Chris Pierce on both
iTunes
and
Amazon.com
. And don't forget to check out LA Hootenanny's
Facebook page
!
Another of my favorite moments that I haven't mentioned yet included fellow fans. I discovered that some of the fans at the event were visiting California for the first time! One couple at the concert was from Ireland. Another was from Japan. It's just proof that True Blood is a global phenomenon! How cool is that? Experiences like this make me realize that no matter where we go, we're bound to run into someone else who loves the same things we do.
(Photo Credits: Isis Nocturne)