Thomas Rooney still cannot contain his excitement about the Premier League show rolling into Norwich next month.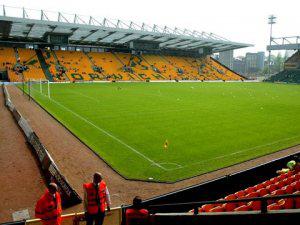 27 days. 27 days. 27 days. It is only (you guessed it) 27 days until the start of the new Premier League season and there is no doubt that everyone connected with Norwich City Football club is overwhelmingly excited at the prospect.
The season doesn't begin in the most glamorous of locations with an away game at Wigan, but just to be involved in top-flight football again means the world to us.
It is perhaps clubs like Wigan that highlight how ambitious we should be when it comes to life in the Premier League too. No disrespect to the Latics (which probably means I'm about to be disrespectful), but if they can hold down a place in this league, so can Norwich.
Everything about us suits Premier League football, including our ground, training facilities and fan base. This alone doesn't mean we deserve to stay in the top flight, but to be back where we belong is incredibly refreshing.
We haven't quite in this good a shape as a club for a while either, so it is the perfect time for an assault on the Premier League. They say you have to hit rock bottom before you can improve properly and we did that with relegation to League One in 2009.
Two years on though, from the coaching staff all the way through to the fans, things are positive. We of course remain a family club, but there is no 'little old Norwich' attitude anymore, even if we are more than happy to let our opponents think there is.
The new signings have increased my excitement for the new season even more. Analysing how new players are going to get on is always an intriguing factor to being a football fan and it is no different for us Canaries this summer.
Can James Vaughan recapture the promise he initially showed at Everton? Will Steve Morison turn his Championship goals into Premier League ones? Can Bradley Johnson convert his hunger and passion for the game into top flight performances?
Perhaps more so than this though, we can't wait to see the team we witnessed play some excellent football last year give the Premier League a real good go.
You will do well to find a better season to support Norwich than last year and it is going to be brilliant to see the likes of Grant Holt, Andrew Crofts, Wes Hoolahan and Marc Tierney – just a few names that have worked their way into Norwich City folklore in the last couple of years – go up against the best in the country.
I'm not going to sit here and say you should place one of your football free bets on Norwich making light work of the Premier League. I personally think we will do just fine, but at the same time I'm not naive about the challenge which lies ahead.
I guess I could have summed up what I wanted to say quicker than 500 words of potential rambling – The new Premier League season is a month away and I am very, very, very excited.
There, done