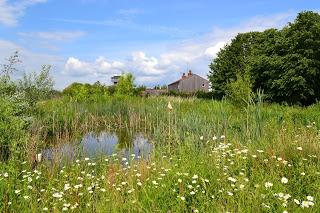 Millennium Wetland Treatment System at WWT Slimbridge.
© Catherine McIlwraith
The Wildfowl & Wetlands Trust (WWT) is asking designers and managers of man-made wetlands to complete a short survey that will help gather evidence for natural solutions to become the number one option for water management. 
The survey is available at 

www.wwt.org.uk/wetlandsurvey

. It's designed to capture the wider benefits of such schemes, such as increasing local wildlife and being a place for kids to play, of SuDS, constructed treatment wetlands, and natural flood and coastal management schemes.
WWT aims to strengthen the case for natural solutions to water management by presenting their full value to society. 
Those completing the survey will be able to get support and advice on how to maximise the value of their scheme for wildlife and local people.
WWT's Dr Chloe Hardman is behind the initiative. She said:
"Natural approaches to solving flooding and pollution problems, such as SuDS and leaky dams, are becoming mainstream, but we haven't quite reached the tipping point where they are considered in every case.
"When wetland areas are included in these schemes, there is huge potential to create havens for wildlife and, as a result, lovely natural spaces for people to enjoy. 
"Essentially we're trying to assess the true value of these schemes. Some will already be assessing these benefits, but many won't. Engineers don't necessarily get the brief from their clients to build in wildlife or community benefits. So, we're also here to join up the dots and help these schemes reach their full potential."
The schemes that WWT is looking at fall broadly into the categories: natural flood management (such as leaky dams), SuDS (sustainable drainage systems), constructed treatment wetlands (or other wetlands designed to improve water quality), and managed coastal realignment.
The survey is available at 

www.wwt.org.uk/wetlandsurvey

 and entries are added to an online map as they come in. 
Everyone who completes an entry will receive a summary of all the evidence gathered, along with case studies of the best examples. WWT will use the evidence to strengthen the case for natural solutions to water and waste problems at national and local government level.