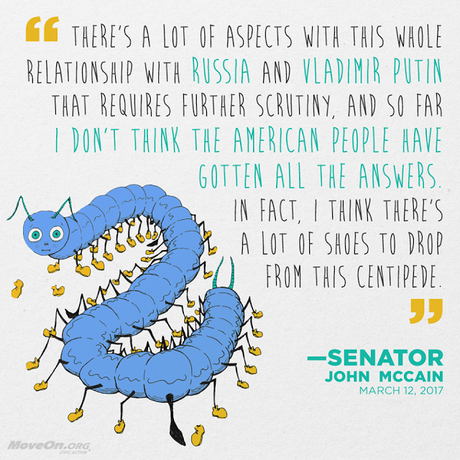 "There's a smell of treason in the air."

-- Presidential historian Douglas Brinkley.
The Trump administration has based their defense against allegations of collusion with Russian officials to subvert the 2016 election on the excuse that there is no evidence of such collusion. That is now changing. The FBI now has circumstantial evidence that collusion did indeed take place. The only word for such collusion is TREASON!
Consider the following story from CNN News:


The FBI has information that indicates associates of President Donald Trump communicated with suspected Russian operatives to possibly coordinate the release of information damaging to Hillary Clinton's campaign, US officials told CNN.

This is partly what FBI Director James Comey was referring to when he made a bombshell announcement Monday before Congress that the FBI is investigating the Trump campaign's ties to Russia, according to one source.

The FBI is now reviewing that information, which includes human intelligence, travel, business and phone records and accounts of in-person meetings, according to those U.S. officials. The information is raising the suspicions of FBI counterintelligence investigators that the coordination may have taken place, though officials cautioned that the information was not conclusive and that the investigation is ongoing.

In his statement on Monday Comey said the FBI began looking into possible coordination between Trump campaign associates and suspected Russian operatives because the bureau had gathered "a credible allegation of wrongdoing or reasonable basis to believe an American may be acting as an agent of a foreign power." . . .

One law enforcement official said the information in hand suggests "people connected to the campaign were in contact and it appeared they were giving the thumbs up to release information when it was ready." But other U.S. officials who spoke to CNN say it's premature to draw that inference from the information gathered so far since it's largely circumstantial.

The FBI cannot yet prove that collusion took place, but the information suggesting collusion is now a large focus of the investigation, the officials said.

The FBI has already been investigating four former Trump campaign associates -- Michael Flynn, Paul Manafort, Roger Stone and Carter Page -- for contacts with Russians known to US intelligence. All four have denied improper contacts and CNN has not confirmed any of them are the subjects of the information the FBI is reviewing.

One of the obstacles the sources say the FBI now faces in finding conclusive intelligence is that communications between Trump's associates and Russians have ceased in recent months given the public focus on Russia's alleged ties to the Trump campaign. Some Russian officials have also changed their methods of communications, making monitoring more difficult, the officials said.

Last July, Russian intelligence agencies began orchestrating the release of hacked emails stolen in a breach of the Democratic National Committee and associated organizations, as well as email accounts belonging to Clinton campaign officials, according to U.S. intelligence agencies. 

The Russian operation was also in part focused on the publication of so-called "fake news" stories aimed at undermining Hillary Clinton's campaign. But FBI investigators say they are less focused on the coordination and publication of those "fake news" stories, in part because those publications are generally protected free speech.

The release of the stolen emails, meanwhile, transformed an ordinary cyber-intrusion investigation into a much bigger case handled by the FBI's counterintelligence division.

FBI counterintelligence investigations are notoriously lengthy and often involve some of the U.S. government's most highly classified programs, such as those focused on intelligence-gathering, which can make it difficult for investigators to bring criminal charges without exposing those programs.

Investigators continue to analyze the material and information from multiple sources for any possible indications of coordination, according to US officials. Director Comey in Monday's hearing refused to reveal what specifically the FBI was looking for or who they're focusing on.

US officials said the information was not drawn from the leaked dossier of unverified information compiled by a former British intelligence official compiled for Trump's political opponents, though the dossier also suggested coordination between Trump campaign associates and Russian operatives.