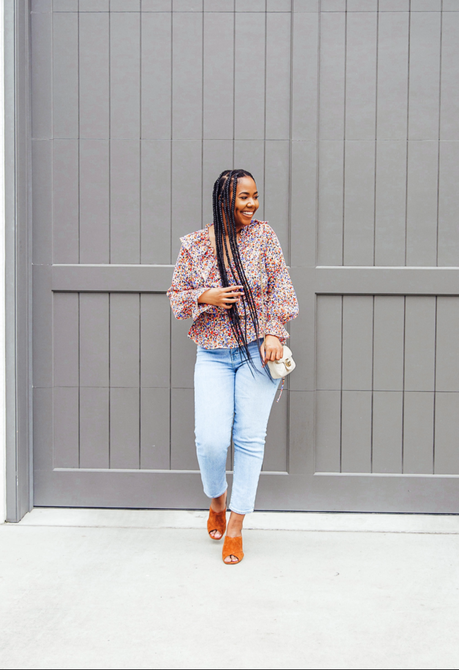 I feel like I say this every year, but I can't believe the official start of spring is only a few days away. I've been busy updating my spring wardrobe, and thought I'd share everything I've gotten so far here. After missing out on spring last year (because...quarantine) I'm definitely looking forward to (safely!) getting out a bit more this time around, and giving all of my cute clothes some wear. Keep reading for the tea on everything I've been shopping lately!
First up is this amazing spring suit in the cutest pale orange color from Missguided. It took forever to get delivered, but it was well worth the wait. I was pleasantly surprised at the quality - so good, especially for the price! - and the fit was perfect and true to size. Sadly the jacket is sold out in the orange color, but they have lots of spring suits in several other colors available right now on the site.
So, I originally purchased a pair of platform crocs, but they were just too big and bulky for me. I returned those and went with the classic clog style in white instead. I never thought I'd be a girl who wears Crocs (lol) but here we are. They're comfortable, cute, and great for running around behind Bash. I also got these adorable charms to go on them, which I love. If you're on the fence, just get a pair - I don't think you'll be disappointed.
True to form, I've gotten several spring pieces from Zara. If you know me, then you know that Zara is my favorite store hands down. Probably about 60% of my wardrobe comes from here - yes I have a problem...and no I'm not sorry about it. They just hardly ever miss, and I love that for me lol. Since I ordered quite a few pieces from Zara, I listed them all out below.
These strappy gold sandals. I was in need of a gold sandal ( I didn't own a pair that I was in love with or that weren't at least 5 years old) and these fit the bill AND the budget.
An adorable striped shirt dress (that's sadly sold out now).
This chocolate brown dress (obsessed with that color right now) with cutout detailing on the sides. So cute!
Yet another dress. Yes I know I'm predictable. But I know I'll get so much wear out of this basic fitted, ribbed style all spring and summer long.
I also got a lavender chunky sweater for cooler nights that's also sadly sold out now.
I made a couple of local boutique purchases and got this date night dress, and these casual pants for those mom on duty days when I still want to try and look pulled together.
Last but not least, I finally just went ahead and ordered the Gucci platform sandals that I've been wanting since last summer. I was torn between the original tan color and the denim color - I'll be sharing which color I chose in an unboxing reel later on this week, so stay tuned!