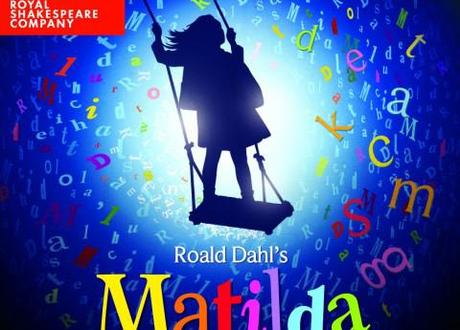 Poster for Matilda the Musical
Dennis Kelly's Matilda: The Musical, based on Roald Dahl's book about an ultra-special telekinetic young girl's battles with her fearsome teacher, has finally arrived in the West End, at the Cambridge Theatre, after a highly successful run in Stratford.
Matilda, a bookish girl (played by four rotating girls: Eleanor Worthington Cox, Cleo Demetriou, Kerry Ingram and Sophia Kiely) is not happy with her television-addict family (Josie Walker and Paul Kaye), who think that she ought not to read at all. The headmistress of her school, Miss Trunchbull (Bertie Carvel), is one of the most repellant villains in all of children's literature – right up there with the Child Catcher.
Matilda manages to defeat Trunchbull; along the way there are many marvelous moments of bumptious fun – and a child gets thrown into the stratosphere. Critics, though they may differ over details, are weeping with joy over the Royal Shakespeare Company's production as a whole, and reaching deep into their historical and filmic knowledge for apt tyrannical comparisons to describe Carvel's performance. The kids are great, too.
Cherry on the cake. Charles Spencer in The Daily Telegraph was ecstatic, saying he thought the show would "delight" "for years to come." There's something "miraculous' about it, and – sacrilege! – the show even improves on Dahl's original. Tim Minchin's score is "smashing." Worthington Cox is both solemn and mischievous; Walker and Kaye "memorably vile", but the real star is Carvel who's like "Richard III in drag." She's the "cherry on the cake of this glorious production."
Power of protest. Lyn Gardner in The Guardian was equally blissed out. The West End isn't dumbing down at all. It captures all of Dahl's "delicious nastiness", but also "celebrates the solace of books and the transforming powers of the imagination." Its message – that "rebellion and protest can defeat the bullies" is extremely powerful. When the children rise against Trunchbull, it's "as glorious a moment" as any you've ever seen in the theater. Rob Howell's design is great too, and the production never gets too hyperactive. Adding to the praise of Carvel, she chose another tyrant – she's like "a cross dressing King Herod on steroids."
Too much showmanship? Dominic Maxwell in The Times called Carvel "somewhere between Deborah Kerr and Ernst Stavro Blofeld." Though the tunes aren't necessarily hummable, they are ingenious – which means you do sometimes miss the lyrics "amid all the hoopla" – in fact, sometimes the "showmanship" could step back a little and "allow us to find the story for ourselves." Mrs Wormwood's song Loud, for instance, a satire about "the age of oversell", comes off "a bit rich." But the play has "invention and energy" by the bucketload. It even manages to rhyme "Ian McEwan" with "feel like spewin'".
Bring back corporal punishment? Well, said Quentin Letts in The Daily Mail, isn't there "something to be said for Miss Trunchbull's belief in discipline?" He thinks her school would be "more successful" than the "spongy-brained loafers" who've been "minted by the liberal teaching establishment and its factories of bog-standardism." Still, at least you end the play not knowing whether to laugh or cry – "You might even do both."
More reviews

Martin Scorsese's Hugo is perfect Thanksgiving fare
My Week With Marilyn
Streep earns raves for Iron Lady
Snowtown is harsh but brilliant
More Stage »