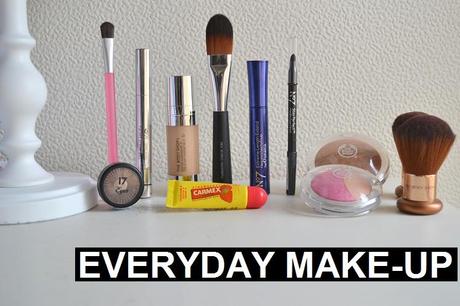 I like reading what make-up people go to on a daily basis, so I thought I would share my everyday makeup as a lot of people are intrigued by what I use. I very religiously use the same make-up, with some products featured I have used for years, however this doesn't mean I'm not open to try new products as I would like to buy a NARS Palette & a couple of the Real Techniques Brushes having heard positive reviews, it just means my current make-up collection allows me to provide a really honest opinion as I use these products time and time again. As you can see most of my make-up is from the Body Shop or No7. Both are really accessible and usually have some great offers. I've mentioned before, and I'll mention again, I'm your typical bargain hunter when it comes to make-up. I've never spent a lot on my makeup, and despite what I read I believe you don't need the big labels to have a good face. I strongly believe my choice of make-up proves this. Despite the Body Shop and No 7 being reasonably expensive compared to make-up brands such as Rimmel, Collection, Maybelline, and Bourjois, I only buy them when they have their offers such as 3 for 2, that way I can stock up.
Body Shop Lightening Touch Pen in 03 - £14To start with my skin, I use one of the Body Shop's Best Sellers - Lightening Touch Pen in 03 which is a light-diffusing liquid concealer. I use this to tackle skin blemishes, dark circles, and any imperfections that need covering before I apply my foundation. The pen has a brush tip for easy application, and a twist end to release the concealer. The concealer comes in three different shades depending on your skin tone, and it lasts me a long time.
Body Shop Moisture Foundation with SPF15 in 05 - £13For my foundation I use another of their best sellers which is the Moisture Foundation with SPF15 in 05. I couldn't possibly recommend this foundation more, in fact I have converted a few people already. This foundation provides a light to medium coverage so it's not too heavy and gives a more natural look. It is also perfect for normal to dry skin. The moisture particles leave your skin feeling hydrated, glowing and looking flawless. It also contains SPF 15 which is extremely important in a foundation to protect your skin against the suns rays. This product comes in seven different shades, however I would recommend you pop in to your local store so they can match you up to the correct shade. The foundation is designed in a pump form which provides an easy and mess-free application, it means you can pump on the exact amount required, which means no wastage, and it lasts me weeks upon end. I apply this with the Body Shop Foundation Brush £12.00 for a smooth and even coverage. 
Body Shop Baked-To-Last-Bronzer in 02 Warm Glow £16& Body Shop Baked-To-Last Blush in 01 Petal £12Now that Spring/Summer is approaching I have invested in a new bronzer, drum roll please, the Body Shop Baked-To-Last-Bronzer. After I have applied my foundation, I like to use the bronzer to add a warm base color to my face by simply brushing a small amount around my entire face, paying particular attention to my cheeks. What I love about this bronzer is it gives my face a really natural, subtle, and sun-kissed look and it lasts all day. To apply it I use the small Bronzing Brush. I also bought the long Body Shop Blusher Brush which I am yet to try. Throughout the winter I loved adding a rose pink glow to my cheeks with the Body Shop Baked-To-Last-Blush. This is one of my favorite products ever, providing a rose pink blush and a highlighter in a duo palette. I apply just a tiny amount on my cheek contours after my blusher to create a natural fresh faced look. As you can from the photograph I have a brush for my blush and a brush for my bronzer.
17 Solo Eye Shadow in Mardi Gras £3.89No7 Stay Perfect Metallic Eye Pencil in Blackest £6.50 No7 Extreme Length Extend Mascara in Black £12.95For my eyes I like to achieve a dramatic and statement smokey eye, by firstly applying 17 Solo Eye Shadow in Mardi Gras as my base. This is my go to eyeshadow on a daily basis. This shade is a shimmery and subtle pale brown and it blends in perfect with my complexion. I apply this with an inexpensive eyeshadow brush I picked up in Boots. I really want to get my hands on the NARS Basic Palette as they look like the perfect neutral eyeshadow shades I would use. I then apply No7 Stay Perfect Metallic Eye Pencil in Blackest. I tend to get on better with pencil eyeliners, than I do with liquid, however I do have an emergency Rimmel eyeliner I go to occassionally. Despite my eyes being dark, the metallic shade provides a slightly different look, giving your eyes a glittery effect as opposed to matte black. To finish off my smokey eye I apply No7 Extreme Length Extend Fibre Enriched Formula Mascara in Black. If like me, you like your eyelashes dark and plumped with volume but also separated and extended, this is a worthy investment and can give you a false lash effect in an instant. I like my eyes to stand out and make an impact. This is No7's latest mascara and has been awarded a five star rating online. An important factor when buying a new mascara is the wand. I favour the rubber wands over the brush. The rubber wand allows for a more definite lash separation and avoids your lashes looking clumpy. I also feel the brush mascaras don't give as much definition. I apply two coats for fully loaded long lashes.
Carmex Moisturising Lip Balm in Strawberry £2.69Due to the cold weather, my go to daily lip product at the moment is Carmex Moisturising Lip Balm in Strawberry. Not only does it smell super sweet, it tastes delicious too. It's an incredibly light balm, which adds a healthy glistening shine to your lips. This balm also contains SPF15 and can be bought in a range of different shops. I picked mine up in my local Boots. Since using this my lips are now looking healthy, hydrated and chap-free.
Do you use any of the products featured?What is your Everyday Make-up?If you own a NARS Palette or any of the Real Techniques Brushes what do you recommend I should try first?