Ever watch a happening bar scene on a Saturday night? It's probably the best place on earth to catch rounds of revolving and retracting personalities. Sure, we all like to think beyond first impressions, especially if trying to attract a mate, but, really, who are these people and what are they trying to do?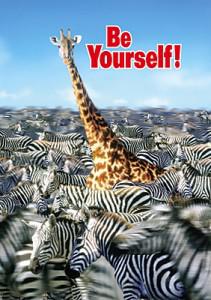 I remember one particular Saturday night years ago. Three female friends and I decided to rock a new bar in town, along with masses of other thirty-somethings. We copped a high table and four chairs close to the action, whatever that happened to be. Soon a parade of Saturday night studs swaggered by and mumbled "So, howsyadoin'?" Eventually they sent drinks our way.
Two of my friends suddenly became Flaming Femme Fatales, even unfastening top buttons and swinging fringed manes as though eying bulls in a pasture. Talk about the faces of Eve!  The two took flirting to a new level and the encouraging words spewing from their mouths would shame any exorcist.
My sane friend and I left without finishing one drink, much to the delight of the other two who quickly patted our vacant stools to encourage guys to join them.
We weren't necessarily disgusted, we were simply stupefied!  We knew our friends to be intelligent, quiet, conservative, witty and completely comfortable with whom they were. But, which was the real personality? Had we been duped for years?
In retrospect, I suspect our friends were responding to the moment, whirling in a kaleidoscope of fantasy. They were pretending to be somebody else, perhaps embellishing an alter-ego? It was tough to tell at the time.
The point of this anecdote?  Sometimes we may behave in ways opposite from our "normal" personalities with traits appearing that are completely out of character. Some are real, some are make-believe. There are times we fly so far away from who we are that we surprise even ourselves.