When I was a sophomore in high school, I auditioned for a worship team at my church and made the spot. My talent in keys and singing was limited, but God had His hand in the plan.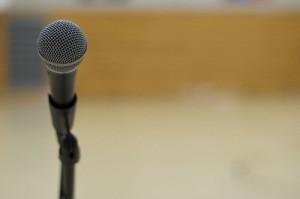 Photo by evanforester, Creative Commons
There's something magical about being on stage. Looking into hundreds of faces every Sunday while worshiping is a wonderful experience.
Then there's the other side – the performance side. The part where you send your talent forward for all to hear.
That is the side where stage fright creeps in.
For many years, I was able to play a supporting role in that group. I was able to blend in and find a safe zone. But I was still up there. Still sharing my gifts.
It wasn't until years later when I returned to lead that same worship team that I realized my fear had gone away. I could no longer hide, but I didn't need to. The nerves and shaky voice went away through those years of experience.
Even in college I found a love for communication studies, which included speeches and presentations. My fear of sharing myself with the public was gone.
And now, I thrive on the audience. I love to speak and sing and worship for everyone.
There is always that little voice that says "someone out there is judging you because you're not very good" but I'm able to ignore that voice most of the time. The other times, I just pray for the strength to overcome it.
Had that little sophomore girl never tried out for the team, I would have never found my love for speaking and singing today – or overcome those fears.
Even better yet, I met my wonderful husband through that worship team.
So be thankful for every experience you have. You never know when or how it will pay off.
What experiences have you had that helped you down the road? Share below!
Thanks for reading! Don't miss any of my updates. Join my community - it's free!
Let's keep the conversation going! Share your thoughts with me below.