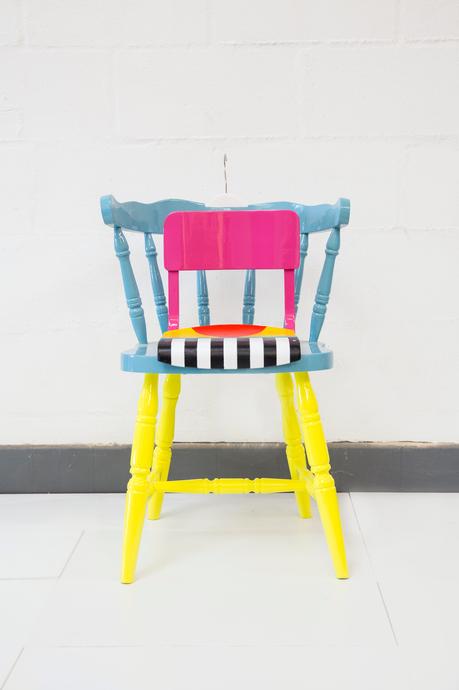 The A Trapped Star chair by Yinka Ilori was inspired by a Nigerian tale of a boy who worries he won't succeed. 
YINKA ILORI
Location: London
Practicing since: 2009
Age: 29
Education: London Metropolitan University, 2009
Street-corner finds are the starting place for the upcycled chairs of designer Yinka Ilori, who takes each object's past with his personal narrative. Drawing inspiration from parables passed down from his Nigerian parents, Ilori, 29, often decorates his work with the distinctive Dutch Wax batik–print fabrics that are closely associated with Nigerian design despite their European origins.
"There's a huge market for this fabric, and it's mainly bought by people who are from Ghana and Nigeria. It's interesting how we know that it's not made in Nigeria, but we use it as an identity," Ilori says. "I love being British and I also love being Nigerian. Understanding those two narratives is what makes them so interesting."
Ilori passes on his enthusiasm for chairs via workshops in his studio, giving (often first-time) chair-makers upcycling assignments based on Nigerian parables, all set to the beat of a live drummer. "I love chairs and how they bring people together," Ilori says. "You're at a party or you go to a church—these are all communal places where people engage, sit down, and feel they're part of a community. They're part of a culture or an experience, and that's what I love."