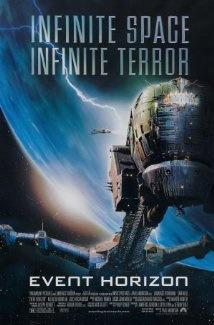 Director: Paul W.S. Anderson
Writer: Philip Eisner (Screenplay)
Starring: Laurence Fishburne, Sam Neill, Kathleen Quinlan, Joely Richardson, Richard T. Jones, Jack Noseworthy, Jason Isaacs, Sean Pertwee
Plot: A rescue crew investigates a spaceship that disappeared into a black hole and has now returned…with someone or something new on-board.
There may be spoilers the rest of the review
Verdict: Closest To A Sci-Fi Horror Equal to Alien
Story: Event Horizon starts by filling us in on the time and events of the film, we are in 2040 where a Deep space research vessel called The Event Horizon has disappeared after passing past Neptune becoming one of the biggest disasters on record. 7 years later we see a devoid of gravity space craft that haunts Dr Weir (Neill) as he still struggles with the loss of his wife. We are on the Lewis & Clark the rescue mission to find the Event Horizon. Our team includes Captain Miller (Fishburne), Med Tech Peters (Quinlan), Lt Starck (Richardson), Cooper (Jones), Justin (Noseworthy), DJ (Isaacs) and Smith (Pertwee) each has their own specialist use on the mission. We get the simple hyper sleep idea for the long distance traveling which continues to feed the nightmares Weir is having.
The mission involved learning what really happened to the Event Horizon because it was part of a secret experiment to create a faster traveling system through space. Investigating the ship the crew find nothing but a ghost ship, with signs of a previous struggle with blood and body parts floating around. When an unexplained event happens the crew have to all move onto the Event Horizon while they try and fix their own ship. It isn't long before the crew start seeing things around the ship which simply can't be explained with rational science. The crew has 20 hours of air before they will end up dying to fix their ship and make it home.
Event Horizon is a sci-fi film that is nearly 20 years old and still feels like it could be considered fresh compared too many films that attempted and failed to reach the same level of atmosphere and pure horror. We get the deep space which instantly creates the idea that the characters are going to be alone. I will look at few negatives that got me, the first would be that they don't discuss the mission until they are about to get there meaning there isn't a way to go back. The second would be even after seeing this film a couple of times now I still don't fully know what to believe about the Dr Weir character whether he is good or always bad. Overall this is a very good story and the negatives are really just nit picking instead of just praising the film. (9/10)
Actor Review
Laurence Fishburne: Captain Miller is the leader of the rescue mission, he will look out for every one of his crew and involve them all in the decision making process but will never leave one behind. Laurence does a good job in this leading role playing the strong but equal leader. (7/10)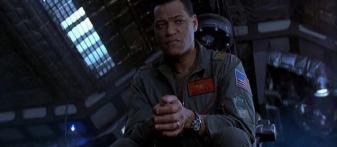 Sam Neill: Dr William Weir is the creator of the Event Horizon who gets taken over by the life force inside the ship wanting to take advantage of the newly discovered machine. Sam ends up going through a brilliant and frightening transformation as this film rolls on and ends up being almost unrecognisable. (8/10)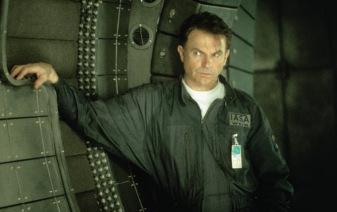 Kathleen Quinlan: Peters is the med tech who first starts getting vision showing her greatest fear. I do have issues with this character because she should be the most logical when it comes to seeing the vision because she off all the people should know it is only in their minds. Kathleen does a solid job with what she has to do, it's not her fault her character makes bad decisions. (6/10)
Joely Richardson: Lt Starck is the member of the crew trying to uncover everything that happened to the original crew and along the way she learns the pure terror the crew will be in for. Joely does a solid job in this role but really doesn't get as much screen time as the character should get. (7/10)
Richard T Jones: Cooper is one of the engineers who gets all the best lines while the mission is taking place, he also goes through the most including being blasted off the ship and having to find his own way back. Richard ends up playing the character you want to see on screen most because he is so funny. (7/10)
Support Cast: Event Horizon does have a couple more members of the crew that all end up becoming disposable characters as they rest try to escape the terror on the ship.
Director Review: Paul W.S. Anderson – Paul does a great job here and shows he knows how to pace a film to have enough scares and tension to keep us fully behind the film from start to finish. (8/10)
Horror: Event Horizon has to go down as one of the best horror films of the 90s but will always end up getting eclipsed by Alien. (9/10)
Sci-Fi: Event Horizon takes place in space and challenges scientific theory to make the story's events unfold. (9/10)
Settings: Event Horizon works perfectly for horror as it creates isolation instantly and the crew have to find their own way to safety because no one can rescue them. (9/10)
Special Effects: Event Horizon does have a small weakness because a lot of the gravity based effects have dated but the rest all look great consider how many years have passed. (6/10)
Suggestion: Event Horizon is one for all the horror fans to watch, it is easily one of the most enjoyable of recent years. (Horror Fans Watch)
Best Part: Weir's Transformation is scary and frightening all mixed up to make it horrific.
Worst Part: Certain effects have dated.
Oh My God Moment: The footage showing what happened to the original crew.
Scariest Scene: The reveal of what has happened to Dr Weir.
Favourite Quote: Dr Weir 'Where we're going, we won't need eyes to see.'
Believability: No (0/10)
Chances of Tears: No (0/10)
Chances of Sequel: No
Post Credits Scene: No
Similar Too: Sunshine and Pandorum
Oscar Chances: No
Box Office: $26.6 Million
Budget: $50 Million
Runtime: 1 Hour 36 Minutes
Tagline: Infinite Space – Infinite Terror
Trivia: Paul W.S. Anderson's initial cut of the film ran to 130 minutes and was quite graphically violent, so much so that both test audiences and the studio baulked at the finished product. Paramount ordered him to cut the film by 30 minutes and tone down some of the violence, a decision he now regrets.
Overall: Event Horizon is one of the most shocking sci-fi horrors of all time and a must watch for all the horror fans out there.
Rating