Hey there... Are you aware about the term event based niche blogging? If not, then you will not able to generate more income in a short time! I know every blogger has dreams to generate effective income in shorter time by using Adsense account! If you don't have an Adsense account then just wait for it first.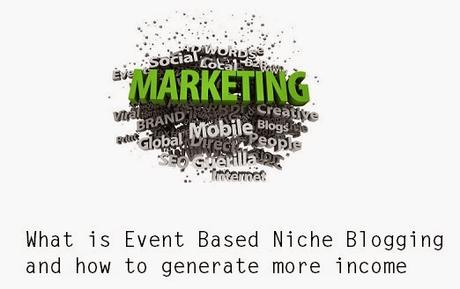 To get the money-making benefits with the help of event based niche blogging, it is essential to have Adsense account and some basic knowledge of SEO. Let me introduce first "what is event based niche blogging?" Event based niche blogging means you are creating one blog that have related contents about particular events.
Not understood?
No need to worry. Suppose there is event about friendship day and you are creating one blog about friendship day SMS, images, videos and stories with using some basic SEO knowledge. Most of the people will search on Google about related SMS, images, stories. If your blog will be on the first page or even second page in the search result, Then this will surely generate more traffic on your blog! And you all know, more traffic means more Adsense income!
Steps That Are Essential For Effective Event Based Niche Blogging:
1. Search the upcoming famous events:
The base is here! The most effective part is selecting the famous upcoming events that people search most! To get adventurous benefits of event based blogging one must be the master while selecting the event! So be careful when you are going to choose any event, don't pick the event that has lower search results!
2. Get the impressive domain name:
Are you ignoring it? Then it will make a big loss! You must have to get the domain name as per event. You should include the proper keywords in that domain. As we all know that event based niche blogging is short-term strategies to get more money, It is suggested to use impressive domain name so that people can easily reach your site! So don't be hurry in this step.
3. Content collection:
Collect the good contents for a particular event is also effective. It need not be so much impressive, but yeah, you should include good content on your site so that people can easily use it! In event based niche blogging we can say content is king.
4. Use basic SEO:
On event based niche blogging the most effective point that should be considered is SEO. Why SEO? Suppose you made one particular blog for upcoming events! But on page optimization is not properly done on the contents then? Your site will not get first or even second page place in the search result. So it's necessary to use basic SEO on your site to get huge amount of traffic.
5. Sharing:
Every new blog has to use this strategy for better marketing of your event based blogging. One can not ignore this strategy. You can use various social networking sites for sharing so that your blog gets high search result and people easily connect with your lovely site! So to generate a high amount of income it is an essential thing that one should consider.
List Of The Top 10 Events That One Can Use It For Event Based Niche Blogging:
Exam result
FIFA world cup
Olympics
Christmas
IPL
Oscars
New Year
Elections
New video games
Friendship day
 You can use this above listed events for event based niche blogging and generate high amount of money.With these techniques you will surely maximize your income in a short time span. Event based niche blogging is the only solution to get high amount in one or two days. Even I have seen many bloggers that are using this strategy for particular events. You believe or not, but they easily got a high income around $$$ in just two or three days!
Last Words:
Hope you come to know about event based niche blogging. That is really interesting to get high amount of income using it. It's up to your marketing strategy, how you use it in a short time span. If you have already done it and got a high income, then don't hesitate to share it with us. Yet you have any doubt then ask us in the comment box. Don't be selfish share it with your friends!