For all we know, immersion is unquestionably and undoubtedly one of the, so far, proven most effective learning methods a learner can apply when he chooses to learn a foreign language. There is no hesitation about that. No matter how difficult a language may be, when a person is immersed with the language, his brain will normally adapt the language in his surroundings, and he will eventually be able to learn and master the language being used in his environment.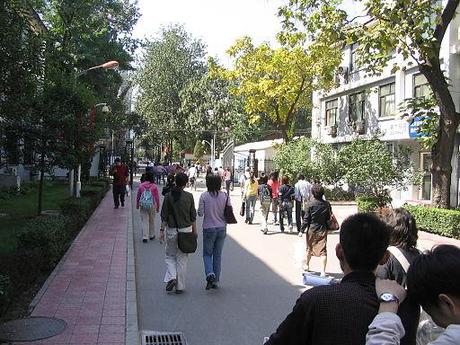 Students at Language and Culture University, Beijing. (Photo credit: Wikipedia)
learn Mandarin in Beijing
Written and posted by Whitley Kilcrease, she detailed how students from a particular language school enjoy Chinese language learning inside as they are immersed with the language. Seriously, immersion is far more exciting, wonderful, and enjoyable than just the plain and boring idiom acquisition that we thought to be.
"It's not a boring class at all," said Chase Ingram, one of the inspired students who learn Chinese in Beijing. "The teachers are very encouraging and patient. They make the lessons exciting and keep us focused. It's a very energetic atmosphere."
Other students, like Veneekia Daniel had challenging moments during the learning process, but she surely takes this positively. "You really get that college vibe here," Daniels said. "It's pretty intense, you have to be focused during class and complete your homework every night."
Students are even doing some creative activities to enhance their skills and interests with the Chinese language. They were making music videos, do various language workshops, participate on traditional activities such as origami, calligraphy, Kung Fu, dragon dances and many others, and a whole lot more!
"It is a great opportunity for students to increase language and variety," Xiao Feng Chen, the instructor for the beginners class, said. "It will give them a chance to enter a wider job market, not just at home but internationally. China is a huge market."