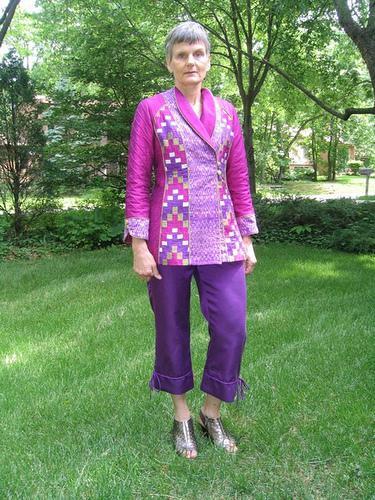 This month, our Sew-lebrity Spotlight shines on Eve Kovacs. Eve Kovacs is not only the group leader for the Wearable Art special interest group of our chapter, but she is a recognized and award-winning wearable arts sewist. There is probably even a secret fan club judging by this person's blog post declaring Eve as her hero after seeing Eve on Sewing with Nancy.
We're celebrating Eve today because she has won the Honorable Mention in this year's American Sewing Guild Creativity Contest. Congratulations, Eve! We're very proud that our Chicago chapter was so well-represented with Eve's beautiful jacket and pants.
Eve's ensemble was made from Simplicity 2288, and uses a combination of several different fabrics: a handwoven silk ikat from Thailand, three colors of silk dupioni, and a cotton sateen.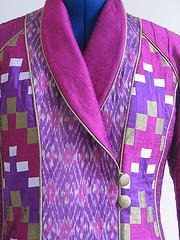 "The jacket design incorporates a number of panels that provide opportunities for combining fabrics in innovative ways. My goal, with this ensemble, was to use the silk ikat as an inspiration for the color, the surface design and the styling of the pieces. Since I had only a single panel of about one yard of the ikat, a good solution was to use it for the center front and back panels of the jacket. With careful cutting, I had enough left to make cuffs to accent the sleeves," explains Eve in her contest description.
"The colors in the ikat inspired the selection of the purple sateen and the magenta, olive and light lavender silks. The geometric pattern in the ikat inspired the design of the patchwork on the middle-front panels of the jacket. I paid careful attention to the proportion and position of the colors so that the patchwork complements the style of the ikat by mimicking the pattern in the weave."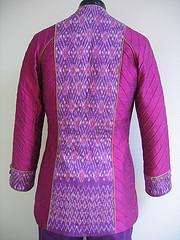 Eve machine quilted all the jacket panels to give a subtle texture and to unify the design. She used diamond shapes on the ikat and zig-zag shapes on the patchwork panels. The side panels and sleeves are quilted with diagonal lines of double-needle stitching. (Love how many techniques Eve Kovacs was able to incorporate!)
"The jacket panels are accented with piping to give the ensemble an oriental look. This necessitated changing the collar to a cut-on shawl collar to ensure that the piping flowed smoothly around the edges of the jacket. To complete the Asian styling of the ensemble, I cropped the pants and added a piping embellishment at the hems."
One thing that you appreciate about Eve Kovacs' wearable art is that it truly is wearable. It may take a bolder personality to wear the garment, but it's definitely wearable in everyday life.
All the winners and honorable mentions can be viewed on the national American Sewing Guild contest page.
You can find more of Eve Kovacs' beautiful creations on her webpage.
Congratulations on your beautiful outfit, Eve!